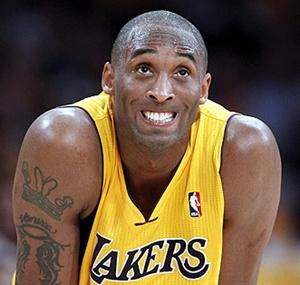 While the Los Angeles Lakers have made a better start to this season than many had expected in the absence of Kobe Bryant, there is no question that their 15-time All-Star shooting guard has been sorely missed.
The Lakers have lurched between a few surprising wins, most notably against the Los Angeles Clippers and Houston Rockets, and several disappointing losses, where they suffered due to the lack of a dominating presence in the final quarter.
Bryant is widely regarded as one of the greatest closers in the game and his teammates are eagerly awaiting the return of the 'Black Mamba,' who has been sidelined since mid-April with a torn left Achilles' tendon.
"He's so intelligent that he helps guys get in the right spots and makes the game a lot easier not only for myself but for the whole team," backup shooting guard Jodie Meeks told reporters.
"He's been in the league for almost 20 years, he knows it all inside and out. He's the alpha dog. He tells everybody where to go, gets everyone in the right spots and gives everyone confidence."
Bryant was given full medical clearance to resume all basketball activities over the weekend and the 35-year-old certainly gave his teammates a welcome boost when he joined them on Saturday for several practice drills.
However, Lakers coach Mike D'Antoni has urged caution, and does not want to see his star player rushed back into action.
"Everybody's excited and I'm sure he's excited, but (it's) a little bit premature right now," D'Antoni told reporters on Sunday about Bryant's participation in 5-on-0 drills and half-court work.
"You're dealing with, 'Is he sore today? Is there a setback tomorrow?' That's the first step and there's a lot of steps to be taken. We need to be cautious."
Though several backup Lakers players such as Meeks, Jordan Hill, Xavier Henry and Nick Young have all flourished at times this season, D'Antoni knows the team have badly missed the steel, late points and sheer grit provided by Bryant.
"He's a presence, no doubt, and we need that presence, especially at the end of games," D'Antoni said of the Lakers, who are 5-7 this season and occupy 12th place in the 15-team Western Conference.
"But we've got games to win and there's going to be a bunch of them before he comes back, so we're going to have to do our business."
Bryant, a five-time NBA champion, may be well short of game fitness at the moment but he certainly impressed his teammates with his practice form over the weekend.
"He looked real good," Hill said of Bryant, after pouring in a career-high 24 points and 17 rebounds in the Lakers' 114-99 victory over the Detroit Pistons on Sunday.
"He was going real hard. I thought he wasn't going to be able to go that hard but he was really pushing it. I know he's not ready yet but he's coming along and he should be ready pretty soon."
Spanish forward Pau Gasol agreed.
"He looked good and did a few moves I didn't expect him to do right away," said Gasol. "I'm very happy for him and for us, and definitely looking forward to when he'll play in a game."
As for Bryant, he was happy enough with his overall shape during the drills.
"The fade-away still works, the ball-handling and being able to post," he told NBA TV. "Those are things that I can do right now. But it's not the playoffs, thank God."
The Lakers, whose next game is against the Golden State Warriors in Los Angeles on Friday, have not yet laid out a timetable for the likely return of their most influential player.
Image: Kobe Bryant
Photograph: Lucy Nicholson/Reuters