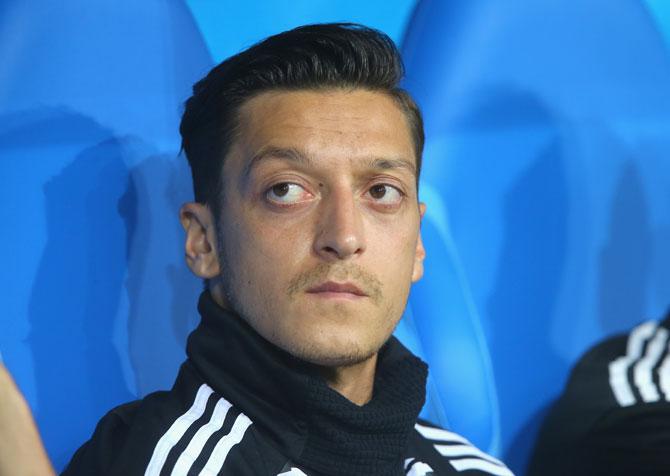 Turkish President Tayyip Erdogan said on Tuesday the treatment of Mesut Ozil after the soccer star quit Germany's national team was racist and unacceptable.
He said he spoke to Ozil on Monday night and described his attitude as meriting the highest level of admiration, adding Ozil's critics "could not stomach" the photograph of the soccer star and Erdogan that prompted criticism ahead of the World Cup.
"Such a racist treatment towards a young man who has given his all to the German national team for his religious beliefs is unacceptable," Erdogan told reporters in parliament.
Authorities in Ozil's ancestral Turkish town have erected a new street sign showing the photo of him in May with Erdogan, replacing one picturing him wearing the international strip of Germany, the country of his birth.
Several prominent officials in Turkey, including the head of the Turkish Football Federation Yildirim Demiroren, have thrown their support behind Ozil since he announced on Sunday that he would not play again for Germany.
"We condemn the treatment, threats and derogatory messages that he has received because of his heritage and background," Demiroren said.
The most prominent German politician of Turkish heritage, Cem Ozdemir, called on Monday for the resignation of German Football Association (DFB) head Reinhard Grindel, who Ozil said had blamed him for Germany's early departure from this year's World Cup in Russia.
Ozil's agent shuns Bayern president's critical remarks
Days after the president of German football club, Bayern Munich said that footballer Mesut Ozil, who announced his retirement on Monday, had played a terrible game over the years, the player's agent brushed aside his claim and termed it "pointless".
The president of the German football club Uli Hoeness had earlier slammed Ozil after his sudden retirement from the national team and said that he does not deserve a place in the national team.
Ozil's agent, Erkut Sogut, however, said that his statements have nothing to do with football.
"The comments of Mr Hoeness miss the point completely, as they have absolutely nothing to do with football. As Mesut said in his statement, he accepts reasonable and fair criticism of his football and deals with that as part of the job. However, Mr Hoeness cannot even provide any actual evidence to back up his foolish statements that are clearly exaggerated," Goal.com quoted Sogut, as saying.
"In this case, the stats are clear. Twenty-three goals, 40 assists - which is a German record - and five-time German player of the year - three of which come after 2014. He claims that Mesut has been a 'ghost' for years, but what 'ghost' wins all these awards and has this much success? Mesut created more chances in the 2018 World Cup per 90 minutes than any other player, but, of course, he singles him out for criticism," he added.
Born to Turkish parents in Germany's Gelsenkirchen city, Ozil has earned 92 caps for Germany, scoring 23 goals since his debut in 2009. He also played a key role in Germany's triumph against Argentina in the 2014 FIFA World Cup in Brazil.