Van Gaal came to Manchester United with a reputation. Seven league titles in three different countries, the Champions League and the UEFA Cup (now Europa League) were among his many achievements. He then exceeded expectations with the Netherlands, which finished third at the World Cup in Brazil.
It's sheer irony, says Bikash Mohapatra, that the predicament he faced in his previous jobs, and the current one, are similar.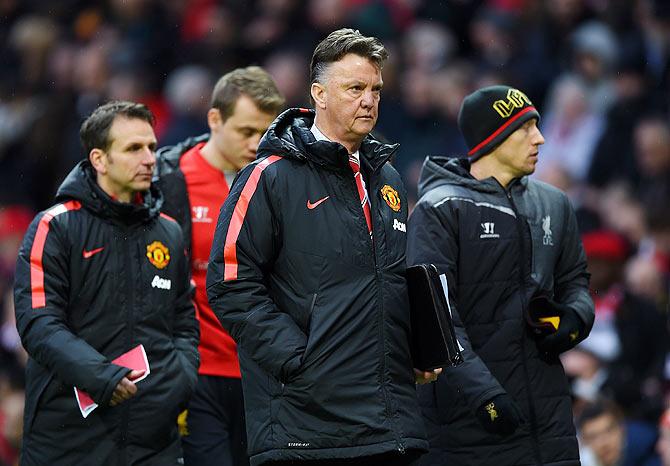 Manchester United Manager Louis van Gaal walks off at half-time during the English Premier League match against Liverpool on Sunday. Photograph: Shaun Botterill/Getty Images
Six straight wins on the spin and three points clear in third, in the race for a direct berth in next season's Champions League.
That sums up Manchester United after their comprehensive victory over archrivals Liverpool at Old Trafford on Sunday.
Since losing the Manchester derby to defending champions City at the start of November, courtesy a Sergio Aguero effort, Louis van Gaal's side has got the better of Crystal Palace, Arsenal, Hull City, Stoke, Southampton and now Liverpool.
In fact, since that calamitous defeat at promoted Leicester in mid-September, the Red Devils have lost just one of their last 11 matches.
Make no mistake, the 20-time champions are far from their best, but, in the final analysis, it is the results that matter, and at the moment they are on a winning spree.
Almost midway through the season it is a very positive sign for a club that started the same with two draws and three defeats in its first six games -- including a 0-4 drubbing at the hands of MK Dons in the League Cup.
Van Gaal's reign, that began amid great expectations – what with the previous campaign under David Moyes being a catastrophe, and a record investment – United spent more than 160 million pounds to acquire six players, including a British record 59 million pounds for Angel Di Maria, soon descended into despair.
To put facts as they are, it was United's worst start ever in the history of the Premier League (1992-93) – they were 12th, with just five points from an equal number of games, after that humiliating defeat against Leicester – in a match they had led 2-0, and then 3-1.
After 10 games, the derby defeat to City, it got even worse. Having taken just 13 points – and only three wins – it was their worst start to a season in 28 years. At this stage even Moyes had done better than Van Gaal.
Back in 1986 the horrendous start had cost Ron Atkinson his job and embarked the start of the Alex Ferguson era.
Van Gaal albeit came with a reputation. Seven league titles in three different countries, the Champions League and the UEFA Cup (now Europa League) were among his many achievements. Unlike Moyes, he had managed top clubs like Ajax, Barcelona and Bayern Munich.
Appointed while he was still in charge of the Dutch national side, and under scrutiny from the British media since, Van Gaal exceeded expectations at the World Cup in Brazil.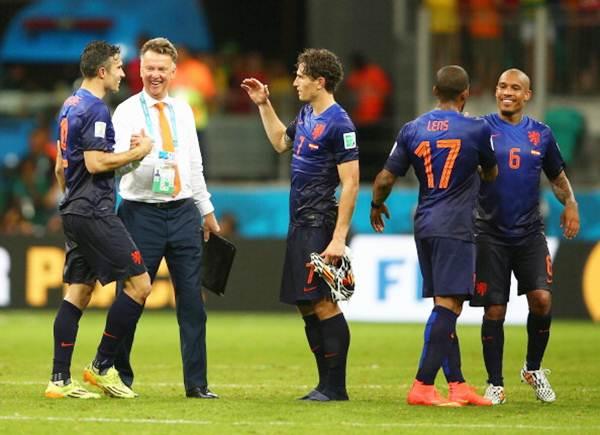 Netherlands' coach Louis van Gaal celebrates with captain Robin van Persie after the Dutch thrashed holders Spain 5-1 in the World Cup. Photograph: Ian Walton/Getty Images
The Netherlands, following a disastrous Euro 2012 campaign, were not given an iota of a chance to progress from Group B – comprising defending champions Spain and a highly-rated Chile side. They not only topped the group but went onto finish third, at the expense of hosts Brazil. Moreover, along with champions Germany, Oranje were the only two undefeated sides in the month-long tournament.
The Dutch delight in Brazil increased the expectations of the United fans and the media alike. And when the results didn't go accordingly there was a palpable disappointment.
It's sheer irony that the problems Van Gaal faced in his previous job, and the current one, are similar. His Manchester United are as unpredictable as the Dutch national team. Back in the Ferguson era a United win was given. Their losses, few and far between, made the headlines.
When Van Gaal's Red Devils take to the field, the fans may expect a win, but cannot say with conviction that their team will win for sure. It is this unpredictability that has over the years made the Netherlands one of the most exciting team to watch, even if you are left disappointed at times. The United team seems to have taken a leaf out of the Dutch book of football.
Besides, the 'unpredictability' factor there are many other similarities between Van Gaal's Oranje and his United side.
The Oranje, beaten finalists in 2010, eased through their qualification campaign, winning nine of their 10 matches, the other one being a draw.
Despite the same, the critics pointed out that it was an easier group, and gave them no chance of progressing from Group B.
Likewise, the Red Devil's pre-season tour of the United States was extremely successful, with the team beating the likes of Real Madrid and Liverpool to claim the title. Yet critics remained unconvinced.
Then there were the injury problems. Ahead of the World Cup, Van Gaal lost key players. The most capped Dutchman Rafael van der Vaart, Paris-Saint Germain's Gregory van der Wiel and Roma's talisman Kevin Strootman were all ruled out ahead of the quadrennial extravaganza.
And even the worst of Manchester United's critics will admit that the spate of injuries – more than 60 for which even his training methods have been questioned – have hampered Van Gaal's plans to a great extent. Till date, the coach has not had all the players at his disposal at the same time and is yet to field his strongest side, the latest winning streak notwithstanding.
This brings us to a third similarity. Strootman's unavailability forced Van Gaal to alter his plans ahead of the World Cup. The former PSV playmaker had been the pivot during the qualifying, and his absence made the veteran coach switch from a conventional 4-3-3 to an experimental 5-3-2 formation, with a five-man defence protecting an inexperienced goalkeeper (Jesper Cillesen).
For those keen on facts, it is imperative to mention that three of those five defenders – Bruno Martins Indi, Ron Vlaar and Stefan de Vrij were part of a Feyenoord squad that suffered a humiliating 10-0 defeat at the hands of PSV Eindhoven not long back. In fact, that result eventually led to the sacking of the then Feyenoord coach (Mario Been), and the job was offered to, and was refused by… (Guess who?)
To say that Van Gaal's tactic worked in Brazil would be an understatement. The Dutch conceded just two goals from open play – and two penalties.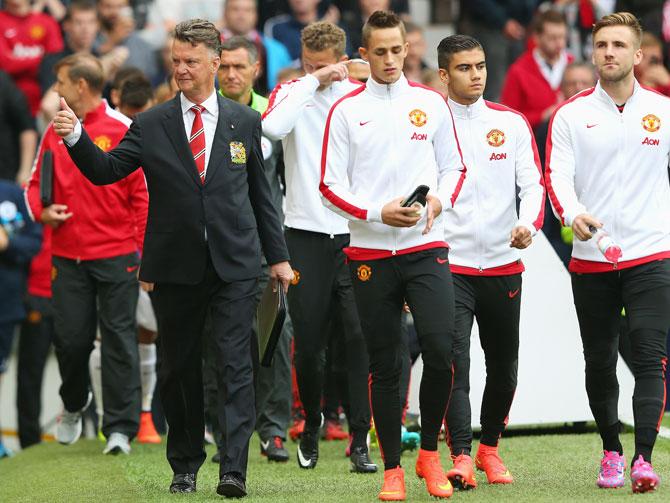 Manchester United Manager Louis van Gaal gives a thumbs up prior to the Premier League match against Queens Park Rangers at Old Trafford. Photograph: Alex Livesey/Getty Images
Coming back to Old Trafford, the slew of injuries has made Van Gaal try out various combinations in the 16 matches so far. And it is the defence which has suffered the most. The Dutchman has been forced to field inexperienced youngsters like Paddy McNair and Tyler Blackett at times, with the likes of Antonio Valencia, Ashley Young, Daley Blind and Michael Carrick asked to play out of position more often than not just as Dirk Kuyt did in Brazil.
The mention of the youngsters brings us to the final similarity, something that has been the hallmark of Van Gaal's career. The veteran coach has never shied away from promoting young talent.
While his world-beating Ajax side was largely made up of academy players, he also introduced the likes of Carles Puyol, Xavi and Andres Iniesta (while in Barcelona) and gave the careers of Bastian Schweinsteiger and Thomas Mueller a fillip when he was coaching Bayern.
In Brazil, he promoted the likes of Blind, Leroy Fer, Jordi Clasie, Tim Krul, Daryl Janmaat and, most importantly, Memphis Depay. At United, he has not hesitated in trying out – or has been forced to, either way you see it – the likes of Blackett, McNair and James Wilson, with Tom Thorpe being another prospect.
Van Gaal's Oranje was largely inexperienced, and definitely not rated. Yet they finished third in Brazil.
His Manchester United side may still be a work in progress and definitely has its share of critics.
More importantly, though, it is back to winning ways, having consolidated its No. 3 position.
If the club's position in the table remains likewise, or better, at the end of the season, Van Gaal's first season in charge at Old Trafford can be considered a success.