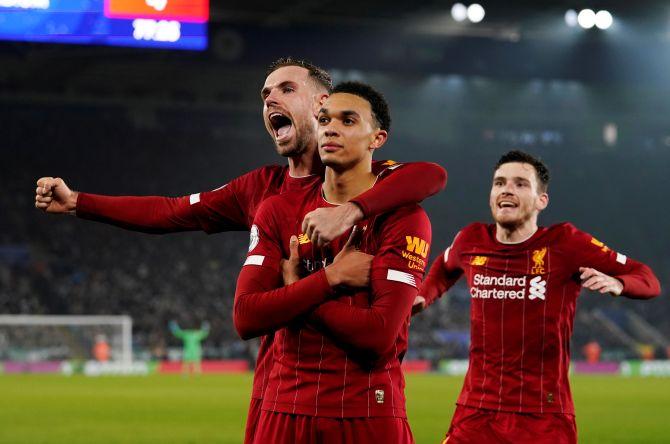 After registering a win against Leicester City in the ongoing Premier League, Liverpool's coach Jurgen Klopp dismissed title talk and said he could not be less interested.
Liverpool defeated Leicester 4-0 on Thursday and consolidated their position at the top of the table.
The team currently has 52 points from 18 matches and is 13 points ahead of the second-placed club Leicester.
"I could not be less interested in that (talk that the title race is over) to be honest. It was a good game. We finished so strong and scored some great goals. We are not listening to any of that. We are focused on our next game only," Goal.com quoted Klopp as saying.
"We can still improve... how we manage games, how we defended in the first half. But we can enjoy this amazing win. And tomorrow we start again," he added.
No club has ever failed to win the title with a 13-point lead this late in the season. However, Klopp said that Liverpool is not paying any attention to the margin of their lead.
"I can write the stories myself. Never before in the history of English football has a team had as big a lead and lost the lead. That sounds in my ear negative, so why should we think about something like that," Klopp said.
Liverpool will next take on Wolves on Sunday, December 29.
It's a crime! Mourinho rages against festive fixture pile-up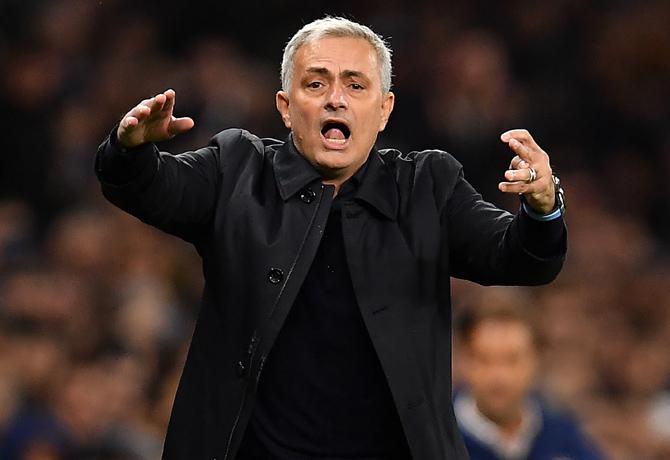 Tottenham Hotspur coach Jose Mourinho has lashed out at the Premier League's congested fixture list over the Christmas period which means his side have to travel to face Norwich City two days after beating Brighton & Hove Albion 2-1 on Thursday.
Spurs were without suspended forward Son Heung-min and will be without the South Korean against Norwich in addition to Moussa Sissoko and Harry Winks who picked up fifth yellow cards of the season against Brighton.
Tottenham visit Southampton on January 1 for a fourth Premier League game in 11 days.
"It's a crime that they are playing again on the 28th, it's against every rule of physiology and biology," Mourinho told a news conference after his side overcame Brighton thanks to second-half strikes from Harry Kane and Dele Alli.
"It's against every rule, but that's how it is and now we have three players suspended, it's completely unfair."
The Portuguese was echoing criticism of the schedule made by Liverpool coach Juergen Klopp, who said there was no reason why teams only had two days to rest between games.
Leicester City manager Brendan Rodgers described the calendar as "nonsense".
Brighton coach Graham Potter joined Mourinho in complaining about the impact of the games on players but said he understood that the number of fixtures over the holiday period boosted the Premier League's global appeal.
"It's very difficult in terms of selecting players, scientists who know about recovery would say it's not good but it's the Premier League, the schedule and we have to adapt," Potter said.
"It's a tricky one, on one hand the league gives clubs lots of resources to cope with the demands. I understand it's good for the league having all these matches over Christmas but it's a different thing in terms of the performances of players."
The Premier League is introducing a winter break later this season to bring England into line with Europe's other major leagues, so each team will enjoy a free weekend in February.
But Potter said one week without games would not compensate for the extra strain during the festive period.
"The break is ok but it's not the main issue, which is that you play on Dec. 26 and then Dec. 28 and the impact that has on players," he added.
Guardiola says replacing Aguero will be a tough task
Manchester City manager Pep Guardiola said he will face a difficult challenge in replacing Sergio Aguero if the Argentine striker decides to leave the club at the end of his contract in 2021.
Since joining City in 2011, the 31-year-old Aguero has become the club's record scorer with 244 goals in all competitions. He has already found the net 13 times this season despite battling injuries.
"Sergio is irreplaceable," Guardiola told the British media.
"It'll be one of the toughest asks to replace him. We have another incredible striker in Gabriel Jesus and maybe another one will come when Sergio leaves but he's irreplaceable."
Aguero is back in contention to start Friday's Premier League match against eighth-placed Wolverhampton Wanderers, having fully recovered from a thigh injury.
Guardiola's side is looking to leapfrog Leicester City into second place behind Liverpool with a third straight league win.
The manager said Aguero's future at Manchester City would depend on both his physical condition and his desire to stay.
"I haven't spoken with him and don't know his intentions," the Spaniard said.
"Sometimes you've to take a decision but with most of the cases the players decide."
"He's done incredibly well. I've never seen a big star like him be so humble, so funny," Guardiola said.
"It's a joy to work with him and how he accepts my decisions when it sometimes doesn't work for him."
Hodgson seeks January reinforcements at injury-hit Palace
Crystal Palace manager Roy Hodgson has asked the club to bolster his injury-plagued squad during the January transfer window and said that it was "demoralising" to put pressure on a restricted number of players this season.
Jordan Ayew's solo strike earned Palace a 2-1 home victory over West Ham United on Thursday, but the veteran coach's side, who were already without several injured players, lost defender Patrick van Aanholt midway through the second half.
Hodgson, who has guided the club to ninth in the Premier League with 26 points from 19 games, is out of contract in June 2020 and the 72-year-old said he hoped to have more players at his disposal if he decides to sign an extension.
"That's under discussion ... but I'd want to, if I'm going to stay, not have the situation I find myself in where it's a bit demoralising having to put so much pressure on a few players to keep our head above water," Hodgson told reporters.
"We really do need some help -- when I say 'we' it's not so much myself but the players ... it's not easy, sooner or later we need to get in people.
"If we can get through Christmas and the chairman can give me four or five players to strengthen the squad, then we'll do extremely well," Hodgson said. "We've talked about it for a long time so maybe this is the transfer window we'll get them."
Palace next travel to Southampton on Saturday and their busy festive period ends with a game at struggling Norwich City four days later.
McTominay injury takes gloss of vibrant United display
The gloss was taken off Manchester United's 4-1 thumping of Newcastle United as midfielder Scott McTominay left Old Trafford on crutches and looking unlikely to be fit for the rest of the Christmas programme.
"He's done his ligament in the knee, probably," manager Ole Gunnar Solskjaer said after the win that lifted United right back into the mix for a Champions League spot.
"I don't know how bad it is. The boy has got the biggest heart of the lot. We'll find out tomorrow how it is."
Two goals by Anthony Martial and one each for young strike duo Mason Greenwood and Marcus Rashford allowed United to hit back in style after Matty Longstaff had put Newcastle ahead.
They are now in seventh spot, only four points behind fourth-placed Chelsea who have lost five of their last seven matches in the Premier League.
United are at Burnley on Saturday when Solskjaer might be tempted to unleash Greenwood, Martial and Rashford as a front three again -- a plan that worked a treat on Thursday.
Greenwood's goal was the pick of the bunch, the 18-year-old thumping home left-footed from 25 metres after pouncing on a mistake by Newcastle's defence.
"Mason (Greeenwood) is a great striker of the ball. You know he is going to hit the target more times than not," Solskjaer said.
"The way he strikes it is nice to see and he is so unfazed by whatever happens.
"The three of them are a handful when we can get the space we did today. These boys will never give up, this club knows that towards the end we can nick a point or even three from losing positions."
A second substitute appearance from Paul Pogba, replacing McTominay, was another boost for Solskjaer as the Frenchman gets back up to speed from a long injury lay-off.
"It's still a bit early for him, he has been out for a long time but he has to get used to being back on a big pitch," Solskjaer said.
"We have had some five-a-side but not with 21 other men on the pitch. He will get better and better."
With Burnley up next and then Arsenal on New Year's Day, Solskjaer's side have the chance to put pressure on the team's above them, but they have been inconsistent this season.
Tired legs will be no excuse though, Solskjaer says.
"It is not fair to ask players to play two games in three days but we just have to get on with it, we are young and mentally strong and that means we will be ready," he said.
Pellegrini blames concentration as West Ham let lead slip
West Ham United manager Manuel Pellegrini found himself back in the firing line after his side squandered a lead to lose 2-1 at Crystal Palace on Thursday and slip closer to the bottom three.
Robert Snodgrass's 57th-minute goal gave the Hammers high hopes of a second-successive victory in the Premier League but former player Cheikhou Kouyate equalised and Jordan Ayew scored a magical 90th-minute clincher for Palace.
It means West Ham could find themselves in the bottom three by the time they kick off at home to Leicester City on Saturday.
West Ham have now surrendered 15 points from winning positions this season and their frailty has left Chilean Pellegrini scratching his head.
"When you are winning 1-0, of course you are disappointed after you lose the game 2-1," Pellegrini, who was reported to be one game away from the sack before West Ham beat Southampton 1-0 12 days ago, told reporters.
"I don't think we played a bad game today, but you need to have a good performance and have results. Playing away, winning 1-0, I think we deserved a better result, but you must be concentrated in your defending until the last minute.
"I don't know if it's mentality or a lack of concentration."
West Ham's home form has been especially poor and they have not won at the London Stadium for five league games.
Pellegrini knows that must change.
"We need to recover in 48 hours and we must try to win our home games because in the last games we played there, we have not collected the amount of points that we need," he said.
While West Ham face a relegation battle, Palace's first win in four league games lifted them into the top half of the table.
Their total of 26 points is their second-highest from 19 games in the Premier League and they are only three points behind fifth-placed Tottenham and six behind fourth-placed Chelsea.
Veteran boss Roy Hodgson praised the resilience of his players who were already missing several injured team mates and lost defender Patrick van Aanholt midway through the second half.
"Everything seemed to be adding up against us today, it didn't seem to be one of those days where you could have quite easily sat back and blamed fate and cursed your luck," he said.
"But the players didn't do that, they still believed and at 1-1 they believed the winner was out there and they were right."