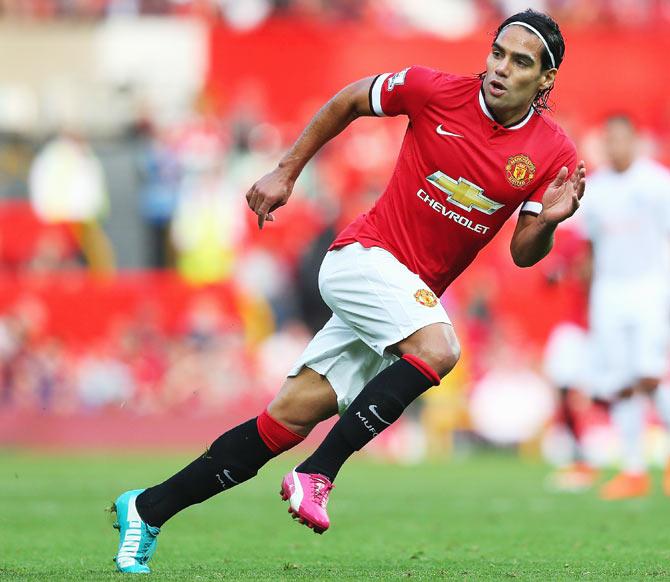 Radamel Falcao of Manchester United in action during the Barclays Premier League match against Queens Park Rangers at Old Trafford on Sunday. Photograph: Alex Livesey/Getty Images
They cheered him to the Old Trafford rafters just for warming up on the touchline, then roared their approval when he finally made it onto the pitch as a Manchester United player in the 67th minute of Sunday's 4-0 win over Queens Park Rangers.
- Lift off at last for Van Gaal as Manchester United thrash QPR
All that was missing from Radamel Falcao's debut in English football was a goal, but the crowd of more than 75,000 went away convinced that it will not be long in coming.
United supporters love a goal scorer as much as any other set of fans, and a flamboyant one more than most.
They have an extra incentive to make the Colombian feel at home, hoping that he will be able to force through a permanent move from Monaco once his season's loan is over.
"I will try to stay here. I would like to be a United legend," he told Sky Sports before the game.
There were some fancy touches to impress the home crowd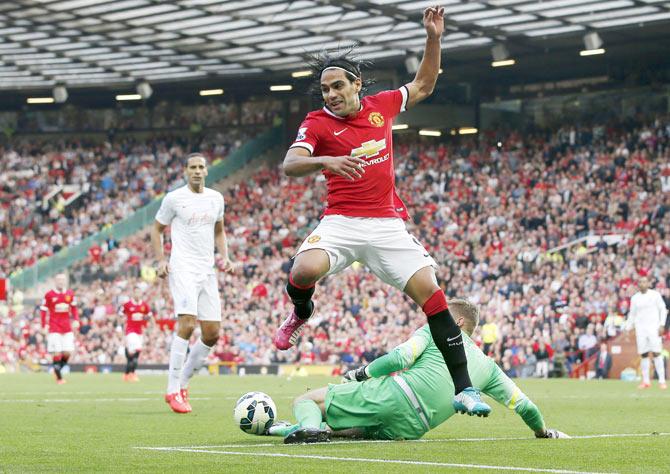 Manchester United's Radamel Falcao (front) is challenged by Queens Park Rangers' goalkeeper Robert Green (right) during their EPL match at Old Trafford on Sunday. Photograph: Andrew Yates/Reuters
Feeling the love will only have hardened his determination. So will the evidence of how potent United's attack could become when he lines up in tandem with any combination of Robin van Persie, Wayne Rooney, Angel di Maria and Juan Mata.
On Falcao's entrance, as replacement for Mata, Rooney dropped into the playmaker's role, with man of the match Di Maria staying out wide.
Having sat and watched how poor Queens Park Rangers were, he must have been desperate to peel off his training top and reveal the red number nine shirt.
Once he did so, there were some fancy touches to impress the home crowd.
The closest thing to a goal on debut followed a 25 metre drive by Danny Blind -- also playing his first game -- that the QPR goalkeeper Rob Green could only parry.
Falcao was immediately onto the rebound but had to take the shot first time and Green was able to block it with a foot.
One of the world's most fierce strikers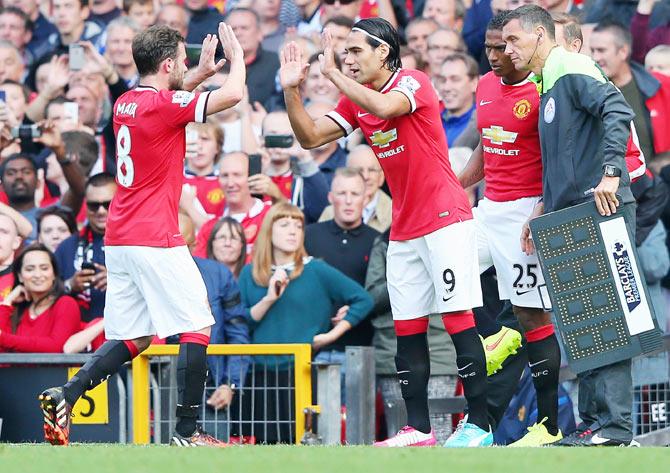 Radamel Falcao of Manchester United comes on as a substitute for Juan Mata to make his debut in their EPL match against Queens Park Rangers at Old Trafford on Sunday. Photograph: Alex Livesey/Getty Images
Later, Van Persie crossed just behind him and substitute Adnan Januzaj rather selfishly chose to shoot when Falcao would have welcomed a pass.
But he was all smiles as he chatted to compatriot Eduardo Vargas of QPR after the game.
Having missed the World Cup after damaging knee ligaments, it remains only to prove to United manager Louis van Gaal that at 28 he can recover all of the sharpness that made him one of the world's most feared strikers.
If Rooney and Van Persie stay fit as well, there will be no need to rush him into a regular starting role.
And no opponents will relish facing that pair in the knowledge that Falcao is sitting impatiently in the dug-out.