Manchester City took a huge step towards their first title for 44 years when they won 2-0 at Newcastle United to stay top of the Premier League on goal difference from Manchester United with one match left.
Both teams have 86 points after United beat Swansea City 2-0 at Old Trafford but City's goal difference of 63 is eight better than United's and could be the deciding factor in the race.
Unless City, who have won 17 and drawn one of their 18 home league matches, drop points against relegation-threatened Queens Park Rangers, managed by former City boss and United striker Mark Hughes, and United beat Sunderland, City will claim the title for the third time in their history.
If both teams win their final matches, the only way United could clinch their 20th title would be with victory at Sunderland by at least eight goals more than City and even in this wildly unpredictable season that is very unlikely to happen.
Roberto Mancini's men, who have clawed back the eight-point advantage United held a month ago, played superbly to win at Newcastle, whose own hopes of a Champions League place now hang in the balance.
Yaya Toure scored twice in the last 20 minutes after being pushed forward by Mancini whose side have now won their last five league games and enjoyed a great week after beating United 1-0 on Monday.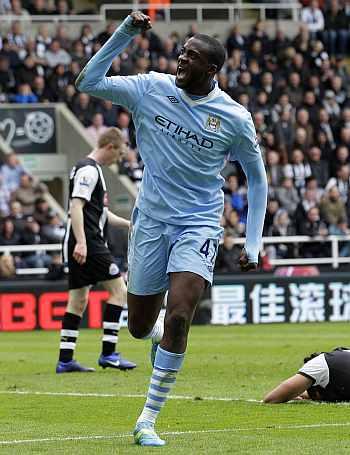 Goals from Paul Scholes and Ashley Young brought some joy to a subdued Old Trafford crowd, resigned to the nightmare of the title going across town to the club dubbed as "the noisy neighbours" by manager Alex Ferguson when they emerged as a force following the millions spent by owner Sheikh Mansour of Abu Dhabi a few years ago.
Ferguson came on the pitch after the game to thank the crowd for their support.
"Hopefully, next week will be the biggest celebration of our lives," he said without much conviction.
He said he was hoping Hughes, who was sacked by City to make way for Mancini in 2009, would do them a favour.
"Today's win gives us hope," he told Sky Sports News. "We've got next week and Queens Park Rangers need a point, so you never know. I just wish Sparky (Hughes) was playing," he joked.
"But the right thing for us to do is to go to Sunderland with the right spirit and attitude and try and win the match."
Mancini told the BBC: "It is not finished. It is important that we get three points next week, we need a big effort - there is one game more.
"QPR will be tough, they are fighting for relegation. Nothing changes. It is ours to lose. It doesn't depend on other teams anymore."
MISSED CHANCE
The Champions League places and final relegation spots will also be decided on the last day.
Tottenham Hotspur missed the chance to leapfrog Arsenal and move into third when they were held 1-1 at Aston Villa despite dominating the game.
Ciaran Clark put Villa ahead in the 35th minute and Emmanuel Adebayor equalised for Spurs with a 61st-minute penalty.
A Spurs victory would have left their destiny in their own hands against Fulham next week, a match defender Danny Rose will miss after a red card for a two-footed lunge on ex-Spurs team mate Alan Hutton.
Spurs manager Harry Redknapp told the BBC: "We dominated the second half but we couldn't get the second goal. It's all to play for next week there are so many permutations."
Arsenal, who were held to a 3-3 draw at home by Norwich City on Saturday, stayed third on 67 followed by Spurs on 66, Newcastle 65 and Chelsea on 61.
Chelsea have two matches left, their first a visit to Liverpool on Tuesday, postponed from Saturday when the two sides met in the FA Cup final which Chelsea won 2-1.
Chelsea look unlikely to finish on the top four but they can still qualify for the Champions League by beating Bayern Munich in the final of Europe's premier club competition on May 19. They would qualify as holders at the expense of the team finishing fourth in the Premier League.
At the other end of the table, QPR improved their chances of avoiding an immediate return to the Championship (second division) when they beat Stoke City 1-0 with Djibril Cisse scoring his fifth goal in seven league appearances to seal his side's fifth successive home win.
That result left Bolton Wanderers deep in trouble in 18th place after being held to a 2-2 draw at home by West Bromwich Albion.
With Villa safe on 38 points and Wolves relegated, two from Wigan Athletic, QPR, Bolton and Blackburn will go down. Blackburn play Wigan on Monday and will be relegated if they fail to win.