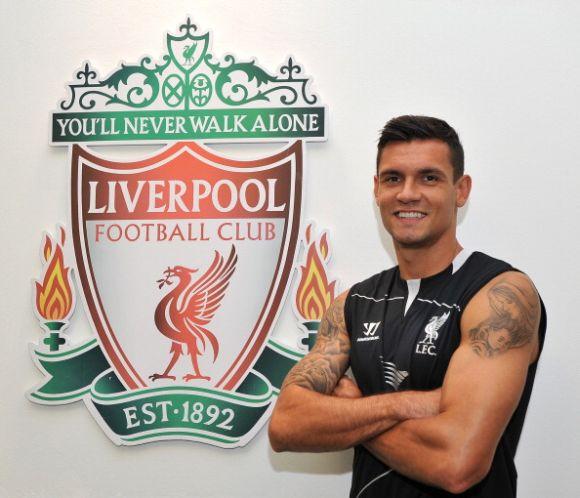 Dejan Lovern after Liverpool sigingin. Photograph: Liverpool on Twitter
As Liverpool heads into the Merseyside derby against Everton on Saturday, manager Brendon Rogers has a huge task on hand.
For one, he has to help the team get over the embarrassing 3-1 defeat to West Ham; secondly, they have to quickly work on the defensive frailties that saw them slump to their third defeat in the English Premier League this season.
New recruit Dejan Lovern, however, is confident that the camaraderie within the team will see them through the difficult phase.
The Croatian international joined Liverpool this summer from Southampton for £20 million and is part of a crucial back four, which includes Martin Skrtel and Mamadou Sakho.
Speaking at the launch of LFC's new autumn/winter fashion collection, 'Made For Liverpool', the defender revealed his ambition to become a Liverpool legend at Anfield and why victory in the Merseyside derby will enhance the Reds' chances this season.
How have you found the camaraderie in the squad at Liverpool since you joined? From the outside, there seems to be real team spirit…
I'm feeling great with this team -- it's like I've been here for a couple of years already. The guys are normal people; they accept me wonderfully, like the others. We have a lot of new players and that is a good thing, a new atmosphere. It's really nice.
What type of character are you in the dressing room? With whom do you spend most time since joining?
Of course, with Adam [Lallana] and Rickie [Lambert], because we were together at Southampton. But also with Lazar Markovic -- we speak the same language. But I'm practically with everyone, making jokes, with Mario [Balotelli] especially. It's great to be in the dressing room.
'We need to take the games step by step'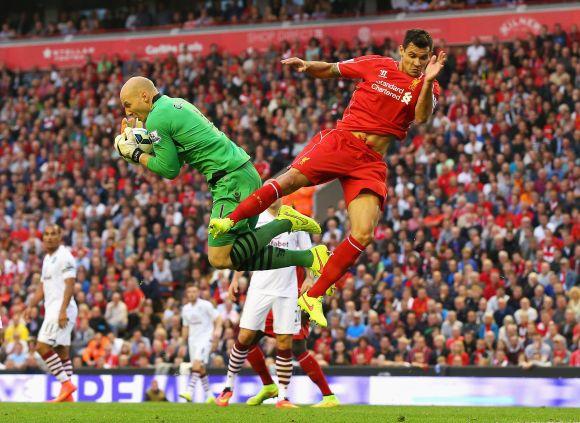 Brad Guzan of Aston Villa denies Dejan Lovren the ball. Photograph: Alex Livesey/Getty Images
Brendan Rodgers always talks about bringing the right type of player to Liverpool. What do you think he saw in you that made him want to bring you here?
I think leadership. I'm a young player, but I think I have it in me. I have the character to be a real leader one day. Now it's a learning process and I'm giving my best for the team, trying to be better and better in every game and to lead the team.
Will the team spirit here be particularly crucial given the schedule of games this season? The fixtures seem to be coming really quickly, one after another…
Yes, of course. There are a lot of games in front of us. We need to take the games step by step and not looking forward. We need to be calm, play our game and it will come.
'I know it's a big derby and there will be a lot of passion'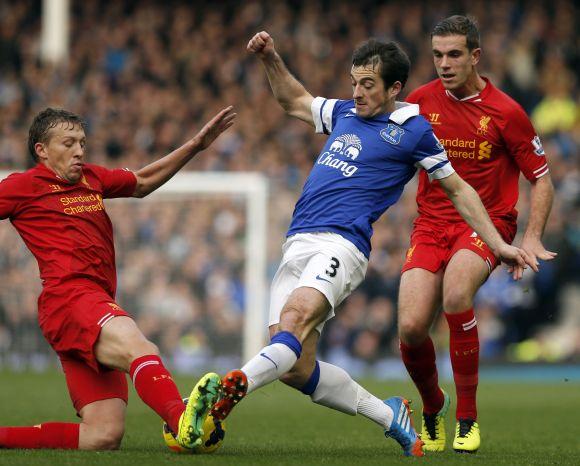 Liverpool's Lucas Leiva (left) challenges Everton's Leighton Baines during their English Premier League match at Goodison Park. Photograph: Phil Noble/Reuters
Looking ahead to the Merseyside derby, how much are you looking forward to your first experience of that match?
I can't wait. I know it's a big derby and there will be a lot of passion, especially playing at Anfield. It will be a tough game, for sure – Everton are a good team. But I'm confident.
Although it's very early in the season, would a victory over Everton give the team real momentum, as it did last season?
Yes, of course. Winning games is great. It will be tough, it won't be easy. We need to work step by step. We will see what will happen.
As someone who is not from Liverpool, how easy is it to understand the passion of this derby? Is that something the fans can help you with?
I already know about the derby – the passion, the fans – and I know it's something special. It means a lot to the fans when you win the derby. I know what to expect in the game and the atmosphere. I can't wait.
You have now experienced a European atmosphere at Anfield – are you expecting something similar when Everton visit?
Yes, it's something a lot different when you play in the Champions League. But it's a derby and I think the atmosphere will be even better, with much more intensity.
'It was a dream come true to play for Liverpool'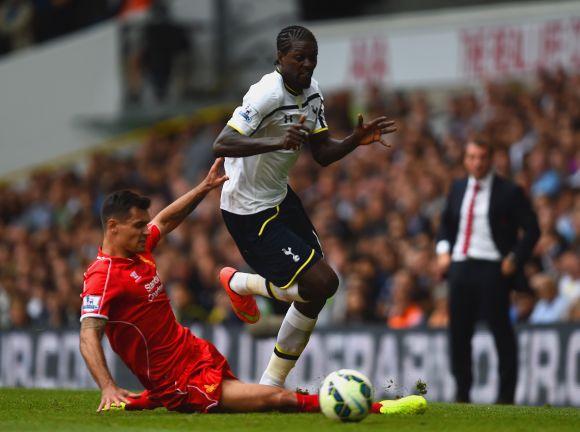 Emmanuel Adebayour of Spurs is tackled by Dejan Lovren of Liverpool. Photograph: Jamie McDonald/Getty Images
With these kinds of games having that intensity, the sense of a battle, are they matches that you particularly relish?
When you play a derby, it is tough every time. But the Premier League is already tough. It will be like every game for me, I'm ready for everything.
You are likely to come up against the physical strength of Romelu Lukaku – will you make any particular plans to deal with the threat he'll pose?
I think not; I will play my game and be concentrated on my team and me, so nothing special.
When you first heard about Liverpool's interest in you, were these the games that really attracted you to come to the club?
Of course. When I played here with Southampton against Liverpool, I said that one day I wanted to come here. I was doing everything, I had a great season last year. It was a dream that came true. But I won't stop here – I want to improve myself in every game and prove in front of the crowd and my teammates that I deserve to be here.
'I like fashion, of course'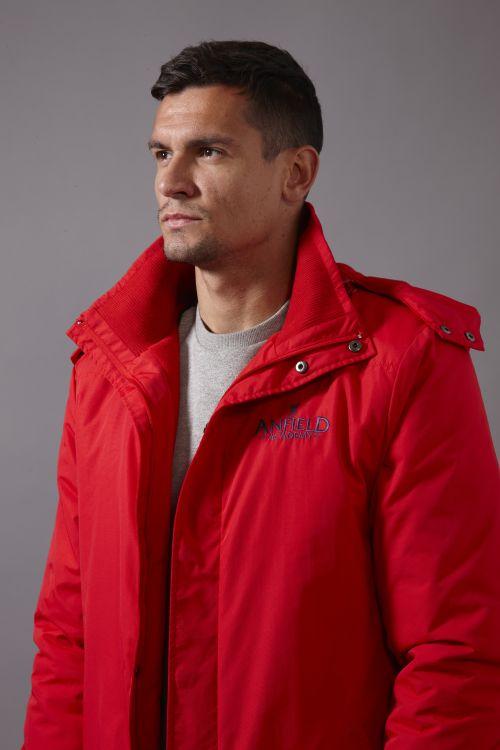 Dejan Lovern

at the launch of LFC's new autumn/winter fashion collection, 'Made For Liverpool'
Dejan, Liverpool have launched their new fashion collection – 'Made in Liverpool'. As a new player here, how does it feel for you to be modelling this range?
Of course, it's great to represent Liverpool Football Club, and like a model! It's great and an honour for me. There are great things and I'm really happy.
Are you into fashion? Is it something you take an interest in away from football?
Not too much; I like fashion, of course, but I'm not the type who looks every day on the Internet and searches for things.
There's a lot of fashion discussion in the dressing room and which player is the worst dressed. Is that something that the lads talk about every day?
At some clubs, they talk a lot about fashion, make jokes and everything. We are good and calm for now. At the end of the season, there will be a lot more talking about fashion and joking.