ManchesterCity manager Roberto Mancini says his side are not inferior to Manchester United despite a 3-1 defeat at Tottenham Hotspur on Sunday giving their rivals the chance to clinch their 20th league title with four games to spare.
-Title race almost over as City collapse at Spurs
Victory for United at home to Aston Villa on Monday would put Alex Ferguson's side 16 points clear of City - a huge margin compared to last season's title race that went down to the last kick of the season.
"It's over, it was over three of four weeks ago," Mancini told reporters after Tottenham hit back with three goals in seven minutes through Clint Dempsey, Jermain Defoe and Gareth Bale to defeat last season's champions.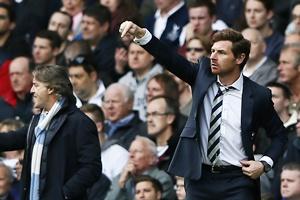 "But (United) are not better than us. They deserve to win the title because we lost a lot of points in games we didn't deserve to lose but United have scored more goals.
"But 13 or 15 points, however many it is, is not true. It's not the reality for this championship.
"We wanted to win the championship but we didn't. We have to give congratulations to them but we don't have a gap to make up. In the last two or three years when we've played them we've always been better than them, even when we've lost the game.
"This year we were better but lost in the last minute and last year we beat them easy; every time we've played them in the last two or three years we've not had any problems."
Asked if United's players had shown a better attitude throughout the season, Mancini did not disagree.
"Yeah, yeah, probably because they lost the championship last year. They improved the team in the summer and scored a lot of goals, they conceded a lot too, but scored more which is important.
"I think we probably deserve to have more points today but that doesn't change anything."
After the high of a first English title since 1968 last season, this campaign has been something of a letdown for City who were knocked out of the Champions League in the group stage and have been unable to match United's consistency.
They do have an FA Cup final to look forward to, against Wigan Athletic on May 11, but Mancini said he was disappointed.
"I'm not happy because I like to win the championship because that was the target at the start of the season, I always want the maximum.
"We can still win the FA Cup and that's important, as is second position.
Photograph: Stefan Wermuth/Reuters