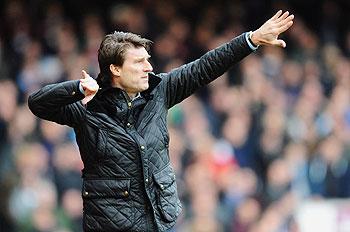 Michael Laudrup said on Tuesday he was sacked as manager of Premier League Swansea City this month for a breach of contract.
The 49-year-old Dane, who won the League Cup with the Welsh team last season, held a news conference in London to explain the circumstances surrounding his abrupt dismissal.
Laudrup said he was asked by the Swansea hierarchy to change his backroom staff in January but refused their request.
Following two meetings with club officials, including chairman Huw Jenkins, Laudrup said he got an email which said due to a 'breach of contract' his position had been terminated.
Laudrup did not go into specifics but said the reasons were given to him nine days after the original decision was made.
Swansea declined to comment when contacted by Reuters.
"I don't know what word to use, silly or incredible, but I can't go into details," said Laudrup when asked if he was satisfied with the criteria given by Swansea.
"The chairman's statement gives more questions than answers."
Asked how he felt he had been treated by the club Laudrup added: "Pick a feeling. Not that good."
In Swansea's February 4 statement announcing that Laudrup had been sacked, Jenkins said: "It is a decision we have taken reluctantly. But it's a decision made in the best interests of Swansea City Football Club and our supporters.
"It is the first time in nearly 10 years that the club has parted with a manager in this way, but we had to remove the constant uncertainty surrounding the club and Michael's long-term future with us."
The dispute is now in the hands of lawyers with Laudrup having signed a new deal in March 2013 to remain at the club until June 2015.
Laudrup told reporters on Tuesday that he was committed to staying at Swansea despite a rift that had reportedly formed between his agent Bayram Tutumlu and Jenkins.
"During the summer I saw a lot in the press, here and maybe more in Denmarkm about the problem with the chairman and my agent Bayram," he explained.
"At a certain point the connection between them stopped because of problems between the two of them.
"Of course, because you are caught in the middle you have to have an opinion, but I said it didn't change anything for me.
"My agent has been with me a long time and I trust him, but it doesn't change my relationship with the club.
"At the end of the season I gave my word to the players and fans that I would stay even though I knew from agents - I didn't speak to anyone - that a couple of big clubs were interested in me. I said it was important that I keep my word. I don't run from that, so I will stay."
Swansea fired Laudrup with the team in 12th place, only two points above the relegation zone after a run of six defeats in eight league games.
Despite the situation Laudrup said he still had fond memories of British football and would like to work in the Premier League once more.
"It wouldn't be fair to UK to say (the sacking) soured my relationship with British football. Of course I would like to work in the Premier League and win more trophies," he said.
The former Denmark forward has been replaced at the struggling Welsh team by club captain Garry Monk.
Swansea are currently 10th in the standings, four points clear of the relegation zone, with 12 matches remaining.
Image: Michael Laudrup
Photograph: Mike Hewitt/Getty Images