Stoke City manager Mark Hughes says he will not contest the Football Association's misconduct charge against him after he was sent off in Saturday's 4-0 Premier League defeat by Tottenham Hotspur.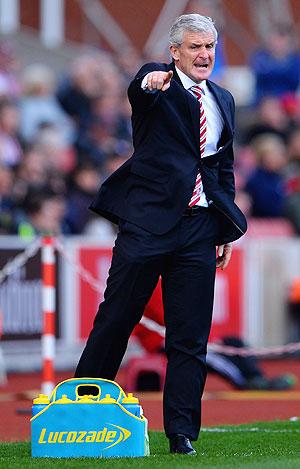 Hughes was given his marching orders after protesting against the referee's decision to book Marko Arnautovic for diving.
"I was sent off for leaving the technical area, but my charge is because I didn't leave immediately. That was because I was after clarity of where I was meant to go," Hughes told reporters.
"I asked the fourth official. He didn't give me the answer I was after. There is no point appealing because if you appeal and lose -- which more often than not you do -- then it costs you more money, and I would prefer to give that to my grandchildren."
Stoke said in a statement that they regretted the "inconsistent enforcement by match officials in instances of managers leaving their technical areas".
Hughes said Stoke will still be without Xherdan Shaqiri when they visit CrystalPalace on Sunday. But he was hopeful that defender Glen Johnson, who was sidelined for around seven months with a knee injury, could return.
Stoke, who are bottom of the league table with one point from the opening four games, have conceded 10 goals and scored twice this season.
Goalkeeper Shay Given said Stoke needed to step up in front of goal, with the club's only goals coming from Shaqiri's free kick at Middlesbrough and Bojan Krkic's penalty against ManchesterCity last month.
"We've got to take some chances. We've only scored two in the league this season: one was a penalty, and one was a free-kick. That's something we need to improve on – and we're also conceding too many goals," Given said.
"That's eight goals in two home games. From my point of view it's frustrating. I'm the one who's picking the ball out of the net, and that's not a nice feeling."
Image: Stoke City's Mark Hughes
Photograph: Michael Regan/Getty Images