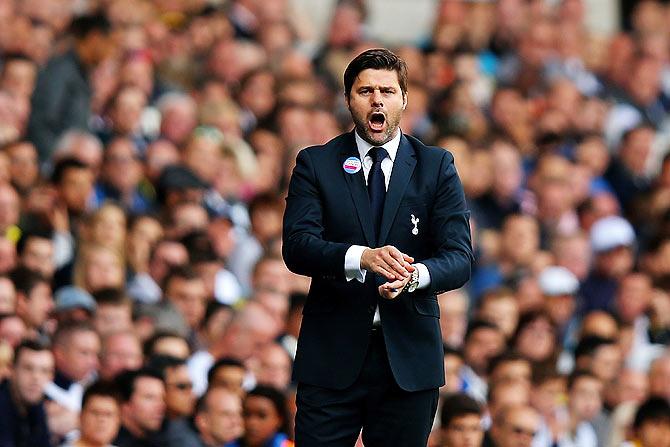 Tottenham manager Mauricio Pochettino. Photograph: Bryn Lennon/Getty Images
Tottenham Hotspur manager Mauricio Pochettino likes to erase bad memories and cherish good ones and it is a trait he hopes his players have acquired ahead of Saturday's clash at Premier League champions Manchester City.
The north London club, then managed by Andre Villas-Boas, were crushed 6-0 in the corresponding fixture last season and a few weeks later, with interim manager Tim Sherwood in charge, they collapsed to a 5-1 home defeat.
Many of the players involved in those beatings will be on duty again at The Etihad on Saturday lunchtime as sixth-placed Tottenham try to snap a run of four consecutive league defeats away to Manchester City.
Labelling that sequence mere "statistics" in his news conference at Tottenham's training ground on Thursday, Pochettino was busy accentuating the positives.
After all, in his first few weeks as Southampton manager in 2013 he orchestrated a 3-1 victory over City and last season his Southampton side gained a well-deserved 1-1 draw at home.
He did not mention a 4-1 away defeat.
Likewise, he played down a poor record when up against City boss Manuel Pellegrini when they were both managing in La Liga.
"In football you need to keep the good memories and the good feelings and get rid of the bad ones," he told reporters.
"You need to learn from the bad things but the past is the past and we are trying to build a future. This is a different season, a different manager and many different players.
"We need to improve and look forward. The past is just about statistics. We know Man City are the champions and they have a strong squad and a good team but we need to show we can compete with a team like them.
"My history in Tottenham only started three months ago."
'I'm very happy with Eriksen's performance and commitment'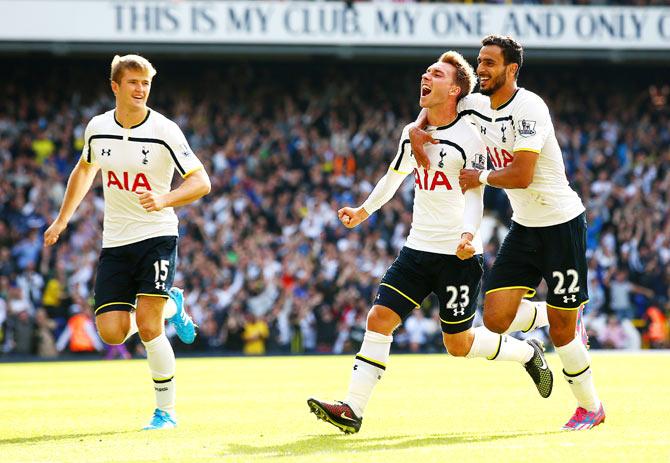 Christian Eriksen of Spurs celebrates with team-mates Nacer Chadli and Eric Dier. Photograph: Ian Walton/Getty Images
Pochettino has made a steady enough start with Tottenham who have picked up 11 points from seven league games -- just three shy of City who have already lost at home.
With Sergio Aguero, a player Pochettino describes as the best striker in the world, leading City's attack and a rejuvenated Yaya Toure, one of the world's great powerhouses, in midfield, the champions will take some stopping.
Yet, far from any fear, Pochettino will fall back on a previous occasion when one of his side's upset the odds against a side containing Ivorian dynamo Toure.
"Toure is one of the top four or five in the world in his position and we will try and stop him," he said.
"We had a good experience with Espanyol against Barcelona in the derby and Toure was on the pitch and we won 2-1."
Pochettino also refused to become embroiled in a war of words with Denmark coach Morten Olsen who was critical of Tottenham midfielder Christian Eriksen after Denmark's Euro 2016 qualifying defeat by Portugal.
Olsen pointed the finger at playmaker Eriksen for not "taking control" of the game -- a criticism occasionally levelled at the former Ajax player by Tottenham fans.
Pochettino said of Olsen: "It's his problem, it's not my problem. My problem is keeping my players at a good level and I'm very happy with his performance and his commitment."
Tottenham have injury worries over goalkeeper Hugo Lloris (thigh) and Nacer Chadli (hip) while striker Emmanuel Adebayor will be assessed after playing for Togo in an Africa Cup of Nations qualifier.