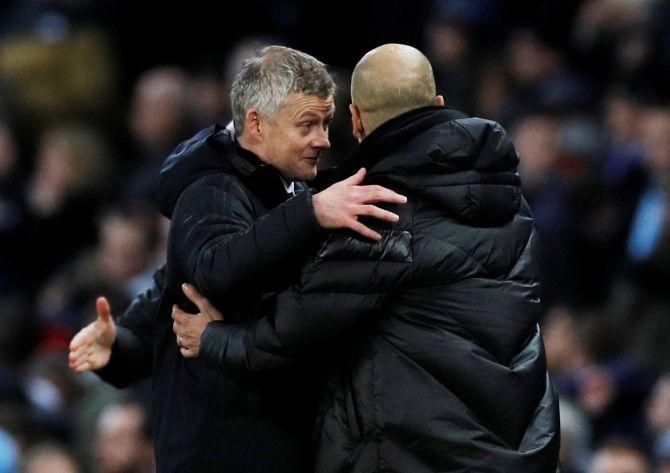 Manchester City's Pep Guardiola believes Ole Gunnar Solskjaer has stamped his authority at Manchester United with a fresh tactical approach but said the Norwegian will need more time to build a squad capable of winning titles.
United have struggled for consistency in Solskjaer's first full season as manager and have won just two Premier League games since beating City last month.
The defeat to Arsenal on New Year's Day left United five points behind fourth-placed Chelsea, but Guardiola has seen signs of United players finally translating Solskjaer's gameplans onto the pitch.
"Ole has started seeing the team he wanted - that's my feeling," Guardiola told a news conference ahead of City's League Cup semi-final first-leg against United on Tuesday.
"Even the last (league) game against Arsenal, that they lost, we saw what they want.
"It's not easy to handle a team at a big, big club... always demanding to win competitions and every manager needs time. I have the feeling United started to play the way he wants."
Guardiola will look to ensure his team is not vulnerable to counter-attacks as they were when United duo Marcus Rashford and Anthony Martial carved out an early lead at the Etihad Stadium last month.
"I think we conceded few counter-attacks in the beginning and in just two-three seconds they're in the box. They have incredible pace and talent to do that," the Spanish coach said.
"In general the game was good, we created chances."
City confirmed defender Nicolas Otamendi, who missed the last two games against Port Vale and Everton, has returned to training and will be available for the match at Old Trafford.
"I have an idea of the way I want to play but I am not 100% sure of the guys who play tomorrow," Guardiola added.
"Especially with the incredible amount of games some players have in the legs, they should be rested for the previous games."
Ahead of the Carabao Cup clash against Manchester United, Guardiola has said that he would rather live in the Maldives or play golf than to coach United.
"After training City I won't train United. It is like I would never train Madrid. Definitely not. I would be in the Maldives if I don't have any offers! Maybe not the Maldives because it doesn't have any golf courses," Goal.com quoted Guardiola as saying.
Guardiola has won on each of his three previous visits to Old Trafford in the Premier League.
Manchester City is currently at the third place in the Premier League standings with 44 points from 21 matches while United is at the fifth place with 31 points.
Both sides will take on each other in the Carabao Cup's semi-final first-leg later on Tuesday.
Liverpool agree new kit deal with Nike
Liverpool have signed a multi-year deal with Nike as their new kit supplier from the 2020-21 season to replace New Balance, the Premier League club said on Tuesday.
Liverpool were taken to court by New Balance last year after it was alleged the club was looking to switch to Nike once their existing contract ended in May 2020.
Boston-based New Balance, Liverpool's official kit supplier since the 2015-16 campaign, said they should have been allowed to match Nike's offer.
However, the club successfully argued that New Balance could not match Nike's offer with respect to marketing and distribution, with the judge ruling New Balance's offer "less favourable to Liverpool" compared to Nike's offer.
"We welcome Nike into the LFC family as our new official kit supplier and expect them to be an incredible partner for the club, both at home and globally as we continue to expand our fanbase," the club's managing director and chief commercial officer Billy Hogan said in a statement.
"As a brand, Nike reflects our ambitions for growth, and we look forward to working with them to bring fans new and exciting products.
"We'd like to thank New Balance for their support over the last few years and wish them well for the future," Hogan added.
Nike will be the club's official kit supplier for the men's, women's and academy teams from June 1, it said.
Aubameyang desperate to take Arsenal back to the top
Arsenal captain Pierre-Emerick Aubameyang has said he remains committed to the club and wants to help them challenge for major honours, dispelling speculation that the Gabon striker might want to leave the misfiring north London side.
Arsenal sit 10th in the Premier League after 21 games, nine points adrift of the Champions League qualifying places.
"People like making up stories and they should focus on what's happening on the pitch. They talk too much and it does my head in!" Aubameyang wrote in the match programme ahead of the FA Cup third round tie at home to Leeds United on Monday.
"I am the Arsenal captain. I love this club. I am committed to it and desperate to bring it back to the top, where it belongs", he added.
Aubameyang has yet to sign an extension to his current contract at the Emirates Stadium, which runs until 2021.
He joined the club in January 2018 for a then-record fee for the Gunners of 56 million pounds .
Aubameyang was left out of the Arsenal line-up for the Leeds match due to illness.
Arsenal edged past Leeds 1-0 to progress in the FA Cup.
---
Edited by Norma Godinho