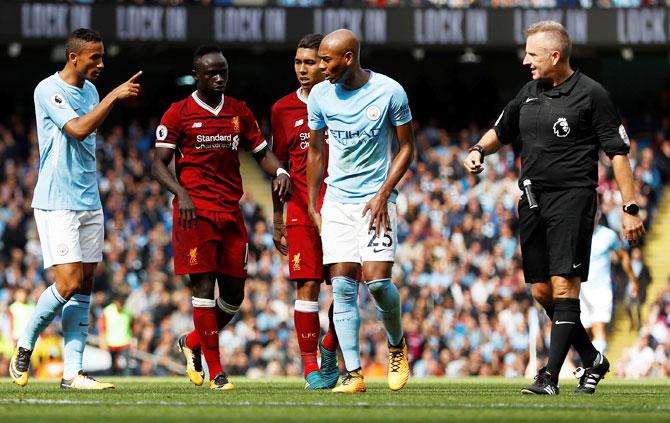 IMAGE: Liverpool's Sadio Mane (2nd from left) walks off the pitch after receiving the red card from referee Jon Moss for crashing into and injuring Manchester City keeper Ederson while going for a high ball during their English Premier League match in Manchester on Saturday. Photograph: Lee Smith/Action Images via Reuters
Sadio Mane's red card in the first half of Liverpool's 5-0 defeat by Manchester City on Saturday divided observers and pundits even from the same family, with former Manchester United defenders Gary and Phil Neville disagreeing.
Mane caught City goalkeeper Ederson on the jaw with a high foot as he chased a through ball.
"Rubbish decision to send off Mane. Rubbish," tweeted BBC football presenter and former England striker Gary Lineker.
Gary Neville, who was in the commentary box for Sky Sports immediately criticised the referee. "Jon Moss, you have just ruined the game there. He didn't need to give a red card. He could have given a yellow.
"I think he's got it wrong. His eyes are on the ball, it's ridiculous. He wins that challenge, the goal is there for him."
Brother Phil disagreed, however, tweeting: "Red card for me -- good decision Jon Moss."
"Red card has spoilt this game -- but that's not Jon Moss fault -- his position was fantastic to see the challenge and show red card," he added later.
Gary Neville also found a dissenting voice in fellow Sky pundit Jamie Carragher.
"He had his eyes on the ball but that doesn't mean he isn't endangering his opponent," the former Liverpool defender said, referring to the law which reads "a tackle or challenge that endangers the safety of an opponent... must be sanctioned as serious foul play."
Unsurprisingly, Liverpool manager Juergen Klopp was aggrieved by the decision.
"(The foot) was not that high," he said.
"The goalie came more in his (Mane's) direction. In my opinion it was not a red card."
Klopp appeared to attract some sympathy from City manager Pep Guardiola, whose team suffered from red cards to Kyle Walker and Raheem Sterling in their previous two games.
"Mane didn't see him, he was looking at the ball but the impact was huge," Guardiola said.
"I didn't speak about the decision when we had Kyle Walker sent off so I will not now."
Senegal international Mane faces a three-match suspension from domestic games, although he will be available for Liverpool's Champions League tie at home to Sevilla on Wednesday.
"I hope and wish Ederson a quick recovery," he posted on his official Facebook page.
"I am so sorry he was hurt during our accidental collision on the pitch and am sorry for him that he could not complete the match because of it. I pray he heals fast and is back playing very soon!"
That should be the case as the goalkeeper tweeted that he was fine.
"Hi, everyone - I am well. What a fright! Thanks for all your messages of support," he said.
Chelsea's Morata condemns fans' anti-Semitic song
Chelsea striker Alvaro Morata has publicly distanced himself from an anti-Semitic song about him chanted by the club's supporters during their 2-1 win over Leicester City.
The song appeared to be directed at rivals Tottenham Hotspur, who have a traditional Jewish fanbase.
Afterwards, Chelsea, whose owner Roman Abramovich is Jewish, issued a statement that said: "The club and the players appreciate the fans' passionate support away from home.
"But the language in that song is not acceptable at all. We've spoken to Alvaro after the game. He does not want to be connected with that song in any way and both the club and the player request the supporters stop singing that song with immediate effect."
Morata later posted on Twitter: "Since I arrived, I have been able to feel your (the Chelsea fans') support every single day, you are amazing and I'd like to ask you to please respect everyone!"
The anti-racism group Kick It Out also condemned the song. "There is no place for such disgusting chants at football matches and in wider society," it said in a statement, which also called for a ban on any supporters caught singing it.