IMAGE: Manchester City manager Pep Guardiola celebrates with Leroy Sane after the match against Chelsea on Sunday. Photograph: Andrew Yates/Reuters
Manchester City manager Pep Guardiola said he never imagined his team would run away with the Premier League title as they are doing this season.
City are 18 points clear of second-placed Liverpool after beating Chelsea 1-0 at the Etihad Stadium on Sunday and need just four wins from their final nine games to be sure of the title.
Asked whether he felt such a season of dominance could be possible, Guardiola said: "Before? No way. No way, no. Who could believe it? I think if you ask the players, the players (couldn't believe it) neither," he said.
"In terms of not just the results but the way we played, today was another demonstration. We showed the same desire as at StamfordBridge. That is what pleases me the most.
"To have the distance, 25 to Chelsea, 33 to Arsenal. Tottenham, Liverpool and United, they have had good results and kept a good pace. We are so far so good... I think it is a consequence of the way we play. The way we play today is a bit similar to what we have done (this season)," he said.
With nine games remaining, City who are on 78 points, have a chance to become the first team to break the 100-points barrier in the history of the English top flight.
Guardiola said, though, that his focus was not on records but on securing silverware.
"We are not going to play for the records. Records are always a consequence of what you have done but they are not the main thing.
"What really matters is to be champions. I never spoke with the players about the records. Next week at Stoke we are going to try and play like we play all season. After, at the end, we will see," he said.
Guardiola has had a tense relationship at times with Argentine striker Sergio Aguero but he said the forward was playing the best football since the Spaniard took over at the club last season.
"Since we were together here with Sergio, the last month and a half, two months, is the best Sergio I have seen. He doesn't lose one ball, he makes a movement in behind, he is the first man to help. Okay, he didn't score -- he will score in the future. It is no problem, he did really well."
Guardiola's ribbon is political symbol, says FA chief
FA chief executive Martin Glenn has spoken out strongly in defence of his organisation's decision to charge ManchesterCity manager Pep Guardiola for wearing a yellow ribbon in support of Catalan independence.
Spaniard Guardiola has until Monday to respond to the ruling body's charge that he displayed a political message.
"You can't have and we don't want football equipment to display political symbols. That has always been the case," Glenn told British media before referring to the recent controversy over British players wearing poppies on their kit.
"The problem we had with poppies is that for some reason a new person at FIFA seemed to think poppies were a political symbol and we fought hard against that notion and thankfully sense broke out," Glenn said.
"Things like a poppy are OK but things that are going to be highly divisive are not. And that could be strong religious symbols, it could be the Star of David, it could be the hammer and sickle, it could be a swastika, anything like Robert Mugabe on your shirt, these are the things we don't want," he added.
"And to be honest and to be very clear, Pep Guardiola's yellow ribbon is a political stance, it's a symbol of Catalan independence."
Glenn said the FA was "even-handedly" trying to apply the laws of the game.
"Where do you draw the line? Should we have someone with a UKIP badge, someone with an ISIS badge?" he added.
Conte fires back at 'anti-football' criticism of tactics
Chelsea manager Antonio Conte defended his negative approach to Sunday's 1-0 Premier League defeat by ManchesterCity, saying to play open football against Pep Guardiola's side was to risk heavy defeat.
He said Arsenal's two 3-0 defeats by City last week, in the League Cup final and a Premier League game at the Emirates, showed what can happen if teams play too openly against City.
"I am not so stupid to play against ManchesterCity open and to lose 3-0 or 4-0," Conte told reporters.
"If I remember well, two days ago, Arsenal played twice against them and then you criticise a lot Wenger because they concede three goals in only 30 minutes."
Chelsea played winger Eden Hazard as a lone striker and operated a deep midfield in front of their backline, showing little ambition or attempt to press or counter-attack in numbers.
Sky television pundit Jamie Redknapp, the former Liverpool and England midfielder, was scathing in his assessment of Conte's tactics.
"Today that was such a hard watch, that was anti-football. That was a crime against football what they did today. I really felt that so strongly."
Conte fired back at Redknapp's comments.
"The pundit has to use the head to understand when you speak about tactics because I think you must have knowledge to speak about tactics and not only to speak in a stupid way," he said.
The Italian suggested that any other approach could have led to a damaging loss.
"We tried to have patience. When you are 1-0 down you can always have the possibility to score. When you concede the space to ManchesterCity there is the risk for the game to finish 3 or 4-0," he said.
"When you play against a team that has shown to be stronger than you for a lot of the season - because 25 points is a big difference - you have to think with your brain and your head because otherwise you finish with a bad loss and that's not good for the players," Conte added.
Chelsea had frustrated City in the first half but the game was won by a Bernardo Silva strike in the first minute after the break.
"It's not simple to play against ManCity. They have great intensity in every moment of the game," Conte said.
"We tried to do this and defend well but we conceded a goal after 30 seconds of the second half and it's very difficult to come back from that. But don't forget we were missing N'Golo Kante who is a crucial player for our balance".
Mourinho happy with Rashford development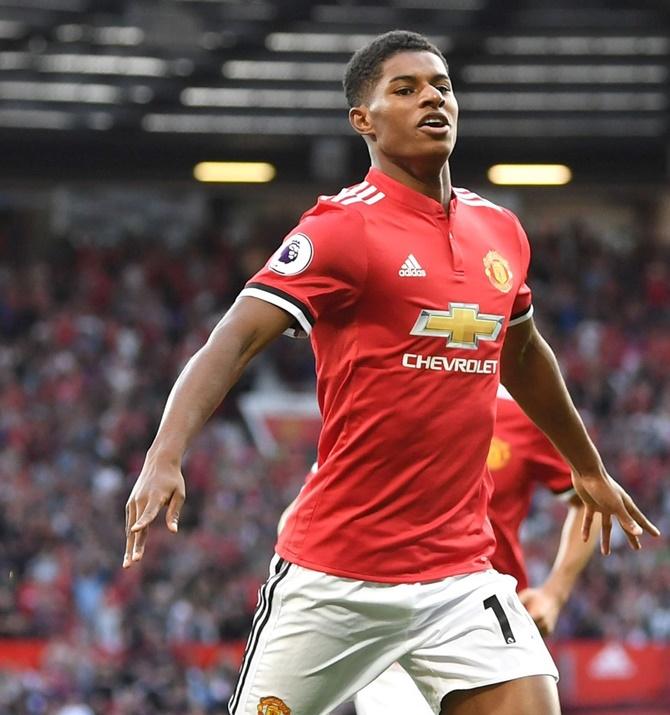 IMAGE: Marcus Rashford. Photograph: MUFC/Twitter
Manchester United manager Jose Mourinho says Marcus Rashford is getting the experience he needs to progress and the fact that he has not started a league game since December should not affect his chances of being picked for England's World Cup squad.
In only two years since bursting onto the scene at Old Trafford, Rashford has gone on to win 15 caps and become an integral part of the England squad under Gareth Southgate.
The 20-year-old striker has not started for United in the Premier League since late December and British media reported that the situation is causing Southgate concern as he prepares to name his squad for friendlies against Netherlands and Italy.
"You know, if the national coach trusts him, he selects him," Mourinho told reporters ahead of United's league trip to CrystalPalace on Monday.
"You have the example of (Sergio) Romero, who is the second goalkeeper at Manchester United and the first goalkeeper for such an amazing football country like Argentina.
"In your own country, you have examples of players who play even without scoring a goal in the Premier League. So it's up to Gareth Southgate. It doesn't matter if he plays or if he doesn't play for Manchester United."
Despite competition from Alexis Sanchez, Anthony Martial, Jesse Lingard and Juan Mata, Rashford has made 38 appearances for United in all competitions this season, including 25 in the league.
"Because Marcus had such an impact in the beginning, probably people are expecting him to play even more than he does and score even more than he does and to perform even more than he does... But that's not so simple," Mourinho added.
"At his age, what he's doing is more than enough, and the experience that he's getting at every level is more than enough, for us to be happy with what we think is going to be his future."
Ineffective Mkhitaryan fails to inspire Arsenal to improve
Brought in to inspire Arsenal to challenge for a top-four spot in the Premier League, Henrik Mkhitaryan has failed to ease the pressure on under-fire manager Arsene Wenger since his arrival.
The Armenian midfielder laboured in Sunday's 2-1 defeat at Brighton & Hove Albion and did not even finish the match.
With Alexis Sanchez heading off to Manchester United in January, Arsenal looked to Mkhitaryan to create chances for his former Borussia Dortmund team mate Pierre-Emerick Aubameyang, just like he used to in the Bundesliga.
It all began so well for the pair as, 37 minutes into their first Premier League start together, Mkhitaryan split the Everton defence with an inch-perfect pass for Aubameyang to score.
Since then, however, Mkhitaryan has not registered another assist in the Premier League, and has created just four chances in three league games as Arsenal slipped to 13 points behind the top four in sixth place.
At the Amex Stadium on Sunday, no player gave away the ball more often than Mkhitaryan and his dwindling influence on Arsenal's play was epitomised by Wenger's decision to withdraw him with seven minutes left, to be replaced by a fullback.
It is not the first time that Mkhitaryan's form has tailed off after showing promise.
"He started well this season but his performance levels, goalscoring, assists, high pressing, bringing the team with him as number 10, were decreasing step by step," Manchester United manager Jose Mourinho said in November, before allowing Mkhitaryan to leave for Arsenal.
Mkhitaryan struggled to find consistency last season but the start he made for United in this campaign showed promise as he registered five assists in United's opening three Premier League games.
However, in 18 games in all competitions that followed, Mkhitaryan did not provide one more assist.
A hat-trick of assists against Everton in early February suggested that perhaps Mkhitaryan had found his place, back alongside Aubameyang at Arsenal.
However, a struggle for consistency has hampered his progress once more, just when Wenger needs him most.
Birmingham name Monk as manager
BirminghamCity have appointed Garry Monk as their fifth manager in 15 months on a three-and-a-half-year contract, the English Championship (second tier) club said on Sunday.
The 38-year-old Monk, former manager of SwanseaCity, Leeds United and Middlesbrough, replaced Steve Cotterill who was sacked on Saturday after Birmingham's 2-1 loss at NottinghamForest which left them 22nd in the 24-team standings.
"The club is delighted to have secured the services of one of the game's brightest young managers," Birmingham said in a statement.
Cotterill took charge in October in place of former Tottenham Hotspur and West Ham United manager Harry Redknapp, who replaced Italian Gianfranco Zola in April.