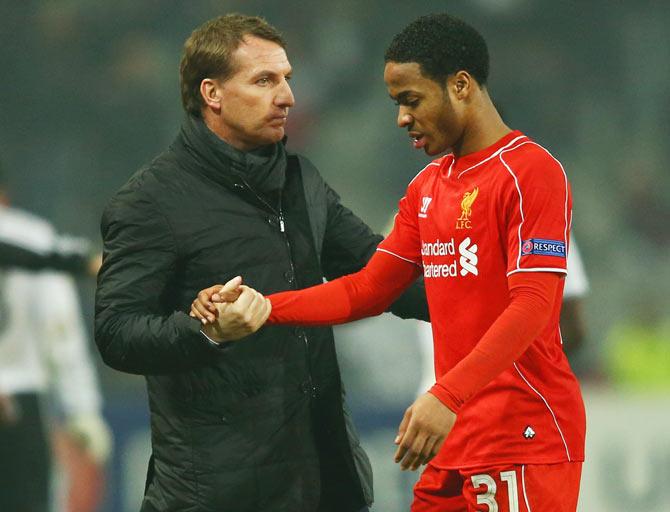 Liverpool manager Brendan Rodgers with Raheem Sterling. Photograph: Richard Heathcote/Getty Images
Liverpool manager Brendan Rodgers will speak to striker Raheem Sterling after footage emerged of the England international apparently taking nitrous oxide.
Images published on The Sun's website appeared to show the 20-year-old Sterling passing out unconscious after taking the substance, which is described as a legal high.
Sterling, who scored the opening goal in Liverpool's 2-0 victory over Newcastle United at Anfield on Monday, is currently stalling on a new contract and admitted recently that he had rejected a new 100,000 pounds ($146,660) a week deal.
"He's a young kid who has been in the spotlight now so he knows the demands of being a top class player and a top class professional," Rodgers told reporters after Liverpool's victory over Newcastle.
"When you are a professional sports person it's not something you should be doing but I'll speak to him on that.
"We want players here that are super pro and focussed on their football.
"It's not just on the field, it's off the field as well but I will speak with him on it and we'll move on."
Over the weekend a picture also emerged of Sterling on social media where he appeared to be smoking from a shisha pipe.
Liverpool, who play Aston Villa in an FA Cup semi-final at Wembley on Sunday, are fifth in the Premier League with 57 points from 32 matches.