Queens Park Rangers manager Harry Redknapp has revealed that officials and referees always feared upsetting Manchester United manager Alex Ferguson, who is due to retire at end of the current English football season after being at helm for 26 years.
Redknapp's insights come after the Rangers were relegated from the Premier League, the BBC reports.
According to the report, Redknapp believes that Ferguson stands at an advantageous position, being the winner of 38 trophies in his 26 glorious years, where even the referees and officials are awestruck at his managerial abilities and avoid getting in his bad books by adding time when the team is in a losing situation.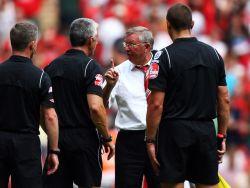 Redknapp also believes that Ferguson has taken the decision to quit at the right time after winning the 20th League title and has been effective at taking important decisions as well as putting capable teams together.
Redknapp supported Ferguson's decision of bringing Everton manager David Moyes as his eventual successor, who he believes will take the opportunity to build up a great team at United just like he has done with Everton.
Photograph: Phil Cole/Getty Images