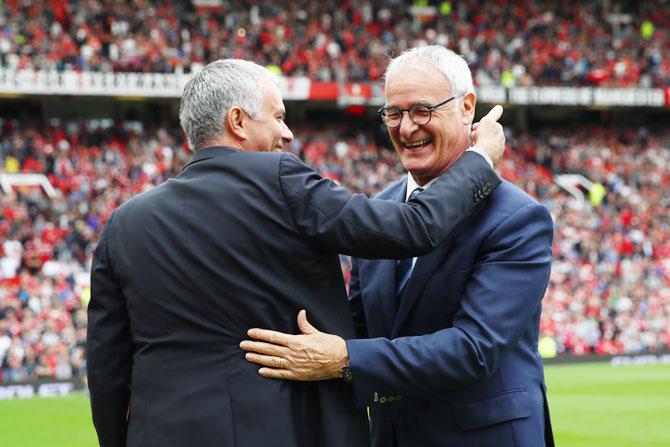 Manchester United manager Jose Mourinho is struggling to win over his critics at Old Trafford but in new Fulham boss Claudio Ranieri he at least has one big fan.
Italian Ranieri takes his side, currently bottom of the Premier League, to United on Saturday and said he is looking forward to renewing his friendship with the man who replaced him as Chelsea manager in 2004.
Ranieri, back in the English top flight for the first time since parting ways with Leicester City in 2017 having taken them to a fairy tale title, said Mourinho was the first manager to welcome him back.
"He was the first who sent me a message to say welcome back. He is a very friendly friend. He told me, 'welcome back, all the best'. We speak about everything," Ranieri told reporters.
"It was a text message. Sometimes we speak. He's a fantastic man. I know him for a long time, when he came to Chelsea and in Italy, and he was very polite with me. He's a great man, coach, manager and also the football is important."
Mourinho wore Ranieri's initials following his sacking by Leicester last year, a mark of respect to the man who nine months earlier had taken them to the title.
The Portuguese is having a difficult time at Old Trafford with the Reds in eighth place -- 18 points behind Premier League leaders Manchester City and eight off the top four.
Ranieri believes they are improving although he will be hoping to add to Mourinho's woes at the weekend.
"I think Manchester United are getting better," he said.
"For us, it will be difficult. We have to make a perfect performance. Manchester United are one of the best teams in the Premier League, also in the Champions League they made a very good job. It's a fantastic team, a fantastic team.
"We want to make a point there. We know it's hard but nothing is impossible."
Basement side Fulham have nine points from 15 matches and Ranieri said a string of good results starting with the game at Old Trafford could turn their season around.
"We are a work in progress. Last night, one point is much better than nothing," Ranieri said of Wednesday's draw with Leicester.
"It's not easy, because when you stay at the bottom of the table, it's hard for confidence to be 100 percent.
"But if you get a couple of results, the confidence improves immediately, and I believe we can do this soon."
Ranieri enjoyed a winning start as Fulham beat Southampton 3-2 last month. But they crashed to a 2-0 defeat at Chelsea before the 1-1 draw at home to Leicester.
"I think if you observe the three matches, we improved a little more, a little more, a little more," Ranieri said.
"There is a lot more work to do, but we're in a good way."
Mourinho's United have drawn three consecutive Premier League games, twice coming from a goal down in Wednesday's 2-2 draw at home to in-form Arsenal.
Mourinho's agent says manager happy at Manchester United
Jose Mourinho is happy at Manchester United and fully committed to the Premier League club despite rumours of unrest, his agent Jorge Mendes was quoted as saying by British media reports on Friday.
The Portuguese has endured a difficult time of late at Old Trafford with United slipping to eighth place in the league, already 18 points behind leaders and rivals Manchester City after 15 games.
Mourinho has often had to defend his record in the wake of mounting criticism. There has been speculation that the club may look to replace him in the near future, despite signing a contract extension in January that ties him to the club until 2020.
However, numerous British media outlets quoted a rare statement from Mendes on Friday rejecting any suggestion that Mourinho was close to leaving.
"There have been more rumours of Jose Mourinho leaving Manchester United. It's totally untrue," Mendes was quoted as saying.
"Jose is very happy at the club and the club is very happy with him. He has a long-term contract with Manchester United and is fully committed to the club in building a solid winning project."
United are without a win in four matches in the league. They host bottom-of-the-table Fulham on Saturday.
They have also reached the last 16 of the Champions League ahead of their final group stage game at Valencia on Wednesday.
Guardiola a fan of Chelsea's 'special' style under Sarri
Manchester City boss Pep Guardiola said he was impressed with the quick overhaul of Chelsea's playing style under Maurizio Sarri although the new manager will need time to bed in his philosophy completely.
Sarri, who replaced Antonio Conte in the close season, has turned Chelsea from a counter-attacking side into high-intensity team with that can dominate possession and Guardiola said he was a fan of the Italian's work.
"The job he has done so far, from my point of view, is excellent. Some people do not know how difficult it is to create a special way to play. You need time," Guardiola told reporters on Friday, ahead of the meeting between the teams on Saturday.
"Maybe they are not playing 90 minutes but when they play good for 50, 60, 70, 75 minutes, they are excellent."
Sarri's side went unbeaten in their opening 12 matches but two defeats in their last three games have seen them fall behind City to sit fourth in the table with 31 points.
"Tomorrow we have a huge, demanding test. How we play against one of the best teams on one of the biggest stages. How will they react after losing two games," Guardiola added.
"I can imagine how intense, how aggressive and how committed they will be to not accept three defeats in a row. That is why it is a good test for us.
"It is always difficult at Stamford Bridge. Most of the time I lose there. The stadium, the history of Chelsea in the last 20 years and because they are a really, really good team."
City striker Sergio Aguero and midfielder Kevin De Bruyne will miss the match due to injury.
Aguero has missed the last two games with a muscle problem, while De Bruyne has not played since November due to a knee problem.
Champions City remain unbeaten in 15 matches and top the table with 41 points.