Manchester City crushed Manchester United 6-1 for their biggest win at Old Trafford for 56 years to go five points clear of the champions at the top of the Premier League on Sunday.
Mario Balotelli and late substitute Edin Dzeko scored twice each while Sergio Aguero and David Silva added the others with three of City's goals coming in the last four minutes of the match.
United's defence, without Jonny Evans after he was sent off after 47 minutes, simply could not cope with the rampaging visitors.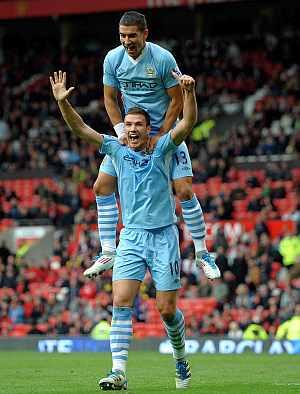 Darren Fletcher scored what proved to be a consolation for United nine minutes from time leaving City top of the table with 25 points from nine matches and United second on 20.
In the other early matches, Arsenal continued their improvement with a 3-1 win over Stoke City at the Emirates with goals from Gervinho and two from substitute Robin van Persie after Peter Crouch equalised for the visitors.
Everton scored two late goals to win 3-1 at Fulham while Blackburn Rovers were playing Tottenham Hotspur and Queens Park Rangers were playing Chelsea in later action.