Manchester United are counting on their formidable home record to take them to a victory in the big game against Chelsea on Sunday that manager Alex Ferguson says will secure them the English Premier League title.
Ferguson's side have dropped only two points at home all season and are in good spirits after reaching the UEFA Champions League final this week with a 6-1 aggregate win over Schalke 04 which was completed using a second-string team.
Having rested first-choice players including striker Wayne Rooney, who has now recovered from a tight hamstring, Ferguson believes his team are in ideal shape for the huge game.
"If we win, I think we should win the league," Ferguson told a news conference on Friday.
"Our home record is fantastic, it's probably the best in Europe, and it has to be on Sunday, it's a big game."
With three games left, United have 73 points to Chelsea's 70 with both on the same goal difference, meaning the London side would go top with victory at Old Trafford while a win for United would leave them needing one more point for a record 19th title.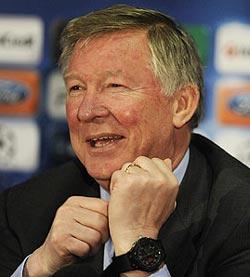 United's 1-0 defeat at Arsenal and Chelsea's 2-1 win over Tottenham Hotspur last weekend has set up this game as key for the title race, a notion that looked unlikely two months ago when the champions trailed the leaders by 15 points.
The loss at Arsenal forced Ferguson into some drastic squad rotation against Schalke, making nine changes from the side that started the first leg, and he was glad his players would be as rested as Chelsea's who did not play midweek.
"That makes a difference at this time of the season. You've got two fresh teams and it should be a fantastic game," Ferguson said.
Chelsea were the last team to win at Old Trafford, more than a year ago, and their late charge to retain their league crown owes much to March's victory over United at Stamford Bridge when they came from a goal behind to win 2-1.
"The result against us was the change for them," said Ferguson. "That gave them that lift from being out of the game to winning it and of course us losing to Arsenal on Sunday is going to open the door for them.
"It's a hard league to win, we know because we've been involved in championship races for almost 19 years."