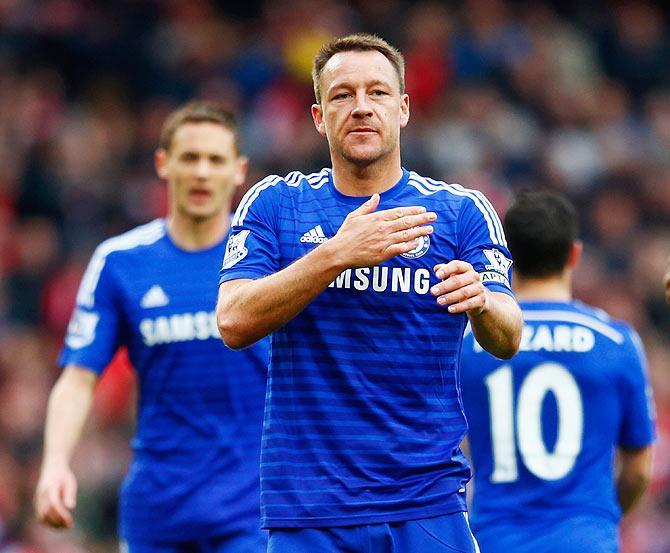 Chelsea's John Terry celebrates with teammates after holding Arsenal to a draw during their English Premier League match at Emirates Stadium in London on Sunday. Photograph: Julian Finney/Getty Images
Chelsea plucked a performance straight from the Jose Mourinho textbook -- with John Terry writing a chapter all of his own -- as they grafted to a 0-0 draw at Arsenal on Sunday that leaves them almost certain to claim the title.
- EPL PHOTOS: Everton blank jittery Man Utd; Chelsea hold Arsenal
- Hazard edges Kane to win England's PFA player of the year
It was not particularly pleasing on the eye, but the fact Arsenal's best two chances fell to a central defender and a late substitute spoke volumes for the control Chelsea enjoyed against a side boasting the creative talents of Alexis Sanchez, Mesut Ozil, Aaron Ramsey and Santi Cazorla.
Central to thwarting Arsene Wenger's side was a towering performance from Terry, which Mourinho hailed as the finest he had seen from his captain.
With frontmen Diego Costa and Loic Remy both injured and 37-year-old striker Didier Drogba benched, Mourinho concocted the perfect game plan to frustrate an Arsenal side on a nine-match winning streak at home.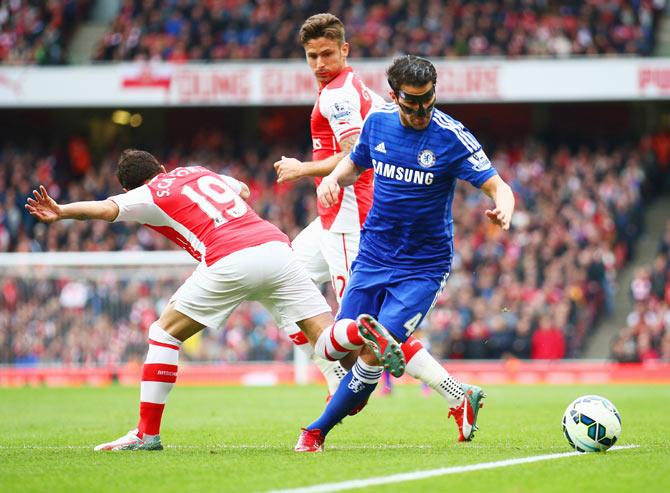 Chelsea's Cesc Fabregas is challenged by Arsenal's Santi Cazorla and Olivier Giroud. Photograph: Paul Gilham/Getty Images
Employing Oscar as a notional frontman, Eden Hazard drifting from wing to wing and Ramires, Cesc Fabregas and Willian working tirelessly in midfield, Arsenal were unable to apply any sustained pressure.
- Chelsea's Oscar hospitalised after colliding with Arsenal 'keeper
Even if the hosts got past Nemanja Matic, there was Gary Cahill and the redoubtable Terry to mop up.
"I was telling John in the dressing room that he made fantastic performances with me in the six years that we are together but for me this was the best performance that I have ever seen from John Terry from a defensive point of view," Mourinho told reporters.
"This performance with a goal would be something from the moon, but even without a goal scored, his defensive performance was absolutely amazing.
"The team was phenomenal but I think John was one step ahead of all the other players today."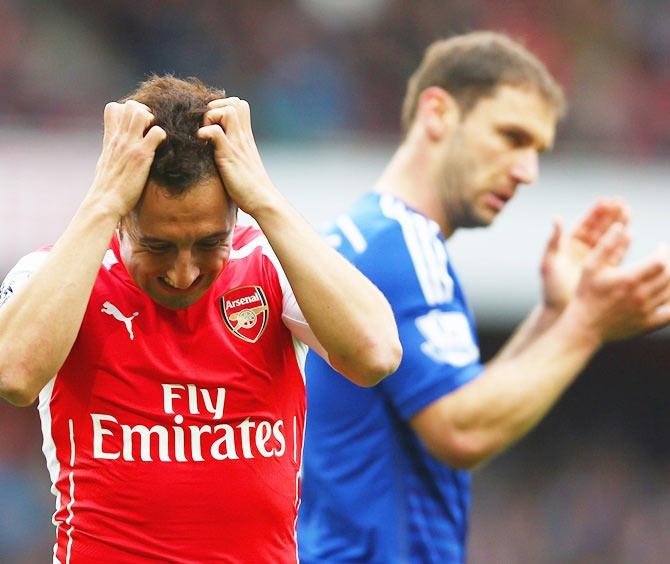 Santi Cazorla (left) of Arsenal reacts after a missed chance. Photograph: Paul Gilham/Getty Images
Mourinho's approach was never to everyone's liking during his first spell at Chelsea when he won consecutive league titles from 2004-2006 and there were chants of "boring, boring" from Arsenal's fans towards the end.
This, inevitably, prompted a cheeky comeback from Mourinho, who, after extending his record against Wenger to 13 matches unbeaten, could not resist responding: "Boring is 10 years without a Premier League title -- that's boring."
"Maybe Arsenal's fans were not singing to us. When you want to win the game and you take your striker Olivier Giroud off maybe they want more, maybe they want Giroud and Theo Walcott up front," added the Portuguese.