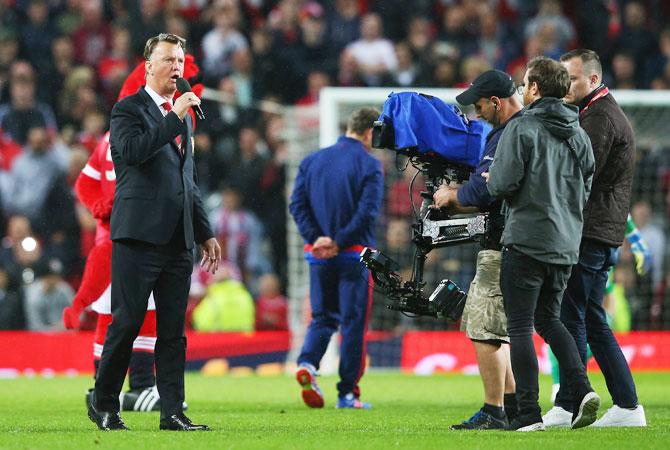 IMAGE: Manchester United manager Louis van Gaal speaks to the crowd after the Barclays Premier League match against AFC Bournemouth at Old Trafford in Manchester on Tuesday. Photograph: Alex Livesey/Getty Images
Manchester United manager Louis van Gaal blamed injuries and unrealistic expectations for his team's disappointing season after a 3-1 win over Bournemouth on Tuesday confirmed a fifth place finish in the Premier League.
Even though United are guaranteed a spot in next season's Europa League four days before they play Crystal Palace in the FA Cup final, the Dutchman Van Gaal was booed by pockets of the home fans when introduced to the crowd for a post-match address, but he still made a statement: "I want to thank you for your unconditional support."
There were a number of empty seats at Old Trafford for the last home game of the season and a few banners suggesting the club's supporters would be happy to see Van Gaal leave.
Fans arriving at Old Trafford spoke of their anger and frustration over Sunday's cancellation, which left visiting supporters facing two 500-mile (800-kilometre) round trips in three days. The atmosphere inside and outside the stadium was subdued and there were visible signs of dissent against the unpopular Van Gaal.
One banner read held up by fans read: "TIME TO GO LOUIS! NOT GOOD ENOUGH!"
As Bournemouth's fans goaded him with chants of "You're getting sacked in the morning!", Van Gaal added: "You never let us down. Thank you for that. We will bring the FA cup home to you. You deserve it. Thank you."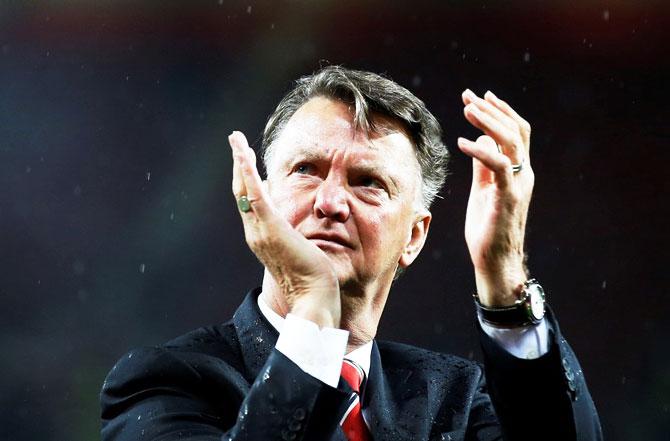 IMAGE: Manchester United manager Louis van Gaal applauds fans during a lap of honour after the game on Tuesday. Photograph: Carl Recine/Action Images via Reuters/Livepic
"The expectation is very high. Too high. We are a team in transition," Van Gaal said.
"I have tried to explain that.
"We didn't reach our aim. We have to qualify for the Champions League. We have still the FA Cup final to go. Everyone has to make up his mind at how we have done this season at that time."
Van Gaal's future is still the subject of intense speculation after two years in charge at Old Trafford.
"The issue is the amount of injuries in November and December, particularly in the two full back positions," Van Gaal told reporters.
"We need creative, fast attackers and we have to take care of that. When everybody was fit we were first in the league. That is the facts."
United, however, scored only 49 league goals all season, their lowest return since 1989-90.
After winning 13 league titles under manager Alex Ferguson with attack-minded teams who scored goals for fun, that simple statistic alone should make Van Gaal worry for his future at the Theatre of Dreams.