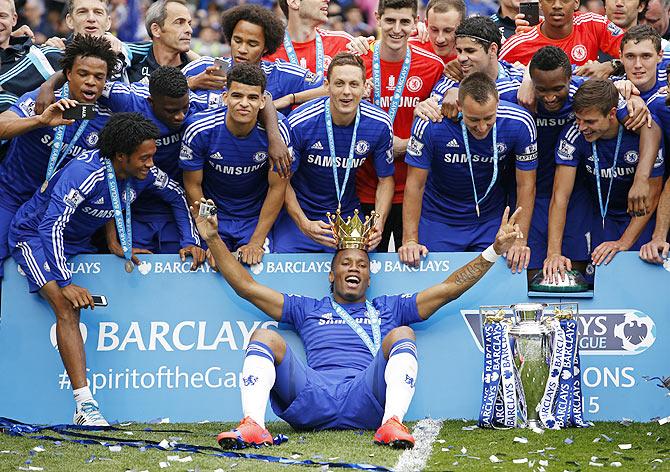 Chelsea players celebrate with the English Premier League trophy after winning the match against Sunderland on Sunday. Photograph: John Sibley/Action Images via Reuters
The departing Didier Drogba threw down the gauntlet to the young Chelsea squad on Sunday as he led Premier League celebrations at Stamford Bridge, telling them they had to win more titles to stand comparison with the class of 2005.
Sporting the gold crown from the Premier League trophy, the 37-year-old Ivorian danced in front of a cheering crowd and his jubilant teammates after they finally got their hands on the Premier League trophy three weeks after clinching the title for the first time in five years.
Drogba, who announced just before the final game of the season that he was leaving the club for the second time, launched into an emotional speech amid the blue and silver tickertape of the ceremony, thanking owner Roman Abramovich, players and managers past and present, fans and Jose Mourinho for his Chelsea career.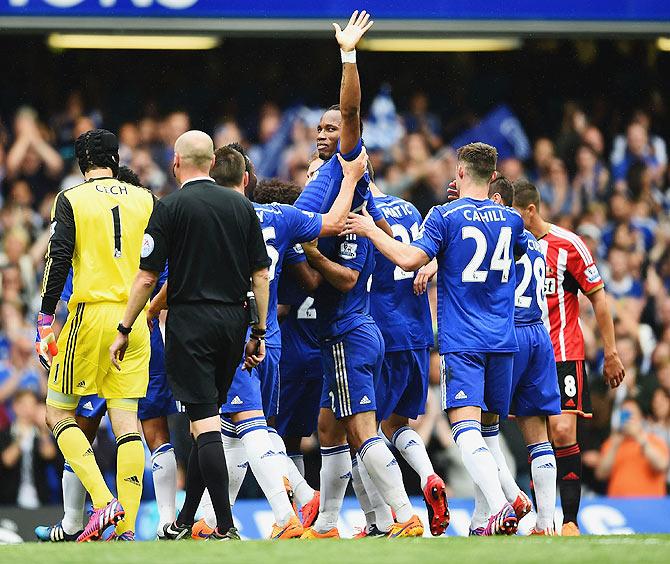 Didier Drogba of Chelsea is lifted by his teammates as he is substituted. Photograph: Laurence Griffiths/Getty Images
He told his young teammates that they might turn into Chelsea's best ever team: "But you will have to catch us first."
Drogba won three Premier League titles, four FA Cups and a Champions League trophy with Chelsea before leaving in 2012, only to return this season as a backup striker in Mourinho's Mark II squad.
Sunday's 3-1 victory over Sunderland was almost a sideshow on a day of nostalgia and theatre.
Before kickoff players from the 2005 triumph, including Portuguese defender Ricardo Carvalho and France's Claude Makelele and William Gallas, paraded round the pitch to sustained applause.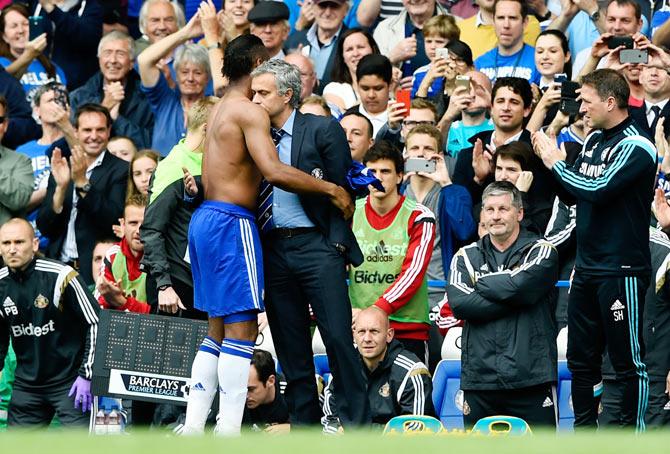 Chelsea manager Jose Mourinho hugs Didier Drogba as he is replaced by Diego Costa. Photograph: Mike Hewitt/Getty Images
In another sentimental gesture Drogba, who was recovering from a knee injury, wore the captain's armband before being substituted after half an hour, and referee Lee Mason turned a blind eye to the his lengthy exit as he was carried from the pitch by his teammates to noisy applause.
The Chelsea fans, who have come in for criticism from Mourinho this season for being too quiet, kept up a constant chant lauding players past and present, with goalkeeper Petr Cech, also likely to depart, among their favourites.
"We didn't want to celebrate without at least a point…when you have the cup in your hands it's always a great feeling," a relaxed Mourinho, glass in hand, told reporters.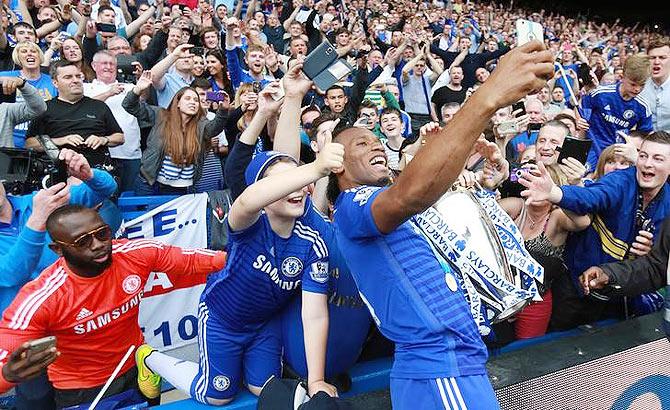 Chelsea's Didier Drogba takes a selfie with fans on Sunday. Photograph: John Marsh/Action Images via Reuters
Mourinho said it had been captain John Terry, another survivor from 2005 who wanted to hand Drogba the arm band and it was the players' idea to carry the striker off.
"I'm really happy because he was part of the other team and he belongs to this new team. He has been very good for these young people. They have learned from him."
Mourinho agreed with Drogba that his new team still had something to prove.
"This team is just at the beginning. They have won one Premier League and one Captial One (League) Cup. They have to win more than that to be as good. That's the difference."