Manchester United manager-to-be David Moyes faced a barrage of death threats from fans from Manchester United and his current club Everton, who are reportedly enraged by Moyes's club swap.
Following the retirement announcement from United boss Alex Ferguson, United fans hit their new manager with threats of violence if he failed to repeat Ferguson's success at the Old Trafford or if he let star striker Wayne Rooney leave, the Daily Star reports.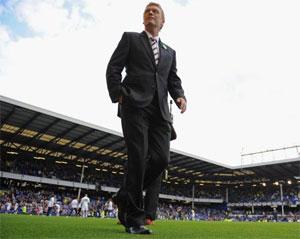 The report further said that Everton supporters warned Moyes against raiding their club for their stars when he takes charge of the Premier League champions in July.
A United fan tweeted: ''David Moyes I'm warning you...Come to United and f*** us up and I will personally kill your family! That is all.''
Another United fan warned the outgoing Everton boss against selling off Rooney, tweeting: "I''ll tell you right now Moyes, if you sell Rooney imma kill yo ass!''''
Said a tweet from an Everton fan, ''If Moyes buys Baines off us honestly I''d kill him.''
The report further said that Everton chairman Bill Kenwright and United's American owners, the Glazer family, also received threats.
Meanwhile, Manchester United officials were left embarrassed after announcing Moyes's appointment on United's Facebook page and then removing it because the deal had not been signed, the report added.
Photographs: Michael Regan/Getty Images