'It's a case of realising how lucky we are and how we should go out there and enjoy it. You can see that everyone did enjoy it and the message clearly did get across'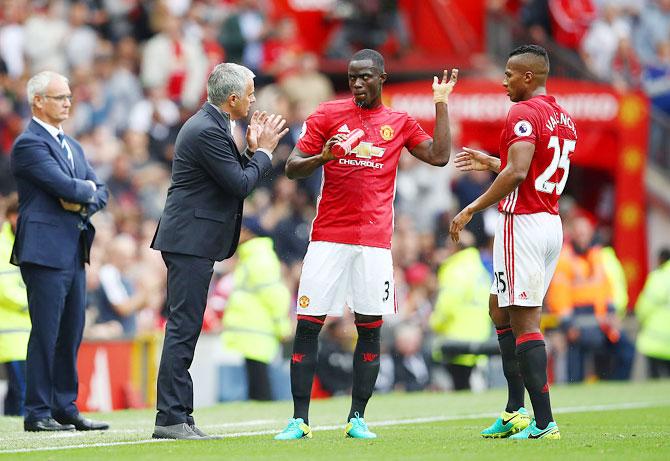 IMAGE: Jose Mourinho, Manager of Manchester United gives Eric Bailly of Manchester United and Antonio Valencia of Manchester United instructions during the match against Leicester City on Sunday. Photograph: Clive Brunskill/Getty Images
Manager Jose Mourinho's pre-match message of embracing the occasion of playing in front of a packed Old Trafford crowd inspired Manchester United to a 4-1 rout of Premier League champions LeicesterCity, defender Chris Smalling has said.
After back-to-back Premier League defeats by ManchesterCity and Watford, United were under pressure from their fans and returned to winning ways with Smalling beginning the rout of the champions with a first half header.
"The boss really wanted to get the enjoyment factor across," Smalling told the club's website (www.manutd.com).
"He stressed how there is 70-odd thousand people in the stands who want to be in our shoes and in his shoes.
"It's a case of realising how lucky we are and how we should go out there and enjoy it. You can see that everyone did enjoy it and the message clearly did get across."
The victory moved United to sixth on the table with 12 points from six games and released the pressure on the club and Mourinho, though his decision to relegate England captain Wayne Rooney to the bench created more speculation.
Smalling, however, said the 30-year-old is still the "main man" under Mourinho.
"He was the same, as in before the game when we're all getting ready. He is often one of the most vocal and he was the same on Saturday," Smalling added.
"Regardless of whatever the situation is, whatever game, whether he is on the bench or playing or whatever, he is always that same type of character and that's why he is England's main man and our main man."