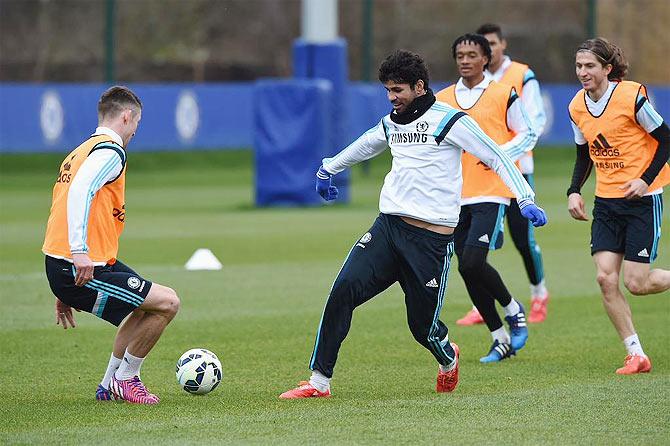 Diego Costa goes through the grind during a Chelsea training session on Friday. Photograph: Chelsea FC/Twitter
Chelsea striker Diego Costa is uncertain to start their Premier League game against Stoke City as he tries to shake off the lingering effects of a hamstring injury, manager Jose Mourinho said on Friday.
Costa has physically recovered from the injury he suffered in the 3-2 win at Hull City before the international break, but Mourinho is unsure whether he is ready to be thrown into the fray from the off at Stamford Bridge on Saturday.
"Diego Costa trained yesterday and today, he's not injured, I don't know if I'll start him or not. I need to make a decision," Mourinho said.
"He dedicated himself, there were no days off, he worked morning and afternoon, we did all the scans to confirm scientifically that he is all right.
"The muscle is fine, but you need the confidence to play with intensity and be free to express yourself at maximum intensity. That's our doubt."
Chelsea top the table by six points from Manchester City with a game in hand over their rivals and nine matches still to play.
They remain overwhelming favourites to clinch the title and only a surprise stumble would prevent them from accumulating the 19 points they need to secure top spot.
For Mourinho, who has already made the bullish prediction that his side will be crowned champions, it is a simple matter of ticking off the victories.
"We need six wins and a draw, for us the situation is the one the other clubs would like to be in. It's pure mathematics, we need to win six games and draw one but we have not done it yet," the Portuguese said.
"I'm not thinking about how or when, just that we need to win six, draw one and every victory is one less that we need and one less for opponents to reach us."
Chelsea's recent record at Stamford Bridge could provide a grain of hope for Saturday's opponents with the London club drawing three of their last four home league games.
Mourinho also admitted that key playmaker Eden Hazard was tired after playing back-to-back internationals for Belgium.
"Hazard is tired because of two matches in three days, but we think he can recover and obviously he starts tomorrow," Mourinho said.
"He's important, I want to play him every time and his coach for his country wants to play him every time."