'It's very difficult to play football in these circumstances within 48 hours. It's amazing for the fans around the world, everybody has the Premier League, I'm more than happy to do that but it's very hard for the players'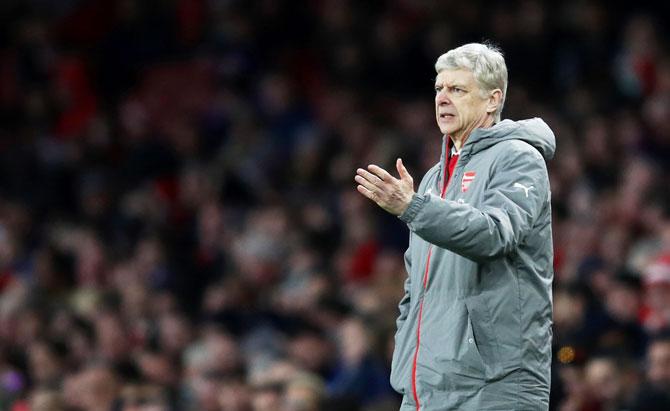 IMAGE: Arsenal manager Arsene Wenger believes 'It is, in 20 years, the most uneven Christmas period seen on the fixture front'. Photograph: Julian Finney/Getty Images
Arsenal manager Arsene Wenger has criticised the Premier League's festive fixture list calling the schedule the most "uneven" he has seen in 20 years.
Wenger's team visit Bournemouth on Tuesday just two days after hosting CrystalPalace in the league but leaders Chelsea are not in action until Wednesday after their 4-2 victory over Stoke on Saturday.
"It is, in 20 years, the most uneven Christmas period I have seen on the fixture front," the 67-year-old manager, who took the Arsenal job in 1996, told the reporters.
"The difference of rest periods is absolutely unbelievable, compared to the other teams it is unbelievable."
With the Frenchman looking to rotate his squad, midfielders Aaron Ramsey and Francis Coquelin and defender Shkodran Mustafi are all set for a return to the starting lineup against ninth-placed Bournemouth after being on the bench during Sunday's 2-0 win over Palace.
"Every game is so difficult in this Premier League that we go now into a game in 48 hours' time with a big handicap on the fixtures," the Frenchman added.
Fourth-placed Arsenal, who have lost their last two away games at Everton and ManchesterCity, travel to Bournemouth with an opportunity to cut the gap to six points at the top of the league table.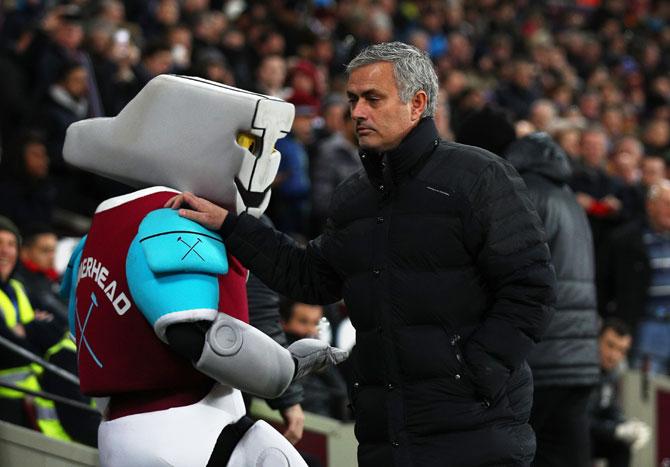 IMAGE: Manchester United manager Jose Mourinho walks past the West Ham mascot on Monday. Photograph: Ian Walton/Getty Images
Manchester United manager Jose Mourinho repeated his complaints about the Premier League's festive fixture pile-up after his side laboured to a 2-0 win at 10-man West Ham United on Monday.
The Portuguese coach blamed United's mixed performance on having to play their second game in three days, the trip to London coming barely 48 hours after a stirring 2-1 comeback win at home to Middlesbrough.
"It's very difficult to play football in these circumstances within 48 hours. It's amazing for the fans around the world, everybody has the Premier League, I'm more than happy to do that but it's very hard for the players," Mourinho told reporters.
Referee Mike Dean harshly sent off West Ham winger Sofiane Feghouli in the 15th minute for a challenge on Phil Jones but United needed until the 63rd to open the scoring through Juan Mata, who converted fellow substitute Marcus Rashford's cross.
Zlatan Ibrahimovic was offside in scoring the second while United, who got a seventh straight win in all competitions for the first time since 2010/11, were helped by three saves from David de Gea, who denied Michail Antonio just before Mata scored.
"It's not just hard for the team with 10 (players) but hard for the team with 11. When you have one more player you also need to think well. My players were too tired to think well, we had lots of bad decisions," Mourinho added.
"When you are fresh you play simple, when you are not fresh you play complicated. In the first half everything was complicated. Only when I brought on fresh people, Mata, Rashford, the team was different.
"We had width with Rashford, an extra player creating, and we deserved to win, but I'm going to be honest, if Antonio scores I don't think we win, when you are tired and losing it's even harder."
Mourinho again aired his complaints that league leaders Chelsea have two days more to rest before visiting Tottenham Hotspur, United's rivals for a top-four finish, on Wednesday.
"We go step-by-step, we try to win our matches. But in relation to Tottenham v Chelsea, I hope it's an amazing match, they are two great teams with the privilege nobody else has so they are fresh," he added.