Jose Mourinho added another entry to his extensive personal diary of conspiracies on Thursday when, after Chelsea were ripped apart 5-3 by Tottenham Hotspur, he blamed the defeat on a penalty that was not given.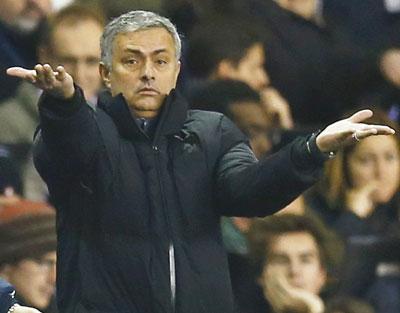 Not two-goal Harry Kane's domination of his centre backs, though he did admit some defensive mistakes, not Tottenham's midfield showing more verve and tenacity, not his players seeming to run out of energy and certainly not his decision to keep Didier Drogba on the bench when his team needed goals.
Instead Mourinho, who said last week there was an anti-Chelsea conspiracy from other coaches, referees and media, felt the key moment came when the ball struck prone defender Jan Vertonghen in the penalty area when his side were 1-0 up through a Diego Costa goal.
"At 1-0 one clear action could make it 2-0 and normally with 2-0 the result would be completely different," he told reporters after the Premier League tussle at White Hart Lane.
"At the end of the day we are speaking about two matches. We have one point out of six when two crucial decisions would give us six," Mourinho added, referring to the 1-1 draw with Southampton on Sunday when he also railed against a penalty that was not given.
"Every game is unpredictable but there are things in the game that are becoming predictable.
"Of course I hate to lose but I prefer to lose like I did against Newcastle with a clean performance from referee Martin Atkinson and an unlucky performance by us," he added in reference to Chelsea's only other defeat this season.
"But in a game when you lose because of football it is a different feeling."
Chelsea's defeat means they are joined on 46 points at the top of the league by Manchester City who beat Sunderland 3-2 on Thursday.
Image: Chelsea manager Jose Mourinho reacts during their Premier League match against Tottenham Hotspur at White Hart Lane.
Photo: Eddie Keogh/Reuters