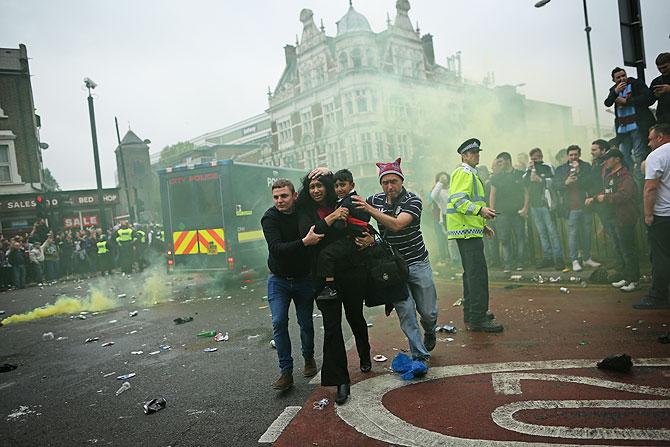 IMAGE: A woman and a child are helped past West Ham fans as people become violent and start throwing bottles at police outside the Boleyn Ground on Tuesday. Photograph: Dan Kitwood/Getty Images
The fans who soured West Ham's farewell party at Upton Park on Tuesday night will be banned for life once identified, the Premier League club said on Wednesday.
- Man United team bus attacked
Visiting Manchester United's team coach was pelted with bottles by West Ham fans before the match won by the hosts - the last to be played at the Boleyn Stadium.
United's players posted video of the attack from inside the bus on social media. One officer from London's Metropolitan Police and a member of the public sustained minor injuries, but no arrests were made.
"We have already had thousands of tweets and emails from fans to say how proud they were to be a part of such a special evening in West Ham's history," West Ham said in a statement, before acknowledging the attack on the bus.
"That was not acceptable and we will work with the police to identify those responsible and ban them for life."
The Football Association also announced that it would launch a full investigation, including an incident where objects were thrown at United goalkeeper David de Gea during the game.
West Ham have played at the 35,000-capacity Boleyn Ground since 1904 but will begin next season in the 700 million pounds ($1.01 billion) Olympic Stadium after agreeing a 99-year lease.
On the field their 3-2 win over United provided a fitting finale, before an after-match show heralded a new era.