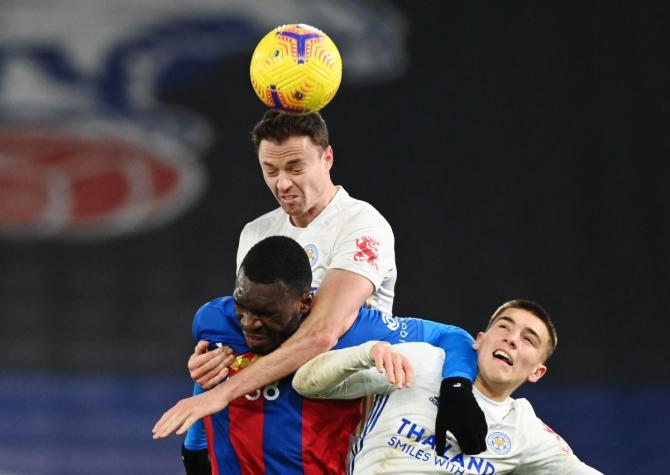 Leicester City's Harvey Barnes grabbed a late equaliser to earn his team a 1-1 draw at Crystal Palace on Monday that lifted them up to second in the Premier League table.
Leicester could have taken the lead in the 18th minute from the penalty spot after Luke Thomas was fouled by James Tomkins but Kelechi Iheanacho's weak effort after a stuttering run-up was saved by goalkeeper Vicente Guaita.
Palace went ahead just before the hour mark when Andros Townsend floated a cross to the far post for Wilfried Zaha to volley home from an acute angle, his shot sneaking past the hand of goalkeeper Kasper Schmeichel.
Barnes claimed his second goal in as many games seven minutes from time, driving a low shot from the edge of the box past the outstretched arm of Guaita.
Leicester will remain second overnight with Everton, level on points with them, not playing later on Monday after their home match against Manchester City was postponed following more positive COVID-19 cases at City.
City returned a number of positive cases for COVID-19 after confirming four positives last week, including striker Gabriel Jesus and defender Kyle Walker.
The Premier League board agreed to rearrange the game as a precaution after City lodged a request following the latest round of testing.
"The decision has been taken with the health of players and staff the priority" the league said.
"The Premier League continues to have full confidence in its protocols and rules, and the way in which all clubs are implementing them."
City have decided to shut down their first-team training facility indefinitely, with the squad set to undergo testing before any decision is made for training to resume.
"All positive cases involving players and staff will observe a period of self-isolation in accordance with Premier League and UK Government protocol on quarantine," City said in a statement.
The postponement is the second this season after an outbreak at Newcastle United forced the league to call off their match at Aston Villa this month.
City, sixth in the league table, are scheduled to travel to play Chelsea on Sunday.
Arteta lifted by board support in Arsenal's time of suffering
Arsenal manager Mikel Arteta feels frustrated and dejected about his side's faltering season but has the backing of the club's board as he attempts to turn things around.
Arsenal upset London rivals Chelsea 3-1 on Saturday to record a first Premier League win in nearly two months, ending a seven-match winless run.
Arteta earned some respite with the victory and his 15th-placed team will look to build on that performance when they face lower-ranked sides, starting with Tuesday's trip to 16th-placed Brighton & Hove Albion.
"Results-wise in the last few weeks we have all been suffering, I have been suffering," Arteta said. "I feel very responsible for that. The worst feeling is because I want to do so well... and to move as quickly as we possibly can.
"In order to do that we need to win football matches... When I don't, I feel like I am letting the club down. It is draining, it is frustrating and it is painful.
"When you are frustrated and sad, you have to find all the time somewhere to do that. My way has been my family and all the people that are here with me at the club, the board – they have all been super supportive and that has helped me a lot."
Arteta, who led Arsenal to FA Cup glory last season, said he second-guessed his managerial methods during the poor run, their worst start to a season since 1974-75.
"I question myself every day," he said.
"Since I arrived here, first of all I had to analyse really well what was happening, what we can and cannot do.
"It is a 24/7 job. A lot of issues and then when results hit you like that you can sometimes not find the right reasons to understand why we are losing matches. But it is the beauty of this game, to find ways of doing things in a different way."