Seb Larsson's stoppage-time free kick gave Sunderland a 2-1 victory over Blackburn Rovers in the Premier League on Sunday as manager Martin O'Neill watched his side come from behind for a win in his first match in charge.
The rousing reception given to O'Neill at the Stadium of Light was temporarily forgotten when Blackburn went in front in the 17th minute with a Simon Vukcevic header.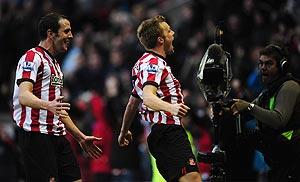 The hosts, who enjoyed much of the possession against their defensive visitors, were denied by some superb saves by Blackburn goalkeeper Paul Robinson before David Vaughan's 84th-minute equaliser from 25 metres out started the late turnaround.
Two minutes into stoppage time, Sunderland were awarded a free kick 20 metres out and Larsson stepped up to curl in a stunning effort that sent home fans into noisy celebrations and O'Neill jumping up and down along with them.
"We have got some points on the board, which is vital for our confidence and vital for the crowd," O'Neill told Sky Sports.
"For periods I suppose, it was a microcosm of our season. I think the players have played well enough in games but not been able to score a goal, conceded maybe a poorish goal and then succumbed.
"I thought they were terrific today, I thought they played brilliantly, they kept at it as well which is important."
The win lifted Sunderland out of the relegation zone and up to 16th place with 14 points from 15 games. Blackburn remain stuck in trouble, second from bottom with 10 points, two behind Wigan Athletic and one above Bolton Wanderers.
"We needed the win, and in that kind of manner," Larsson told Sky Sports.
"He (O'Neill) has come in with a lot of energy, a lot of enthusiasm and he's told us he believes in us. He's trying obviously to lift us after having had a tough time but this will do us the world of good and hopefully we can push on."
Blackburn's miserable day ended on an even worse note when Jason Lowe was taken off on a stretcher in stoppage time with a head injury after a collision with Larsson.
"We are in the wars but I think we were good for a point today," said Blackburn's under-fire manager Steve Kean, who can brace himself for more fan protests after a ninth defeat of the season.
Photograph: Getty Images