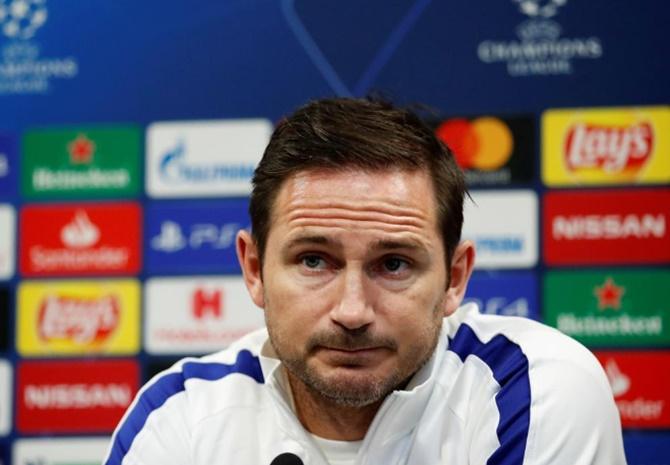 Chelsea manager Frank Lampard has said that he regrets ranting against Liverpool during a Premier League clash at Anfield Stadium.
Lampard had found himself in a war of words during a thrilling encounter which ended in a 5-3 defeat for his side.
After the match, one of the videos went viral on social media as well, in which the Chelsea boss was seen really angry at Liverpool manager Jurgen Klopp.
"To be honest, I have seen the video and I was there. In terms of the language I used, I do regret that. These things get played a lot on social media. I have two young daughters on social media, but in terms of my passion to defend my team, then no regrets," Goal.com quoted Lampard as saying.
"I would have had a beer with Jurgen Klopp to toast their success. There were things I didn't like from their bench, not Jurgen Klopp, but their bench. Emotions run high in this game," he added.
Lampard had clashed against Klopp's assistant Pep Lijnders during Chelsea's 3-5 defeat against Liverpool last week as well.
Chelsea is currently at the fourth place in the Premier League standings with 63 points from 37 matches.
The side will take on Wolves in their final Premier League game.
If Chelsea manages to win this match, then the Frank Lampard-side would qualify for the Champions League.
Mourinho hoping to end transfer window with 'better, balanced' Spurs squad
Tottenham Hotspur manager Jose Mourinho believes the club will approach the close-season transfer window with a clear sense of direction and resist the temptation to compete with high-spending rivals.
Premier League clubs will be able to start signing players when the window opens on Monday, but British media reported Mourinho will have limited funds to strengthen his Spurs squad.
"We'll be very calm, organised, measured, thinking of everything," Mourinho told a news conference on Friday.
"Step by step we'll end with a better, more balanced squad, and keeping the great players we have is a very important thing.
"But we cannot react to what our opponents can do and what we cannot do. We have no doubts about what we need."
A win against Crystal Palace in the final game of the season on Sunday may not be enough for seventh-placed Spurs to secure a Europa League qualification spot.
For Spurs to guarantee a European spot, they must leapfrog Wolves into sixth-place with the hope that they drop points against Chelsea.
If they are to reach Europe's second-tier competition with a seventh-placed finish, Spurs must again depend on Chelsea to beat Arsenal in the FA Cup final next month.
"We have a couple of possibilities of playing in Europe next season but it's in the hands of others," Mourinho added.
"The only thing we can do is beat Palace and add three more points to our tally."
Mourinho said a new coach who has "a history and connection with the club" will be joining his backroom staff as he confirmed the departure of long-time assistant Ricardo Formosinho.
"Ricardo is leaving because he feels he would like to have one of his last opportunities, probably because of his age, to be a head coach," Mourinho said.
"I prefer that it's the club that's going to inform you about (the replacement) that but I prefer to go in the direction of developing local people."
Silva grateful for trophy-laden career at City
Manchester City's David Silva says his trophy-laden career with the Premier League club has exceeded his wildest dreams as he prepares for his final league game against Norwich City on Sunday.
Silva has won 11 trophies in 10 seasons with Manchester City, including four Premier League titles, since arriving from Valencia in 2010.
The 34-year-old Spaniard, who has scored 60 goals in 308 league appearances, will depart the Etihad Stadium when his contract expires at the end of the season.
"When I look back at everything, I could never in my wildest dreams have imagined what I would achieve," Silva said.
"When you are young, you don't dream about all of this,"
"You dream about becoming a footballer, a professional footballer, you dream of playing in the top flight -- but you never think about all the things that you could possibly achieve."
Silva has won the Premier League's Player of the Month award just once despite being one of City's most consistent players but he is unconcerned with the lack of personal accolades.
"I would like to be remembered as a good guy, who enjoys football. I hope the people enjoyed my football as well. It's simple," he said.
Arsenal defender Mustafi ruled out of FA Cup final against Chelsea
Arsenal defender Shkodran Mustafi will miss the FA Cup final against Chelsea on August 1 because of a hamstring injury, the Premier League club said.
Mustafi, 28, sustained the injury during the closing stages of Arsenal's 2-0 semi-final victory against Manchester City at Wembley last week.
"Will miss remaining matches of this season. Further details on recovery programme will be confirmed in the coming days," Arsenal said.
The German defender has received plenty of criticism for his inconsistent displays for the north London club since his arrival from Valencia in 2016 but has enjoyed a renaissance under Mikel Arteta, starting 12 of their last 15 Premier League games.
Mustafi missed Arsenal's 2-1 win against Chelsea in the 2017 FA Cup final because of illness.