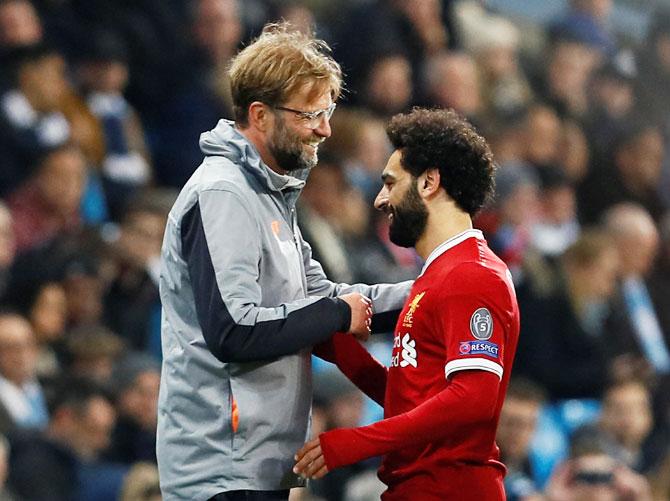 Liverpool manager Juergen Klopp has praised Mohamed Salah for keeping his feet on the ground during his record-breaking Premier League season.
The 25-year-old Egypt international scored his 32nd league goal of the season as Liverpool wound up their campaign with a 4-0 win over Brighton and Hove Albion on Sunday.
Salah's tally is a new record for a 38-game Premier League campaign, eclipsing the previous mark of 31 achieved by Luis Suarez, Alan Shearer and Cristiano Ronaldo.
"The last few weeks were really difficult for him," Klopp told Sky Sports.
"Imagine everyone telling you how brilliant you are, or they give you an Oscar for this, an award for that, an award for getting out of car without having an accident.
"Staying on track in a season like this, it's really difficult, he's still a young boy and I am really happy with how he dealt with it."
Salah has scored 44 goals in 51 appearances in all competitions this season, and will get the chance to add to that tally when Liverpool face Real Madrid in the Champions League final on May 26.
Guardiola says City's points record may last years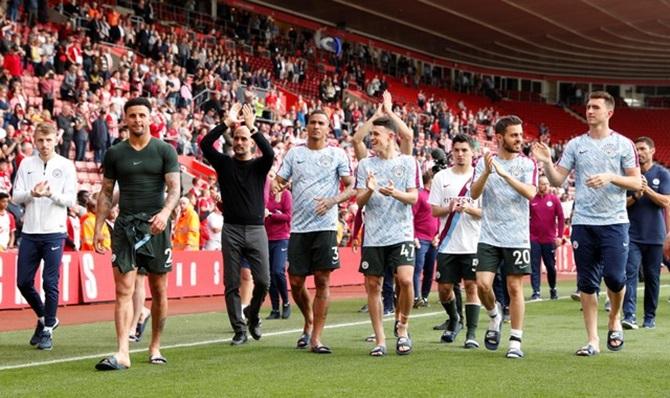 Manchester City manager Pep Guardiola believes it will be quite some time before any team beats the 100 points his side reached in the final minute of their triumphant Premier League season.
Chelsea's 95 in 2004-05 was the previous best in the 38-match per season Premier League era but Gabriel Jesus's winning goal sent Guardiola scampering down the touchline in delight as his dazzling entertainers reached another landmark.
It was a monumental achievement not matched in the annals of the English top-flight.
Even adjusting the old two points for a win to the current three, Liverpool, who enjoyed the previous highest tally in 1978-79, would only have amassed 98 points that season -- and that was over a 42-game season.
"It's incredible, 50 (points) at home and 50 away," Guardiola, who went one better than when he oversaw Barcelona's 99-point La Liga-winning campaign in 2009-10.
"When you get 100 points, it's something special. I think it's a record that will stay long."
As with any successful team, a good few of those have come from late goals, and the manager emphasised how important that was.
"We did it all season, no surrender, try until the end," he said. "It was such a difficult game, they defended very well. But the second half was much better."
What pleased him most, he told Sky Sports, was the style of football.
"All the records we've broken, it's a consequence of the way we played. Numbers are numbers, but the way we played. We didn't play 38 games perfectly but most of the time we were better than our opponents."
Mourinho's right-hand man to leave Manchester United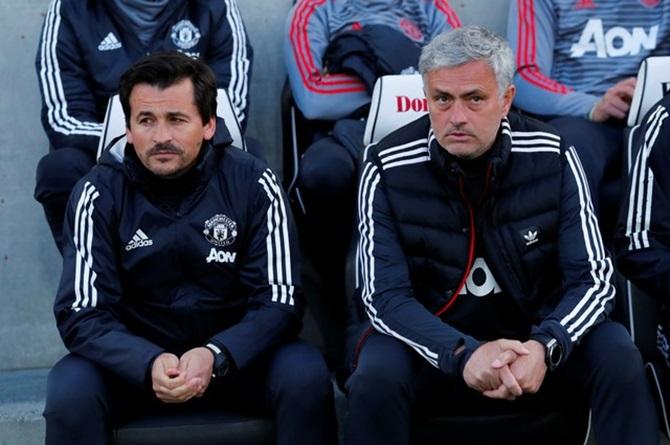 Jose Mourinho's long-serving right-hand man, Rui Faria, will leave Manchester United at the end of the season.
"After a lot of consideration, and with a very heavy heart, I have decided the time is right for me to move on," he told the club's official website http://www.manutd.com.
Faria has been assistant manager at Old Trafford since Mourinho took over two years ago, having first worked with his fellow countryman 17 years ago at the Portuguese club Leiria.
"My heartfelt thanks go to the manager, Jose Mourinho, for the belief he had in me, all those years ago, when it all was just a student dream," he added.
"The intelligent student is now a football expert, ready for a successful
career as a manager," Mourinho said.
The pair have one more vital match together, in Saturday's FA Cup final against their old club Chelsea.
But after Sunday's 1-0 win over Watford in their last Premier League game, Mourinho said he would not be appointing a replacement. He added that he thought Michael Carrick, who is joining the coaching staff, would eventually take on the role.
"I have nobody in the world of football to be my assistant. I think it will be Michael Carrick in the future, when he has his badges," Mourinho said.
"When he has his pro licence, when he makes the bridge from player to assistant.
"I got to Michael in the last part of his career and it was enough to fall in love with the player and person."
Wenger sees future away from English football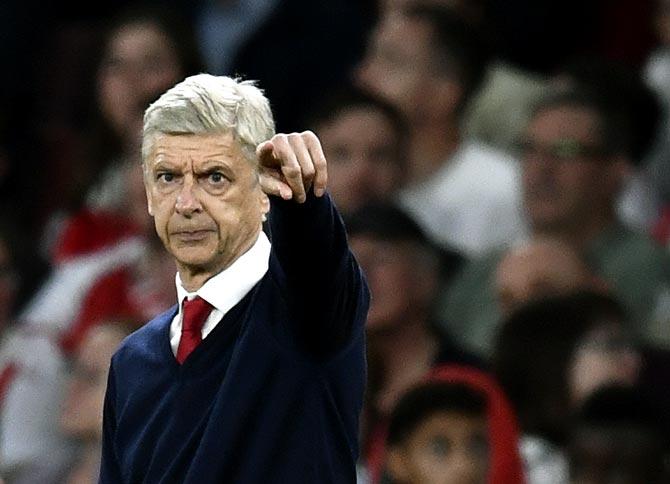 An emotional Arsene Wenger said farewell to Arsenal and probably England on Sunday after playing down the prospect of managing another club in the Premier League.
Wenger watched his team beat HuddersfieldTown 1-0 in their final game of the season and his last match in charge after nearly 22 years at the North London club.
The 68-year-old Frenchman reflected on his "human experiences" in his time at Arsenal on a day of mixed emotions, while he also spoke about his enjoyment of England and its football culture.
Yet when the prospect of managing another Premier League club against Arsenal was raised, Wenger said that scenario was unlikely.
"I am not ready for that at the moment, that would be very difficult. I think on that day I would stay at home. I don't know, at the moment, I don't envisage that," he said.
Wenger confirmed that he had already received approaches to manage other clubs but had not yet explored those options.
"Yes I had offers, of course, but at the moment I did not even speak to anybody of the many offers," he said. "You cannot come out of such a long process and the next morning say 'yes, I go somewhere else', it is impossible."
But when the question of whether he will manage in England again was posed, Wenger said: "I don't know. Maybe it is better I go somewhere else."
Wenger said he had fallen in love with England, which added to the impression that the Frenchman was saying goodbye to his adopted home, as well as his club.
"I feel that I got a lot of respect not only from our fans but from England," he said.
"I would reiterate -- I loved English football but as well I learned to love England over 22 years.
"You don't stay in a country like that if you don't like it. It is a special country and special even for football, that is why I stayed such a long time," he added.
"It has changed me a lot -- it is difficult to understand, when you don't live in this country, how deep the love is for the game. It was a fantastic experience for me."
Whatever he does next, Wenger said it will be difficult to match the emotions he has experienced with Arsenal.
"Where do I go from here? That is the difficulty, when you have experienced such intensity for such a long time," he said. "It will be difficult. (But) even not managing the club, I will remain a fan of the club."
Newcastle owner Ashley eager for Benitez to stay
Newcastle United owner Mike Ashley is keen for manager Rafa Benitez to stay at the Premier League club, with the English businessman promising investment in the squad ahead of the next campaign.
Former Liverpool, Real Madrid and Inter Milan boss Benitez, who took charge of Newcastle in 2016, helped the club secure a 10th-placed league finish this season, ending the campaign with a thumping 3-0 win over Chelsea on Sunday.
The Spaniard, who has a year left on his contract, has been critical of Newcastle's poor transfer dealings throughout the season.
"Rafa, as always, has my full support, and contrary to some media reports that portray me as a pantomime villain, I will continue to ensure that every penny generated by the club is available to him," Ashley said on Newcastle's website https://www.nufc.co.uk.
"I hope very much that Rafa will remain at Newcastle United."
Ashley previously promised investment at the end of the 2016-17 campaign after Newcastle won promotion from the Championship but the funds did not materialise, leading Benitez to deal with a thin squad throughout the season.