NorwichCity midfielder Bradley Johnson's appeal for wrongful dismissal against Newcastle United in the English Premier League has been successful and his suspension revoked, the Football Association said on Thursday.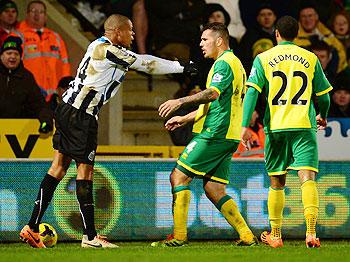 Newcastle's French international striker Loic Remy, sent off with Johnson for violent conduct in an off-the-ball clash between the two during Tuesday's 0-0 draw at Carrow Road, failed in his appeal and will serve a three-match ban.
"The claim involving Bradley Johnson was upheld meaning his three-match suspension is withdrawn," said the FA on its website (www.thefa.com).
"The claim involving Loic Remy was dismissed therefore his three-match suspension remains with immediate effect."
The players were shown straight red cards in the 82nd minute.
Johnson will be available for Norwich's match at CardiffCity on Saturday while Remy will miss the north-east derby at home to Sunderland and two more games.
Image: Loic Remy of Newcastle United and Bradley Johnson of Norwich City come to blows during their English Premier League match at Carrow Road in Norwich, England on Tuesday
Photograph: Jamie McDonald/Getty Images