Allowing independent panels to punish players retrospectively for diving and other infringements would be a "disaster", according to Chelsea manager Jose Mourinho.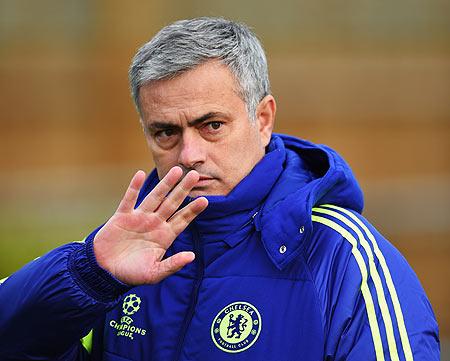 Chelsea had Willian and Diego Costa booked for simulation in a recent 2-0 Premier League win against Hull City, whose manager Steve Bruce accused defender Gary Cahill of looking "like something out of Swan Lake".
The number of bookings for diving led former referee Mark Halsey to suggest an independent panel could retrospectively punish players, but Mourinho disagreed.
"When you go to an independent panel to analyse and suspend players by video evidence, it is a disaster," the Portuguese told reporters.
Mourinho felt the panels would favour certain teams.
"I remember last season, and I don't want to mention names, you had players and clubs protected by panels. I saw somebody kick a player on the floor and hit him in the back, no suspension.
"I saw others doing minor things being suspended. Players are punished for silly comments on Facebook and Instagram and players are not being punished for other things," he said.
Mourinho has been charged a number of times by the Football Association (FA) for violations of their codes of conduct during two spells in west London.
He pointed to an incident against Aston Villa last season in which the 51-year-old was charged with improper conduct after he was sent to the stands for encroaching on the pitch after Ramires' red card.
"Independent panels are the same ones who analysed my situation last season against Aston Villa and I was punished because I tried to help," he added. "So, for me, panels only favour the ones who always have the favours."
League leaders Chelsea travel to Stoke City on Monday looking to pull clear of second-placed Manchester City, who trail by goal difference after a 3-0 win against Crystal Palace on Saturday.
Image: Chelsea manager Jose Mourinho

Photograph: Paul Gilham/Getty Images