Former Norway and Manchester United striker Ole Gunnar Solskjaer, who enjoyed a glittering career as a player before becoming a successful manager, is the first to be inducted into the country's Hall of Fame, it was announced on Monday.
"I'm incredibly proud of what I've done, and I hope that others have gotten happiness from the career I have had," Solskjaer, 39, told Norway's TV2 in an interview to celebrate his induction.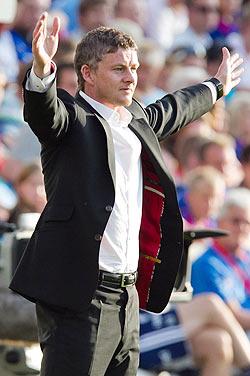 Solskjaer, best known for winning the Champions League for United with a last-gasp goal against Bayern Munich in the 1999 final, was named manager of the season after his Molde side won their second Norwegian championship in two years earlier this month.
Unheralded outside his native country when he signed for United on July 29 1996, Solskjaer went on to play 366 times for the Old Trafford club before a knee injury ended his career in 2007.
During that time he won six Premier League titles, two FA Cups, as well the continent's showpiece tournament with his dramatic winner against Bayern.
When he arrived for the first time at Old Trafford, Solskjaer revealed that some of his new team mates at first thought he was there just as a visitor.
"(Former United midfielder) Roy Keane said afterwards that they thought I was some 14-year-old who had won a day at Manchester United. That was until the shooting practice started," he said.
Solskjaer soon showed that he was there to stay.
"I scored a fantastic goal in training against Peter Schmeichel. He wasn't the happiest man in the world when you scored against him," Solskjaer recalled of his first training session at his new club.
"He complained to me and said I shot too early."
Solskjaer then asked Schmeichel if he was ready before promptly thumping a second ball past him.
"I did the same thing -- straight into the top corner."
Solskjaer wasted no time winning over the United fans, scoring on his debut against Blackburn and going on to net 18 goals in his first season and 126 overall for the club.
He fondly remembers the goal against Bayern, which came less than two minutes after Teddy Sheringham's stoppage-time equaliser.
"I've signed many thousands of copies of that picture," Solskjaer said, referring to the iconic image of him steering the ball home.
"I was just looking forward to extra time and getting to play an extra 30 minutes in the Champions League final," Solskjaer told TV2.
"To have been such a big part of their lives -- many have told me it was the biggest moment of their lives, bigger than their wedding day. But they don't say that if their wives are with them."