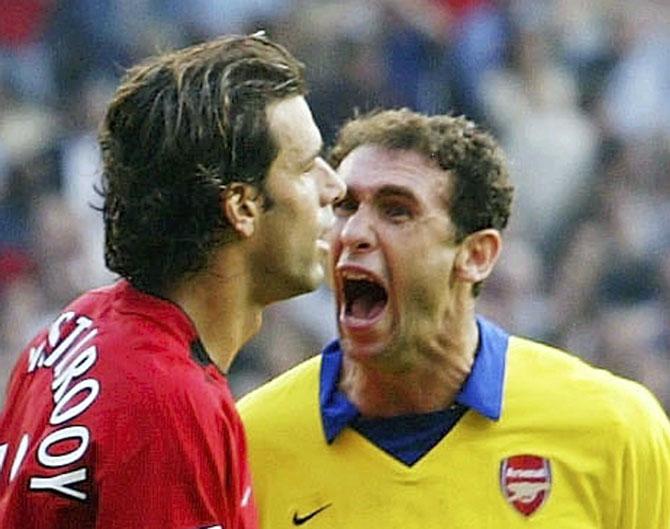 Arsenal host Manchester United on Sunday in a clash crucial to both clubs as they try to finish the season in the top four of the Premier League.

We look at five standout matches between the clubs.

MANCHESTER UNITED 0 ARSENAL 1 (October 1990 - Division One)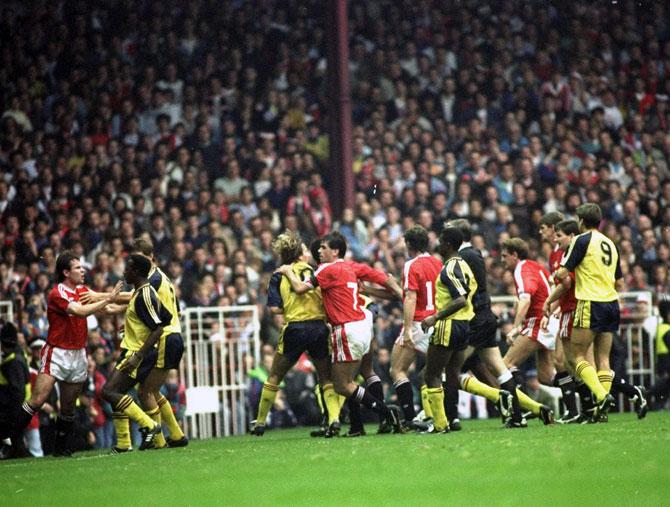 IMAGE: Manchester United and Arsenal players fight on the pitch. Photograph: Russell Cheyne/Allsport
The animosity between the clubs could perhaps be traced back to this fixture at Old Trafford, when the result was largely forgotten following a mass brawl that resulted in both teams having points deducted by the FA.

Arsenal, who went on to win the title, scored the only goal, but Anders Limpar's effort was largely irrelevant after all but one of the 22 players on the pitch were involved in an unseemly second-half melee.

MANCHESTER UNITED 0 ARSENAL 0 (September 2003 - Premier League)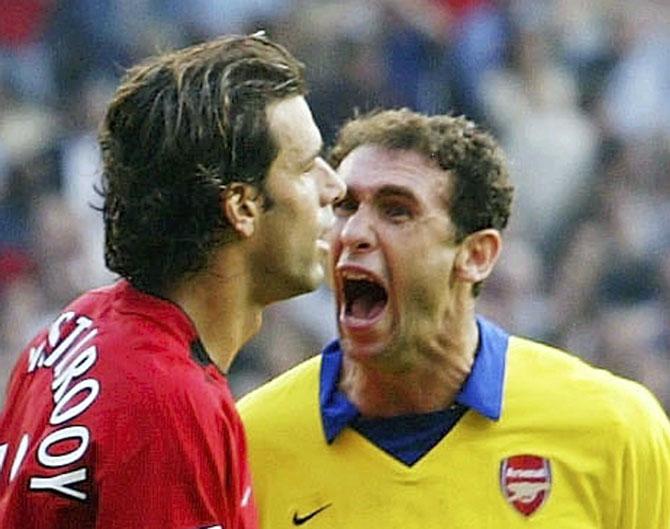 IMAGE: Arsenal's Martin Keown, right, confronts Ruud Van Nistelrooy of Manchester United. Photograph: Shaun Botterill/Getty Images
Arsene Wenger's 'Invincibles' claimed their place in footballing history after going the entire season unbeaten in 2003-04, but their run should have ended as early as September.

Manchester United's Ruud van Nistelrooy slammed a stoppage-time penalty against the bar and was confronted by five Arsenal players in ugly scenes at the final whistle, with Martin Keown hurling himself -- chest first, arms spread -- at the Dutch striker, who looked genuinely worried for his safety.

MANCHESTER UNITED 2 ARSENAL 0 (October 2004 - Premier League)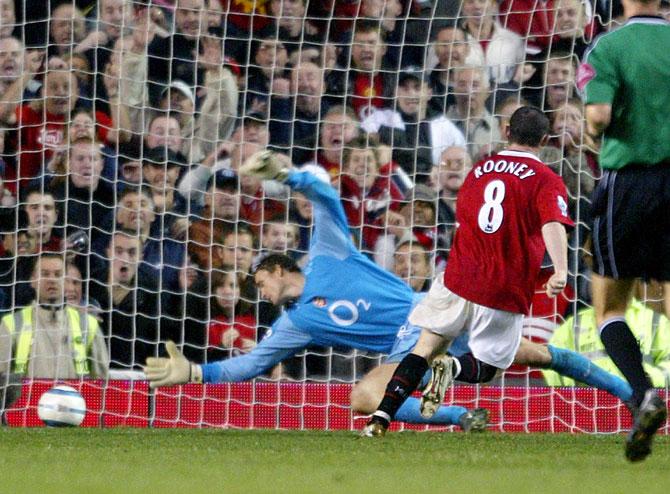 IMAGE: Manchester United's Rooney scores a goal past Arsenal goalkeeper Lehmann. Photograph: Darren Staples/Reuters
It was perhaps fitting that Arsenal's stunning unbeaten run was ended after 49 games by United at Old Trafford with Ruud Van Nistelrooy's penalty and a late goal by Wayne Rooney.

Arsenal completely lost their cool in an intimidating atmosphere and events spiralled out of control in the tunnel afterwards in what became known as "Pizzagate".

While the exact details remain sketchy, a food fight allegedly broke out with United manager Alex Ferguson hit in the face by a flying pizza slice.

"This slice of pizza came flying over my head and hit Fergie straight in the mush," former Arsenal player Ashley Cole recalled. "The slap echoed down the tunnel and everything stopped -- the fighting, the yelling, everything."

ARSENAL 2 MANCHESTER UNITED 4 (February 2005 - Premier League)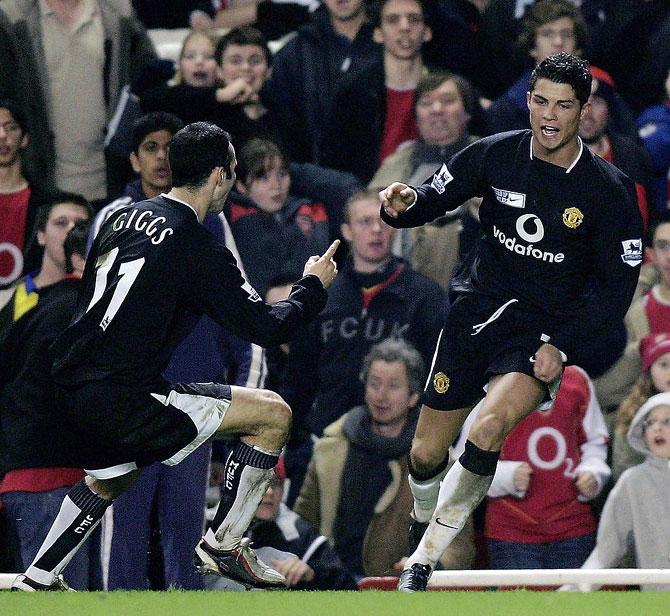 IMAGE: Cristiano Ronaldo, right, of Manchester United is congratulated by Ryan Giggs after scoring their second goal. Photograph: Ben Radford/Getty Images
So soon after "Pizzagate" the build-up to the return league clash resembled that of a heavyweight title fight.

This time tempers reached boiling point before kickoff with United's Roy Keane and Arsenal's Patrick Vieira appearing to square-up with referee Graham Poll stepping between the two midfield warriors.

A tempestuous game followed with Vieira putting Arsenal ahead, Ryan Giggs levelling and Dennis Bergkamp restoring Arsenal's lead before the break.

Cristiano Ronaldo struck twice after the break before Mikael Silvestre was sent off for United but John O'Shea sealed the points late on with a lob.

MANCHESTER UNITED 8 ARSENAL 2 (August 2011 - Premier League)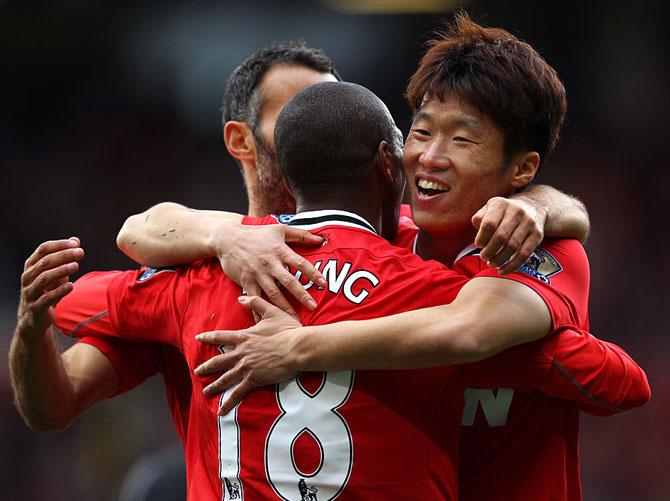 IMAGE: Manchester United's players celebrate a goal against Arsenal. Photograph: Alex Livesey/Getty Images
The teams' rivalry under managers Alex Ferguson and Arsene Wenger had been typified by tight, edgy and sometimes explosive encounters, but their meeting early in the 2011-12 season was anything but as Arsenal suffered their worst defeat since 1927.

United put on a ruthless attacking exhibition with Wayne Rooney scoring a hat-trick, Ashley Young netting twice and Danny Welbeck, Nani and Park Ji-sung also on target.

It was Manchester City who went on to win the title, though, on a dramatic final day of the season.