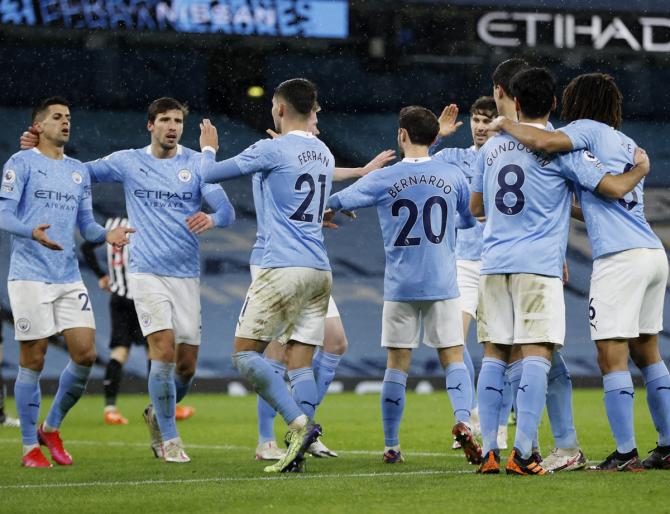 Five Manchester City first team players have tested positive for COVID-19 and will not be involved when they play Chelsea in the Premier League this weekend, manager Pep Guardiola said on Friday.
A surge in infections at City among players and staff forced the club to lodge a request with the Premier League to postpone Monday's game at Everton. City also closed their training ground as a precaution.
The club said last week that striker Gabriel Jesus and defender Kyle Walker had tested positive but Guardiola refused to divulge the names of the other "three important players" who would not be available for Sunday's clash.
"I don't think the Premier League allow us to name the players but you will know tomorrow," Guardiola told reporters.
"We had enough players to play against Everton, we wanted to play but, on the day of the game, with more cases we informed the Premier League and I personally called (Everton manager) Carlo Ancelotti to explain the situation."
"The day before we were in touch about what would happen and the huge risk... But now the training centre is disinfected and hopefully the next tests everyone is negative and the people that are positive can come back without problems."
City returned to training on Wednesday after a deep clean but Guardiola said they had their problems as they prepared for Chelsea.
"You are less in touch. The players are not in the locker room anymore, they just train on the pitch," Guardiola added.
"It is what it is. We have a good enough squad to go there and try to compete against a tough opponent in Chelsea. We are going there to play our game with enthusiasm and goodwill to try to do a good performance."
Chelsea boss Frank Lampard also reported two positive cases in their camp but said they were not players.
Klopp urges Premier League to keep going despite rising COVID-19 cases
Liverpool manager Juergen Klopp believes the Premier League must avoid implementing a 'circuit-breaker' shutdown to help reduce COVID-19 infections, saying the safety measures in place will ensure the competition is not affected.
West Bromwich Albion manager Sam Allardyce had earlier this week called for a temporary suspension of the league following a record number of positive cases in a week.
The surge in infections led to the postponement of Everton's clash with Manchester City on Monday and Tottenham Hotspur's home game against Fulham two days later.
Klopp is ready to put Liverpool's title defence on hold if needed but stressed the role football can play in these uncertain times.
"It is understandable (to have concerns), but we try to do everything to keep the boys as safe as possible and I think the competition can go on," Klopp told reporters ahead of Monday's trip to Southampton.
"People want to watch it and, in this case, we are not part of society because usually we isolate, we go to the training ground and stuff like that, so I think we really can carry on.
"But I am not a specialist and I respect all the decisions made in the next few weeks."
Klopp said he will not look back at 2020 with much fondness despite Liverpool ending their 30-year wait to secure a top-flight title.
"What happened in 2020 was a new experience for all of us - we had to deal with it and we are still dealing with it," he said.
"We will face a few more challenges in life and I'm happy 2020 is over. Apart from becoming champions it is not a year I will think a lot about in the future."