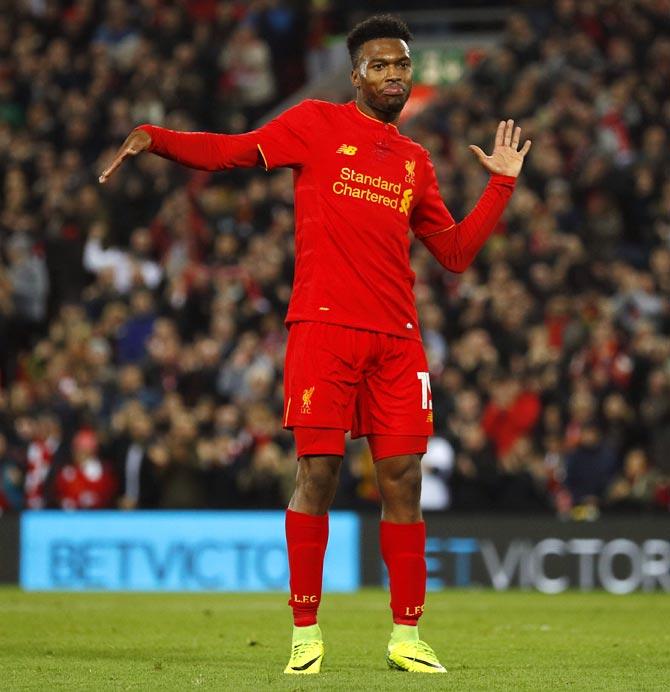 Liverpool striker Daniel Sturridge has been charged with misconduct in relation to alleged breaches of its betting rules, the English Football Association said on Monday.
The charge relates to the period of January 2018 and the 29-year-old England international has until 1800 GMT on Nov. 20 to respond, the FA said in a statement
A Liverpool spokesperson said in an emailed statement that Sturridge was cooperating with the authorities.
"Daniel has given his full and unequivocal cooperation throughout this process and has assured the club he will continue to do so," the email said.
"Daniel has also stated categorically that he has never gambled on football. As with any issue of this nature, we will allow the process to be concluded in its entirety before making any further comment."
FA rules prohibit players and coaches from betting on any football activity or providing non-public information to any other person that is then used for betting.
Sturridge has made 12 appearances for Premier League side Liverpool in all competitions this season, scoring four goals.
English FA to cut foreign players in Premier League: report
In a bid to deal with Brexit and boost the number of homegrown players, the English Football Association (FA) is planning to reduce the number of overseas players in Premier League squads to 12 from 17, the Times newspaper reported on Tuesday.
The proposal, to be put to the clubs this week, would mean significant changes to a number of sides. Thirteen clubs have more than 12 overseas players in their first team squads this season.
The FA did not immediately respond to Reuters' request for comment.
The FA would in return agree to give a governing body endorsement, usually issued for a non-EU/European Economic Area elite player to help the development of football in England, for a work permit for every foreign player who gets a contract with a Premier League club, the report said.
If the clubs fail to reach agreement with the FA on Brexit, they could face a "no-deal" scenario where all EU players would have to fulfil the same criteria that non-EU players do now to get a work permit, the report added.
British Prime Minister Theresa May said on Monday that there were still considerable unresolved issues with the European Union over Brexit as the two sides approached the "endgame" in negotiations for departure from the bloc.