Russian billionaire Roman Abramovich emerged victorious on Friday from a long and hugely expensive legal battle with his former friend Boris Berezovsky that laid bare the murky dealings behind the post-Soviet carve-up of Russia's vast natural resources.
Judge Elizabeth Gloster told a packed London courtroom that she had found Berezovsky to be an "unimpressive and inherently unreliable witness" who would say "almost anything to support his case".
In comparison, Abramovich - a businessman known in Britain for his ownership of Chelsea soccer club - was described as a "truthful and on the whole reliable witness".
Berezovsky, a fast-talking former mathematician who became a Kremlin powerbroker under the late President Boris Yeltsin only to fall foul of Vladimir Putin, had accused Abramovich of using the threat of Kremlin retribution to intimidate him into selling assets at a knockdown price.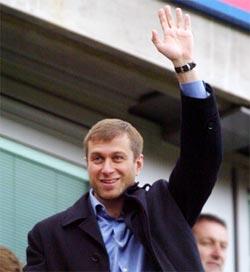 Abramovich, the world's 68th richest man with a $12.1 billion fortune, had denied the accusations and said he merely paid Berezovsky for political cover and protection - known in Russian slang as "krysha" or "roof".
"There was a marked contrast between the manner in which Mr Berezovsky gave his evidence and that in which Mr Abramovich did so," the judge said as she delivered her ruling to an expressionless Berezovsky.
Berezovsky said his confidence in English justice had been undermined by the judge's decision, adding he is considering whether to appeal.
Berezovsky later told reporters that he sometimes had the impression that Putin himself had written the judgement.
The ruling follows a legal odyssey that stretched from the gilded corridors of the Kremlin via the offshore enclaves favoured by Russia's richest tycoons and then to a modern, glass courtroom in central London crowded with lawyers, bodyguards and journalists.
The titanic legal battle had provided rich media pickings ever since a tussle broke out between the two tycoons and their retinues of bodyguards in a Hermes luxury boutique in London in 2007, when Berezovsky served Abramovich with a writ.
That gave an early glimpse of what was to come, with the hearings revealing the extravagant lifestyles of Russia's super-rich: helicopter flights to luxury ski resorts in the Alps, Caribbean cruises, English country estates and French chateaux.
The case captivated the legal industry in Britain, whose globally respected, tradition-bound courts where barristers still wear powdered wigs have become the venue of choice for rich Russians to sue each other.
Many Russian companies, especially those with foreign involvement, include in contracts a clause that any litigation must be heard in London. Underlying this is a deep distrust of the Russian judicial system.
The case also threw a powerful spotlight on the conduct of businessmen in Russia in the decade following the collapse of the Soviet Union, when opaque deals to sell off state assets turned a handful of insiders into the owners of multi-billion dollar natural resources companies.
A Kremlin insider in the 1990s under Yeltsin, Berezovsky left Russia in 2000 after falling out with Yeltsin's hand-picked successor, Putin.
Berezovsky says he gave up his stake in oil firm Sibneft because he feared that if he refused, Abramovich would ensure Putin had the shares expropriated. Abramovich later sold Sibneft to Russia's state gas monopoly Gazprom for $13 billion in 2005. Abramovich denies any threats were made.
"My conclusion in relation to the Sibneft intimidation issue is that Mr Abramovich did not make either express or implied threats," judge Gloster said.
Berezovsky also claimed Abramovich sold Berezovskly's shares in RUSAL Plc, the world's top aluminium producer, without permission. Berezovsky was seeking over $5 billion for his claimed losses over Sibneft and over $564 million for RUSAL.
Abramovich's many lawyers had used the trial to cast Berezovsky as an obsessive man angry at Abramovich's success.
The two key witnesses traded insults during the 43 days of hearings, with the publicity seeking former oligarch Berezovsky dismissing his one-time ally as "not smart" while Abramovich described his former mentor as "something of a megalomaniac".
Abramovich was not in court to hear the verdict and his team of lawyers merely smiled as the judge read out her lengthy statement.