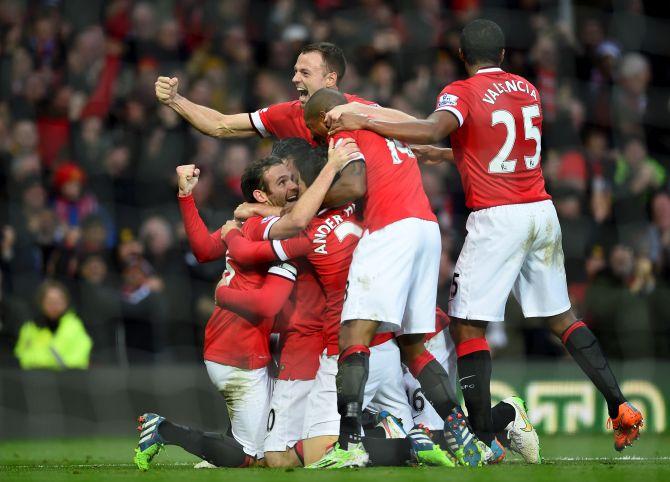 Manchester United players celebrate after scoring a goal during the Barclays Premier League match against Liverpool at Old Trafford. Photograph: Shaun Botterill/Getty Images
The difference in fortunes since Liverpool won 3-0 away to Manchester United in March was illustrated when Louis Van Gaal's team reversed that scoreline on Sunday.
Nine months ago the Merseysiders were challenging strongly for the Premier League title and United, having their worst season for many years, would shortly sack manager David Moyes.
After a slow start to the campaign United appear to have been revitalised by Van Gaal and goals from Wayne Rooney, Juan Mata and Robin van Persie sealed a sixth consecutive league win to keep them in third place.
Liverpool are languishing in mid-table.
De Gea pulled off some sensational saves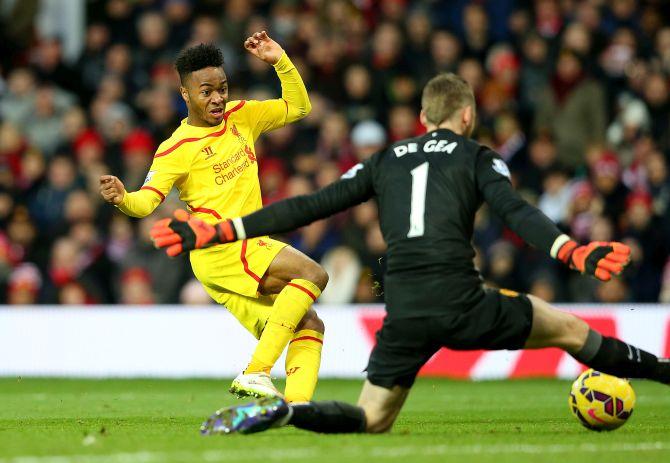 David De Gea of Manchester United saves the attempt on goal of Raheem Sterling of Liverpool in a one on one situation during the Barclays Premier League match at Old Trafford. Photograph: Alex Livesey/Getty Images
That said, it was a flattering margin, with many observers making United's goalkeeper David De Gea man of the match.
The Spaniard pulled off a succession of important saves, mainly from Raheem Sterling in the first half and substitute Mario Balotelli in the second.
It was a typically feisty contest between the old rivals, ending with seven yellow cards, four of them to United before halftime.
Other statistics showed Liverpool had more shots and corners as well as plenty of possession but crucially they could not convert their chances, and made mistakes in conceding each goal.
Liverpool could claim luck was against them, with the second goal clearly offside but as manager Brendan Rodgers admitted they contributed to their own downfall.
"We created enough chances to win but we made defensive mistakes, which is what cost us," he told Sky Sports.
"I thought we did enough to win the game. But you can't concede the goals we did."
Rooney scored the opener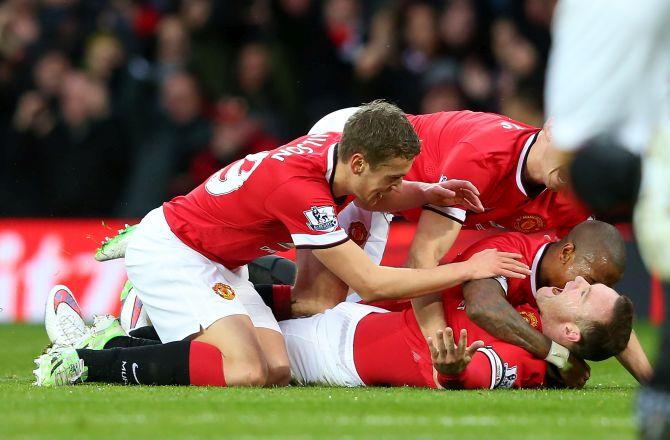 Wayne Rooney of Manchester United celebrates with his team-mates after scoring his goal during the Barclays Premier League match against Liverpool at Old Trafford. Photograph: Alex Livesey/Getty Images
For the first one in the 13th minute, Joe Allen allowed Antonio Valencia to push the ball through his legs and had no cover behind him as the Ecuadorean played a square pass for Rooney to beat goalkeeper Brad Jones with ease.
Australian Jones was brought in as replacement for Simon Mignolet to start his first Premier League game since March 2013, but he was beaten again five minutes before half-time.
As Ashley Young cut back onto his right foot to cross, Mata was not offside but he was by the time Van Persie flicked the ball on.
Rodgers sent on Balotelli for Adam Lallana at the interval and although Liverpool continued to see plenty of the ball, they also missed further chances.
Sterling missed several opportunities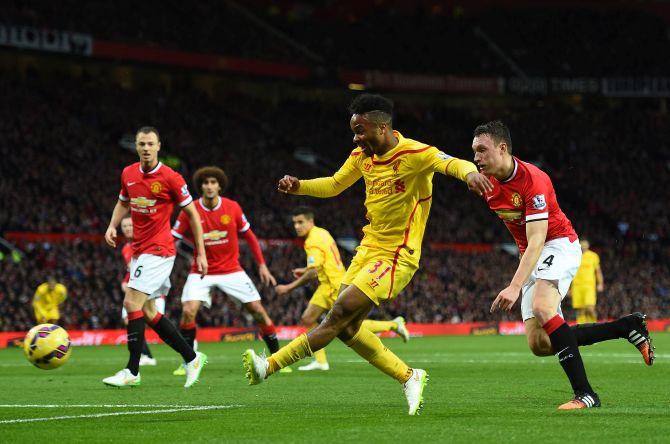 Raheem Sterling of Liverpool attacks under pressure from Phil Jones of Manchester United during the Barclays Premier League match. Photograph: Shaun Botterill/Getty Images
Sterling was the guilty party again five minutes into the second half after latching onto Jonny Evans's weak back pass.
Left one-on-one with De Gea, he did not seem to trust his left foot and in swerving to his right allowed the goalkeeper to block with his leg.
Earlier Sterling had twice been thwarted by De Gea, the first time barely half a minute before United broke out for their opening goal.
With Daniel Sturridge still injured, he was playing as their only striker in preference to Balotelli and Rickie Lambert, the summer signing from Southampton who has had few opportunities.
Sterling did better midway through the second half in setting up Balotelli, but De Gea pushed the Italian's shot onto the crossbar.
Van Persie gets his seventh goal of the season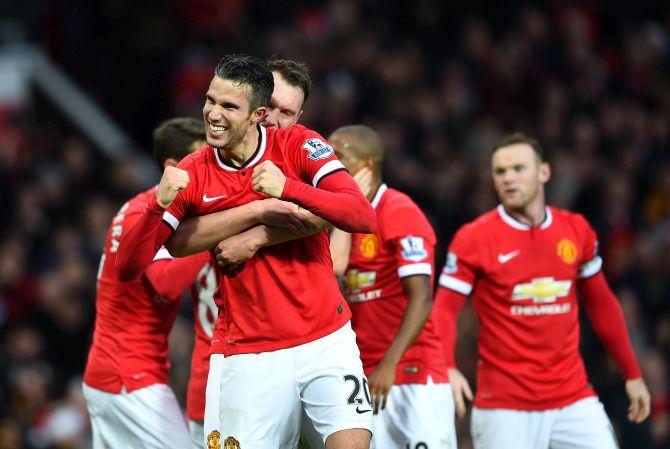 Robin van Persie of Manchester United celebrates scoring the third goal during the Barclays Premier League match against Liverpool at Old Trafford. Photograph: Shaun Botterill/Getty Images
Balotelli, ever controversial, should have received an early yellow card for holding back Van Persie and soon afterwards he did do, for committing the same offence on Phil Jones.
By that time United had a third goal, stemming from a classic counter-attack but still helped by bad defending.
Mata sent Rooney away and Dejan Lovren should have cleared his cross. Off-balance, he skewed it straight to Mata, whose perfect pass was drilled in by Van Persie for a seventh league goal of the season.
There was still time for De Gea to make two more quality saves from Balotelli.
Van Gaal said that De Gea "had a big influence" but was also critical of his team for the number of chances they allowed the opposition.
"We have to improve that," he said.