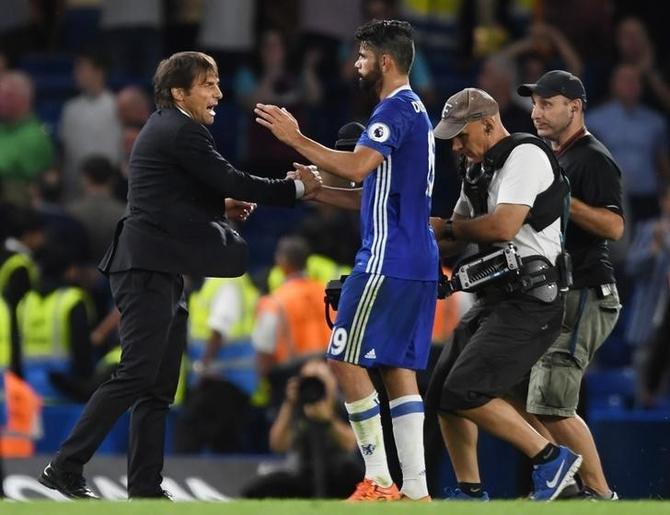 IMAGE: Chelsea manager Antonio Conte with Diego Costa. Photograph: Tony O'Brien/Reuters
Stoke City manager Mark Hughes believes the departure of Diego Costa will be a huge loss for Chelsea who will miss the striker's goals and aggression.
Costa, a key figure in Chelsea's two Premier League title wins in last three seasons, appeared to have sealed his inevitable exit from Chelsea after they agreed to sell the 28-year-old back to Atletico Madrid.
"Costa was brilliant at taking it up to the line and then stepping back, affecting opposition teams," former striker Hughes told reporters before Stoke welcome Chelsea in the league on Saturday.
"Maybe they don't have that ability with the dark arts right on spec at the moment.
"I don't know the whole circumstances, but from a football fans' point of view I think he's a loss to the Premier League."
Hughes said Stoke face the prospect of hosting champions Chelsea with just one centre back available for selection.
Kurt Zomba is ineligible to play against his parent club while Ryan Shawcross and Geoff Cameron remain on the sidelines.
It leaves then with Bruno Martins Indi as their only regular central defender, who could be paired alongside full back Glen Johnson and Erik Pieters if they continue to field three at the back.
"We're struggling a little bit defensively," said Hughes.
"There's a major doubt on Kevin Wimmer -- he's touch-and-go and we'll have to see how he is this (Friday) morning."
Stoke, currently placed 13th in the league, are on a three-game winless run since their 1-0 victory over Arsenal last month.
Chelsea manager Antonio Conte thanked Costa on Friday for his contribution at StamfordBridge, after the club agreed a move for the striker with Atletico Madrid.
Costa scored 52 Premier League goals to help Chelsea lift two titles in three years before Conte told the 28-year-old via text message earlier this year that he was no longer needed at the club.
A Chelsea statement on Thursday said that they had agreed terms with the La Liga side for the transfer of Costa, with Spanish newspaper El Mundo saying the fee would be 55 million euros ($65.9 million).
When asked whether his relationship deteriorated with the Spanish striker over the last few months, Conte chose to focus on the future of the club starting with a league trip to StokeCity on Saturday.
"We want to thank him (Costa) for what he did with this club. We wish him all the best for the future," the Italian told reporters.
"The past is not important. If you did well in the past it's okay but we have to work for the present and above all for the future.
"I don't forget that we won together last season. I repeat for sure we want to thank him for his effort last season, not only last season but the period he played for Chelsea."
Conte believes Chelsea face one of their toughest challenges of the campaign at the bet365 stadium, after Mark Hughes's side picked up four points from two games against Arsenal and Manchester United.
"For sure it will be a really tough game. As you said before they beat Arsenal and drew against United, it means they are a very good team," Conte said.
"We must pay great attention tomorrow. This is the first of three tough games in seven games. A good test and challenge for us."
Chelsea have a busy schedule next week, starting with Wednesday's trip to Atletico in the Champions League before hosting league leaders Manchester City three days later.
"This season it will be a big challenge for us, to face each competition with our squad and play every three days," he added.
"This type of situation will be very important for us to face in the right way. It won't be easy to have these games very close."
Barry wants positive result at Arsenal in milestone game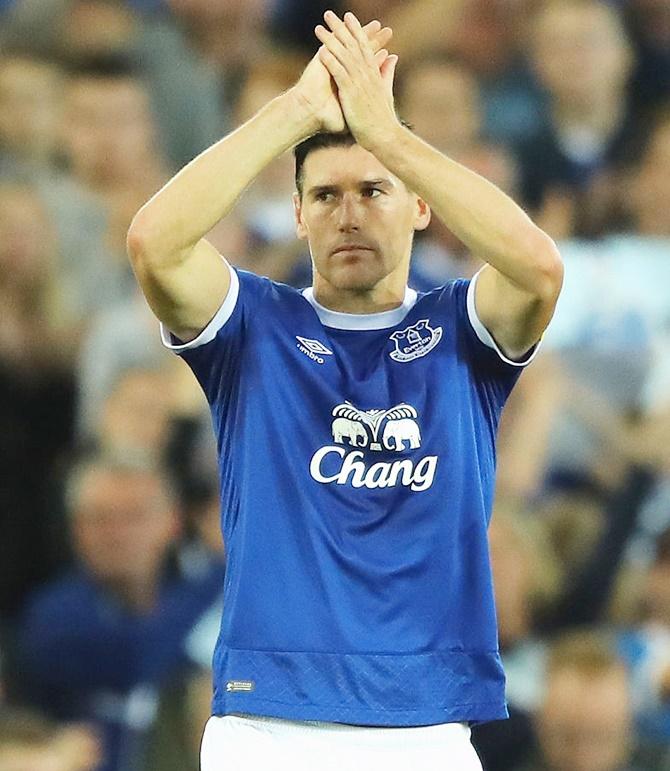 IMAGE: Gareth Barry in Everton colours. Photograph: Lynne Cameron/Getty Images
Gareth Barry will not be happy with anything other than a positive result at Arsenal in what could be a Premier League record 633rd appearance for the West Bromwich Albion midfielder.
The 36-year-old Barry, who equalled retired Manchester United player Ryan Giggs's record in last week's 0-0 draw with West Ham United, has also had top flight spells at Aston Villa, Manchester City and Everton.
He has played in four out of West Brom's five league games this season after signing for the West Midlands club in the close season and is set for the milestone during the visit to the Emirates Stadium on Monday.
"The number I'll achieve is an individual one. Football is a team game. My family will be at the game but there won't be a smile on my face after anything other than a positive result," Barry told the club's website (www.wba.co.uk).
"As crazy as it sounds after all these years, my focus will be on winning the game.
"When you make your debut as a young kid you're never setting yourself a target like this. Even when you play 500 games you think you're coming to the end of your career and you're not expecting to play many more games.
"It's certainly something that when I do end up finishing I'll sit back and be really proud of. I'll try and take in what's happened in between a little bit more."
Arsenal, who are 12th in the Premier League with seven points from five games, have not lost to West Brom in the league since 2010.
Fond memories can help West Ham overcome Spurs: Bilic
West Ham United must recall positive memories from previous encounters against Tottenham
Hotspur to claim a third straight home win over their London rivals, manager Slaven Bilic has said.
West Ham beat Tottenham 1-0 at home last year and a win by the same score in May effectively ended the title hopes of Mauricio Pochettino's side.
Bilic, whose side have one win from five games, said his players had to repeat the patterns of play from their last clash when the two teams meet at the London Stadium in the Premier League on Saturday.
"Everyone involved talks for months (about those games) and we still remember the game in May and the one at Upton Park, so those are the patterns we want to repeat on Saturday," Bilic told the club's website.
"We ended their hopes of winning the league but it gives us no psychological advantage. But the advantage comes when you remember good memories and good patterns to repeat what we have actually already done against that team," he added.
Pochettino, whose Tottenham side are fifth in the standings on eight points from five games, said the West Ham clash was massive for both the team and the fans.
"A derby, just like when we play Arsenal or Chelsea, is not only a game. It's more than a football game. It's emotional, you play for your pride and we understand what it means for our fans -- we share the same feelings," he told Tottenham's website.
Pochettino also said midfielder Mousa Dembele, who played in the midweek League Cup win over Barnsley, would see limited action as he continued to recover from foot surgery.
West Ham are looking for their second win of the season. They began the campaign with three straight losses, before beating Huddersfield 2-0 and drawing with West Bromwich Albion last week.