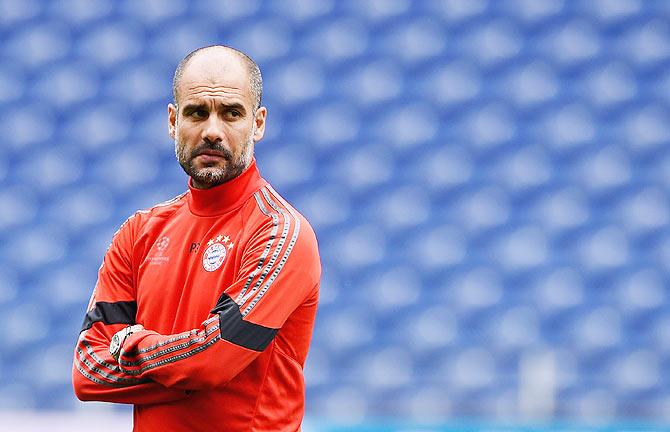 Manchester City manager Pep Guardiola says his team are tired and need the help of their fans for Saturday's derby against Manchester United.
City, who have a 16-point lead, can win the Premier League title with a victory over Jose Mourinho's side at the Etihad Stadium on Saturday, but after their 3-0 loss to Liverpool in the Champions League on Wednesday, Guardiola said the players needed a lift.
"We need the support because we are so tired (and) because United rest all week. We had just a little recovery physically and mentally because our game at Anfield was so tough," the Spaniard told a news conference on Friday.
"That's why it will be so important that in the bad moments, more are going to happen, bad moments will happen next Tuesday (as well), that they feel our supporters are there.
"Sometimes the players or managers, the team, they don't deserve sometimes to be supported (with) what they have done. But that is not the case – so we need it," he added.
Guardiola said it was not yet clear whether Argentine forward Sergio Aguero would be ready to return from the knee injury which kept him out of action at Anfield.
Yet the former Barcelona coach gave his backing to Brazilian forward Gabriel Jesus, despite the striker's self-critical comments about his Anfield display.
"He's so strong, he knows how we like him, he knows how we support him," Guardiola said.
"He is 21 years old, his birthday was this week before the Anfield game. It is the first time he plays in Anfield, in his first knockout (phase) in the Champions League. You have to live these situations, once, twice or three times to become better players. Always the first time you suffer, the next time he'll be better.
"I don't agree with him, he played good, he did what we spoke (about)," he added.
Guardiola had suggested before the Liverpool defeat that he would rotate his side against United but he was tight-lipped about his intentions on Friday.
"We are going to pick the team to win tomorrow, there is no doubt about that. But of course we have one eye thinking about Tuesday," he said.
Mourinho only focused on finishing second ahead of derby
Manchester United manager Jose Mourinho said his motivation ahead of his side's derby clash with ManchesterCity on Saturday is solely on ensuring his side take a step closer to finishing second in the Premier League.
United travel across the city to the Etihad Stadium trailing their great rivals City by 16 points, knowing that defeat will ensure City secure their third league title in record time.
However, preventing City from breaking that record with six games to spare is not something Mourinho is focusing on, the Portuguese said. Instead, he is only concerned with his own side's aspirations.
"My motivation is to finish second, I still have the motivation of finishing top four, mathematically it is not done," Mourinho said.
"That's the first objective. But after that I don't hide. We have been second for many many months.
"It is our objective to fight for that, and for that we need points. My objective for tomorrow is (to) try to have points to finish second."
Mourinho was particularly guarded when asked whether he felt United had beaten City to the signing of Alexis Sanchez in January.
City almost signed Sanchez last summer, having made a bid for the Chile international, and it was reported in the British press that City would come back with a fresh bid in January.
However, it was United who secured Sanchez's services. Mourinho, though, would not be drawn on whether he felt United had got one over on City.
"Did they spend money in January? Did they? Do you know that? Can you confirm that? I don't know, I have no idea if they were interested (in Sanchez) or not, I've no idea," Mourinho said.
Conte rejects claim he wants to leave Chelsea
Chelsea head coach Antonio Conte dismissed his former Juventus team mate Gianluca Vialli's claim that he "cannot wait to leave" the Premier League club, and reaffirmed his commitment to seeing out his contract.
Vialli made the comment in his role as a pundit for Sky Sports Italia during Chelsea's 3-1 defeat by Tottenham Hotspur on Sunday that left Conte's team eight points behind Spurs in the race to secure Champions League football next season.
"It is not true," Conte told a news conference on Friday, two days before Chelsea host West Ham United in the league.
"Gianluca is a friend but I'm not talking with him for one year, maybe. It is not true.
"It's very difficult for me but since this season I'm listening to a lot of speculation about my future... but the only truth is I am committed for this club, I have a contract for this club, I'm working very hard for this club.
"This is the only truth. The other speculation is not true."
Conte's position has come under scrutiny given his fractious relationship with the club's hierarchy and owner Roman Abramovich's propensity to change managers frequently.
The Italian coach, whose contract runs until the end of next season, pointed out he expected Chelsea to struggle when he went public with his displeasure at the club's failure to strengthen the squad at the start of the campaign.
"I predicted it would be very difficult for me at the start of the season. I predicted this," he said. "But this is the moment we have to face with the greatest desire to change the situation."
Conte urged his players to continue fighting until the end of the season but conceded that a top-four finish may be out of their grasp after the damaging defeat by Tottenham.
"We must be realistic to understand that this defeat was a bad defeat for us," he added. "But at the same time we have to try to do everything to fight for a place in Champions League.
"It won't be easy, we must be realistic, but... we must show pride, desire, the will to fight until the end of the season. This must be our target in the season now."
Defenders David Luiz and Ethan Ampadu are out of Sunday's game, but goalkeeper Thibaut Courtois and striker Pedro, who both missed the Tottenham match, could return to the side.
Liverpool's Klopp will not rush Salah back into action
Liverpool are hopeful Mohamed Salah can be fit for Saturday's Premier League trip to Everton, but will not rush the forward back into action just for the Merseyside derby, manager Juergen Klopp said on Friday.
Egypt international Salah scored the opener in this week's 3-0 Champions League quarter-final, first leg win over ManchesterCity but limped off seven minutes after the break. Local media reported he felt some discomfort in his groin.
Liverpool's medical team are working to get the 25-year-old ready for the trip to GoodisonPark and the return leg against City next week but Klopp said he would not take any chances.
"I can't make Mo available because it's the derby, I'd never do it. It's not possible. I don't think any of our supporters want us to do that," Klopp told a news conference on Friday.
"I don't think it makes sense to talk here about what we do with the boys in rehab. But, of course, you can imagine we have tried everything to make him available.
"If he's a doubt, he'll not be involved. That's how it is with all of them. I would not rest a player with absolutely nothing, with no problem."
Salah, who has 38 goals for Liverpool in all competitions this season, could be replaced by fit-again forward Danny Ings, who is looking to make his first start under Klopp.
The 25-year-old has endured long spells on the sidelines with two knee injuries since the German manager took over at Anfield in 2015.
Liverpool are third in the table with 66 points from 32 games and a win against ninth-placed Everton will take them a point above Manchester United.
United face neighbours ManchesterCity later on Saturday.
"The derby is the most important game for the people so that is how we take it. We do the job, people have the dreams. In this special game we have to show up. You have to deliver."