Chelsea manager Jose Mourinho rejected suggestions there was a player revolt against him on Tuesday and dismissed reports that one player would rather lose than play for him as "dishonest".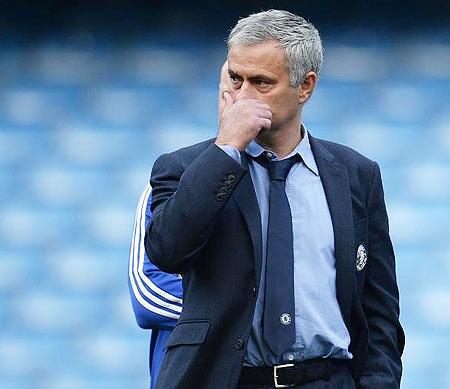 He also said he expected to be at Chelsea for the remainder of his four-year contract and that Chelsea would finish first or second in their Champions League group.
The Premier League champions' turbulent start to the season shows little sign of abating after successive losses to West Ham United and Liverpool in the Premier League and being knocked out of the Capital One (League) Cup by Stoke City.
But Mourinho said his squad were totally united and determined to turn their season around.
"It's a very sad accusation because you are accusing players, or one player, of dishonesty," Mourinho told reporters before Wednesday's Champions League Group G match against Dynamo Kiev at StamfordBridge.
"If I accuse you of being a dishonest journalist, I think you would be very upset and probably you would take legal action. It is a question for the players, not for me."
Mourinho said he had a "fantastic personal and professional relationship" with his players who were united in their efforts to improve results which have left them 15th in the table, with three wins from their opening 11 matches.
They are third in their Champions League group but Mourinho said they would finish first or second to qualify for the last 16.
"Tomorrow is not a must-win game, it's a must-not-lose game, so if we draw and then win the last two matches we will qualify," he said
He also said he knew why their form had been so bad, but would not elaborate.
"It's a combination of factors and some of them I don't want to touch them, but yes I know," Mourinho added. "Everything is football-related."
Earlier midfielder Cesc Fabregas denied suggestions of a rift with Mourinho, accusing "certain individuals from outside" of trying to destabilise the club and rejecting reports that he is leading an alleged dressing-room revolt.
Image: Chelsea manager Jose Mourinho.
Photograph: Philip Brown Livepic/Reuters