Even as criticism mounts, the under fire Blues manager gets former player Frank Lampard's backing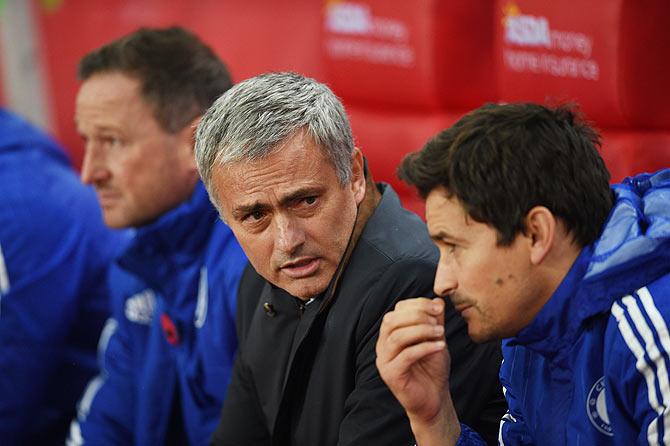 IMAGE: Chelsea manager Jose Mourinho during the Capital One Cup tie between Stoke City and Chelsea at Britannia Stadium in Stoke on Trent on Tuesday. Photograph: Ross Kinnaird/Getty Images
Chelsea manager Jose Mourinho's constant spats with referees are tarnishing the image of the Premier League, according to the former general manager of Professional Game Match Officials Limited (PGMOL) Keith Hackett.
The Football Association (FA) has charged Mourinho with misconduct for comments made to Jon Moss that resulted in the Portuguese being sent to the stands during Saturday's 2-1 defeat at West Ham United.
Chelsea's under-fire boss is also appealing against a 50,000 pounds ($76,655) fine and a suspended one-match stadium ban after he said referees were "afraid" to award his team penalties following the home defeat by Southampton earlier this month.
"Sadly the image of the Premier League is being tarnished by the actions of the manager of Chelsea," Hackett wrote in a blog on you-are-the-ref.com.
"He appears to be one very unhappy person who, frankly, is using referees as a scapegoat for the poor performances of his team. Moss was appointed to what appears to be a poisoned chalice when it comes to Chelsea, not the easiest team to control.
"For a number of years with Jose Mourinho in charge, Chelsea have been a difficult team to referee."
The Premier League champions, who are sixth from bottom this season, also had midfielder Nemanja Matic and assistant manager Silvino Louro sent off on Saturday.
The PGMOL is responsible for the development and mentoring of the best referees in England and Hackett urged senior officials to take Mourinho to task over his public criticisms.
"It's my firm belief there needs to be an urgent summit meeting between Jose Mourinho, Bruce Buck, the chairman of Chelsea, Richard Scudamore, the chief executive of the Premier League, and Mike Riley, general manager of PGMOL," he said.
"The public spats involving the manager of Chelsea need to be dealt with immediately in a face-to-face meeting."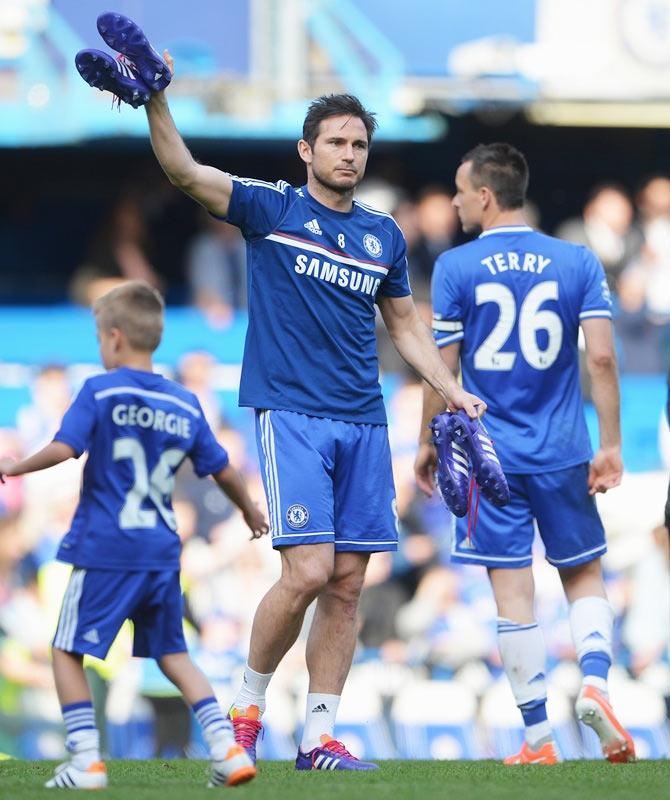 IMAGE: Chelsea's Frank Lampard acknowledges the crowd. Photograph: Michael Regan/Getty Images
Meanwhile, Mourinho received much needed backing from former ward and Chelsea great Frank Lampard.
Mourinho will be hurting over Chelsea's miserable start to the season but it is simply a matter of time before the team get their mojo back, according to the former StamfordBridge legend.
The 37-year-old, the highest scorer in Chelsea's history with 211 goals, is now playing for New York City and was back in London on Tuesday to receive an OBE (Order of the British Empire) from Prince William at BuckinghamPalace.
"He's a winner, his record says that and it will be hurting him," Lampard said of his former boss Mourinho.
"But I have no doubt about his ability and it will get him through.
"Chelsea will be back," he told Sky Sports.
"It's a blip. You don't expect them to lose that many games at the start of the season but they'll turn it around.
"They have great ability in the squad. It'll be difficult to win the Premier League now but they'll move up to where they belong soon," added Lampard.
"There are too many players who are not quite in form at the moment and that's why they are having problems."
Champions Chelsea are sixth from bottom after losing five of their 10 Premier League matches this season and Mourinho has come under increasing fire for his repeated run-ins with match officials and the FA.
Chelsea lost Tuesday night's Capital One Cup fourth-round tie at StokeCity to compound Mourinho's woes.