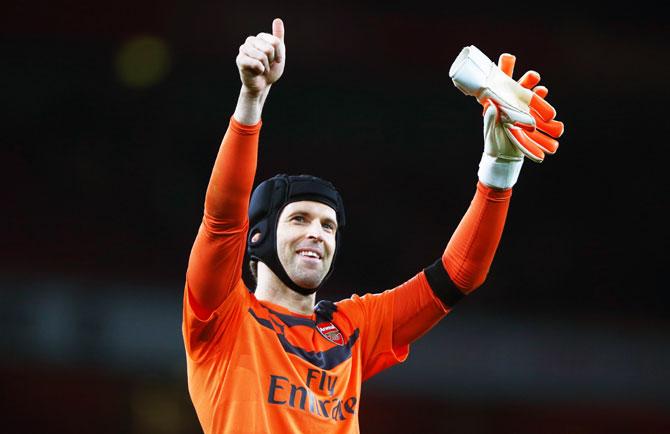 IMAGE: Arsenal keeper Petr Cech had to wait 11 games to reach landmark 200th clean sheet in the EPL. Photograph: Ian Walton/Getty Images
Arsenal goalkeeper Petr Cech is delighted to end a frustrating wait for his 200th Premier League clean sheet, the 35-year-old said after Sunday's 3-0 Premier League victory over Watford.
The former Chelsea goalkeeper had to wait for 11 games to reach the landmark and produced an inspired performance that included a second-half penalty save from Watford striker Troy Deeney to help Arsenal seal the win.
"It's been a while and I have to say it's never happened that I've had to wait 11 games for a clean sheet," Cech told the club's website (www.arsenal.com).
"In the stretch it was quite frustrating at times. We had so many games where we had a big result, especially at home when you take the games against Everton and CrystalPalace.
"You're 4-0 up and conceded late goals. Sometimes you go through stretches like that as a team, as an individual and obviously you have to find your way out," he added.
Victory for sixth-placed Arsenal took them to 48 points, eight points behind defending champions Chelsea.
Stoke manager Lambert not surprised by Guardiola's success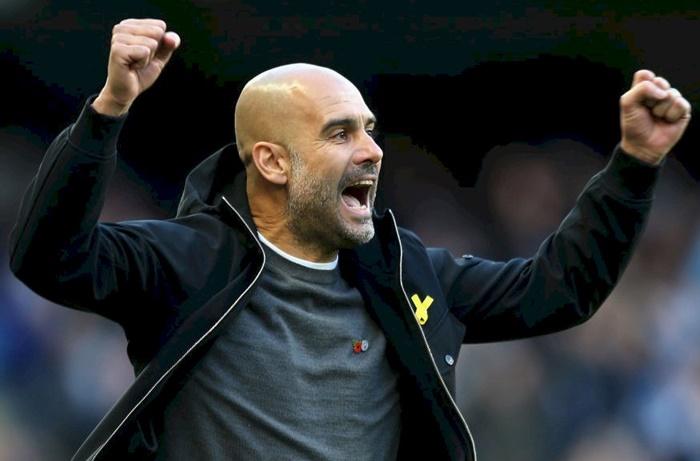 IMAGE: Manchester City boss Pep Guardiola. Photograph: Manchester City/Twitter
Stoke City manager Paul Lambert is not surprised by the success of his ManchesterCity counterpart Pep Guardiola and said that the Spaniard's man-management skills in particular had set him apart from his peers.
Speaking ahead of Monday's clash with runaway PremierLeagueleadersCity, Lambert said he had studied Guardiola's methods during a training session at his former side Bayern Munich and also spent time discussing the game with him.
"I understand why he's at the top of his profession because I have seen how he works," Lambert said.
"He has done it at Barcelona and Bayern and he has done it here with City. It's not by luck or anything like that.
"He built a Bayern Munich team that was sweeping everything before them. OK, he never won the Champions League with Bayern but by God, he won everything else."
Former Barcelona manager Guardiola won 14 titles in four seasons at his boyhood club and seven in three years at Bayern Munich. After a first season without a trophy in England, the 47-year-old guided City to the League Cup title last month.
City are 13 points clear of second-placed Manchester United and on course to claim their third league title in seven years. They require four victories from the final nine games of the season to be assured of the title.
"People say that he had great players at Barcelona and Bayern but you've still got to manage those guys and you've got to get them believing in how you want to play," Lambert said.
"He created a brand of football that was fantastic. He did it at Barcelona and they were the best club team I've ever seen in terms of the way they played. They were fabulous."
City handed Stoke their heaviest defeat of the campaign earlier this season, winning 7-2 at the Etihad.
Guardiola, meanwhile thanked City's Abu Dhabi owners for standing by him when he failed to deliver any trophies in his first season at the club.
According to AFP, Guardiola is set to meet chairman Khaldoon al Mubarak when City fly to Abu Dhabi for a training break following Monday's Premier League match at Stoke.
The Catalan coach is not expected to discuss the possibility of a new contract during the break, and has given no public indication as to whether he intends to stay beyond the end of his current deal when it expires in June 2019.
"The club are good because now it is easy to support us when it is going well but it happened the same last season. That means a lot to me.
"In the bad moments, I saw how the club reacted and supported me and when I wanted to talk about plans for the future, they were there.
"There were no doubts about that. We had doubts because we didn't win but not doubts about what we had to do. That was so important last season. I will not forget that."
TV pundit Carragher apologises for spitting at girl in car
Sky Sports television pundit Jamie Carragher, the former Liverpool defender, has apologised after a video emerged of him spitting towards a girl in a car from his own vehicle.
The 40-year-old was on his way home after summarising on Manchester United's 2-1 victory over Liverpool at Old Trafford on Saturday when he apparently became involved in a conversation with the occupants of an adjacent car.
A video taken from the car, released on the website of several British newspapers, clearly shows Carragher spitting.
In the video the father of the girl can be heard shouting: "Unlucky Jamie lad. Two, one."
"Totally out of order and I've apologised personally to all the family this evening," Carragher said on Twitter.
"I was goaded 3/4 times along the motorway while being filmed and lost my rag. No excuses, apologies."
Sky Sports described Carragher's actions as "unacceptable" and said it would be addressing the incident with him.
Carragher, who joined Sky Sports after retiring in 2013, has become a popular pundit working regularly alongside former United defender Gary Neville.
Poor attendances at Arsenal home games a worry for Wenger
Arsenal manager Arsene Wenger is worried by an apparent dip in attendance at the Emirates stadium in recent weeks but said he is confident the team will do "absolutely everything" to win back their fans.
British media reports said there were thousands of empty seats in Arsenal's 3-0 Premier League win over Watford on Sunday despite the club selling 59,131 tickets, just short of their total capacity of 59,867 seats.
The stadium was a lot emptier in the 3-0 league defeat by ManchesterCity earlier this month although freezing conditions could have kept fans away on that day.
Wenger acknowledged that empty seats were a concern.
"Of course I worry because I want our fans to be behind our team and be happy," Wenger told Standard Sport.
"But after what happened in that week (against City) it's a bit understandable.
"We are in a job where we have to get the fans on our side and do absolutely everything to achieve it. That's what we want to do."
Arsenal are sixth in the league with 48 points and face an uphill task to qualify for next season's Champions League by finishing in the top four.
"I don't know how much negativity is out there. I focus on my job. I think I've shown in 22 years that I can do that, that I'll respect everyone's opinion and focus on my job with total commitment," Wenger said.
Their hopes of participating in Europe's elite competition next season hinge on winning the Europa League. Arsenal beat AC Milan 2-0 in the first leg of their last 16 clash and take on the Italians at home on Thursday.