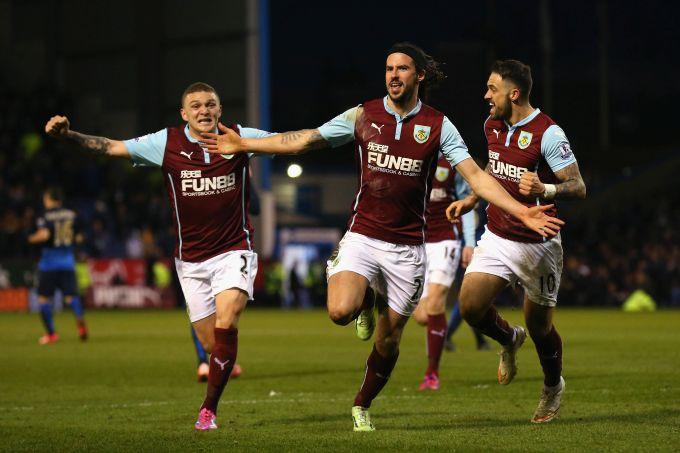 George Boyd of Burnley (centre) celebrates scoring the opening goal during the Barclays Premier League match between Burnley and Manchester City at Turf Moor. Photograph: Alex Livesey/Getty Images
Manchester City's faltering attempts to retain their title suffered a huge blow on Saturday when they lost 1-0 at Burnley, giving Chelsea the chance to open an eight-point lead when they host Southampton on Sunday.
Second-placed City have now won only three of their last nine Premier League matches and remain five points behind Chelsea who now have two games in hand.
George Boyd scored the only goal after 61 minutes with a superbly-controlled half-volley from 20 metres that not only dented City's title hopes but also helped Burnley's chances of avoiding relegation.
Chelsea have 63 points from 27 games, City have 58 from 29 while Arsenal, who beat West Ham United 3-0 at the Emirates, are a point behind on 57.
At the other end of the table Burnley are still in the bottom three but have moved on to 25 points, one behind 17th-placed Sunderland who lost 4-0 at home to Aston Villa.
Burnley manager Sean Dyche told Sky Sports: "Our will and desire to be in the Premier League is all on show but we won't get too carried away.
"We know there's a long way to go -- the players are grounded. We haven't been broken from defeat -- we've been dented a few times -- but this win reinforces our confidence and belief."
'We didn't create enough to score but we were very unlucky'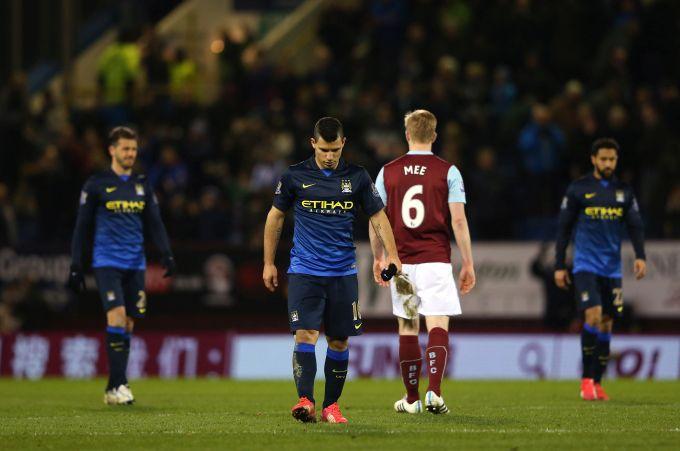 Sergio Aguero of Manchester City looks dejected after defeat to Burnley in the Barclays Premier League match. Photograph: Alex Livesey/Getty Images
City manager Manuel Pellegrini said things are not right with his team because they are not winning.
"It was a normal performance and I don't think we played very badly," he added. "We created more chances, they had one shot on target and got a beautiful goal.
"We didn't create enough to score but we were very unlucky. Of course we're doing something wrong as we are not winning the games we normally do.
"I don't want to focus on two or three players. We are a team, a squad of 22 players, and I'm sure they're giving the most they can. It's important to continue trusting what they are doing."
Villa revival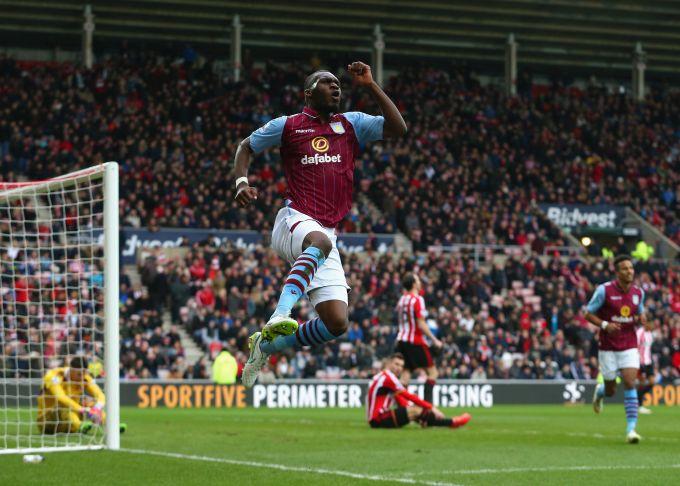 Christian Benteke of Aston Villa celebrates scoring their fourth goal during the Barclays Premier League match at Stadium of Light. Photograph: Jan Kruger/Getty Images
While City have gone off the boil, Villa have come to life and their revival under new manager Tim Sherwood produced the day's other eye-catching performance.
The 4-0 romp boosted Villa's hopes of avoiding the drop while turning up the heat on Sunderland boss Gus Poyet.
The visitors scored all four goals before halftime with Gabriel Agbonlahor and Christian Benteke netting twice to give Sherwood bragging rights over his former Tottenham Hotspur team mate Poyet.
The Sunderland boss was grim-faced at the final whistle, staring out at a half-deserted stadium following the exits of thousands of home fans long before the end.
"We are delighted to get four goals in one game and for the strikers who have come under a little bit of criticism this year," said Sherwood who took over last month following the sacking of Paul Lambert.
"We had the game won at halftime so it was important we didn't give it away. There's still a long way to go but we're dragging people in with us."
Arsenal sink West Ham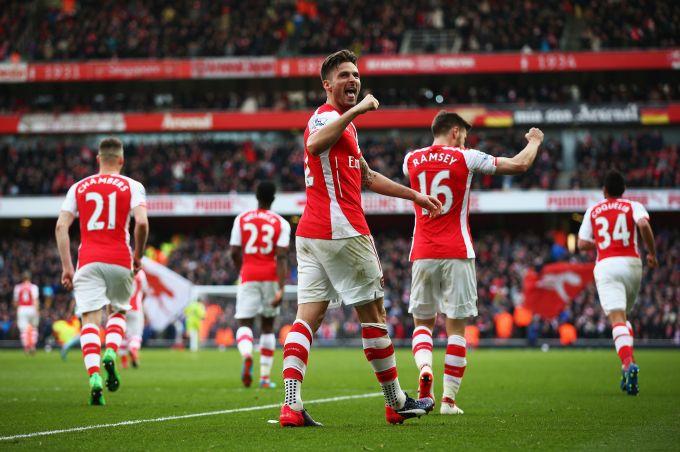 Olivier Giroud of Arsenal celebrates after the second Arsenal goal scored by Aaron Ramsey during the Barclays Premier League match at Emirates Stadium. Photograph: Ian Walton/Getty Images
Arsenal tightened their grip on a top-four spot, continuing an impressive run of form with goals from Olivier Giroud, Aaron Ramsey and Mathieu Flamini sinking West Ham.
Leicester City remained bottom after a 0-0 draw against Hull City, who had Tom Huddlestone sent off in the second half, while Queens Park Rangers are four points from safety after a dismal 3-1 defeat at Crystal Palace.
The only bright spot for QPR, who have now lost 13 of their 14 away games, was a contender for goal of the season from Matt Phillips who scored with a 45-metre shot late in the game.
In the day's other match West Bromwich Albion beat Stoke City 1-0 at The Hawthorns.