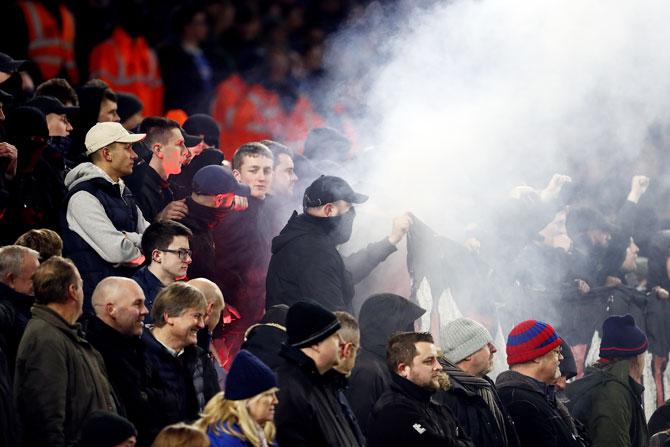 IMAGE: A flare is set off during the Premier League match between Brighton and Hove Albion and Crystal Palace at Amex Stadium. Photograph: Bryn Lennon/Getty Images
A minority of Crystal Palace supporters have been condemned by Brighton and Hove Albion after causing a disruption outside the Amex stadium during the sides' goalless draw in the Premier League on Tuesday.
As the highly-anticipated derby got underway, Brighton allege that a small number of Palace supporters showed up without tickets and tried to force their way into the away end of the stadium.
The incident led stewards and Sussex Police to close the gates six minutes after kickoff, as around 150 Palace fans, some with valid tickets, were denied entry and escorted back to the train station.
"The disorder was caused by a minority of individuals who attempted to gain entry to the stadium without tickets," Brighton chief executive Paul Barber said on the club's website. (www.brightonandhovealbion.com)
"Thanks to the swift action of the club's stewarding team, supported by Sussex Police, we avoided further, major disorder - and while some genuine fans were left extremely disappointed and unable to get into the stadium, the correct decisions were made.
"I'd like to thank the majority of fans of both clubs for their good behaviour and patience in complying with the instructions of our stewards and police."
Brighton said several stewards suffered minor injuries and one from each club was hospitalised following the scuffle.
Brighton will share CCTV images of suspects with Sussex Police, the Metropolitan Police and CrystalPalace to help with identifying those responsible.
The draw dropped Brighton to 10th in the league as they prepare to host Liverpool on Saturday, while Palace remain at the bottom of the table, three points adrift of safety.