Manchester City's volatile forward Mario Balotelli has said he is sorry for being sent off against Arsenal on Sunday, his agent told the Ansa news agency on Monday.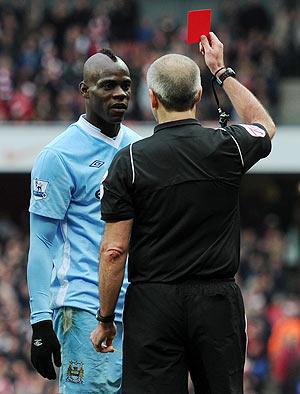 "I'm very sorry at what happened because of the disappointment it caused Manchester City and especially (manager) Roberto Mancini, for whom I want the best and whom I admire," Balotelli said through his agent Mino Raiola.
Balotelli, already left out of the Italian national side once by coach Cesare Prandelli after getting into trouble at City, did not think his latest misdemeanour would cost him his place at Euro 2012.
"I haven't broken the ethics code," he said. "I've already missed the national team once because of an act of stupidity, I won't do it a second time.
"As for my future at the end of the season, I will speak to the club and we will see."
Photograph: Michael Regan / Getty Images