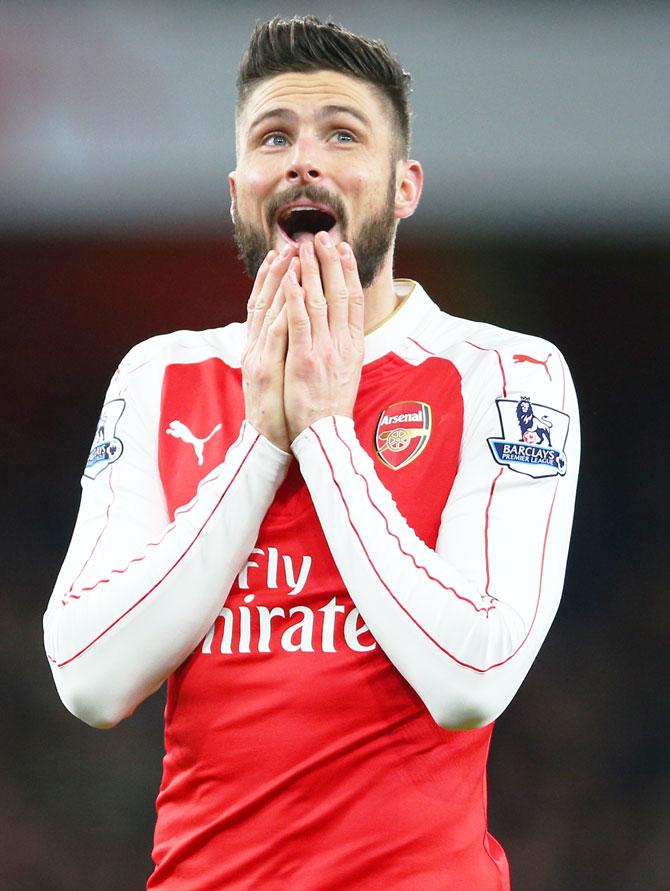 IMAGE: Arsenal's Olivier Giroud reacts. Photograph: Paul Gilham/Getty Images
Arsenal striker Olivier Giroud has been ruled out of Saturday's Premier League derby against Tottenham Hotspur due to a thigh injury, manager Arsene Wenger said on Thursday.
Giroud, who has scored once in 10 league appearances this season, netted in France's friendly win over Wales last Friday.
"Giroud picked up an injury, I don't think he will be available," Wenger told reporters.
"It's short term, we have to assess him on Monday."
Arsenal striker Danny Welbeck (groin) and defender Shkodran Mustafi (thigh) will undergo late fitness tests.
Wenger said Santi Cazorla's injury was the worst he had seen with the Spaniard sidelined since last October after suffering multiple infections following surgery on his right heel.
Wenger is hopeful the 32-year-old midfielder will return in January.
Arsenal, who are sixth in the standings, have not beaten third-placed Tottenham in the last six league meetings but Wenger is confident can beat their local rivals.
"I think Tottenham is a good side but we have the quality to win this game and that is what we want to show," Wenger added.
Arsenal are 12 points behind league leaders Manchester City.
"It is one of the fixtures of course that is very important for us and that you want to win. Basically as well, in the table, we have to make some ground up with the top teams," Wenger said.
"You need to have full commitment, but as well be lucid enough and calm enough to focus on the game."
Aguero fit for Leicester game
Manchester City striker Sergio Aguero has declared himself fit to face Leicester City in the Premier League on Saturday after collapsing in the dressing room at halftime as Argentina lost 4-2 to fellow World Cup qualifiers Nigeria on Tuesday.
Manchester City said Aguero, who scored in the first half against Nigeria, had been cleared to return to England as planned after tests having suffered "a dizzy spell".
The 29-year-old, who has scored eight league goals in as many appearances for City this season and recently became the club's all-time top scorer, tweeted on Thursday that he was raring to go after being cleared by City's medical team.
"All the tests they run on me -- just for caution -- turn out well, so I'm set to go for Saturday's match. C'mon, City," Aguero said.
City have collected 31 points from 11 games and are unbeaten this season, while Leicester are 12th in the table with 13 points.