Arsenal skipper Cesc Fabregas's three-year wait to rejoin Barcelona is all set to end, as the Spanish club have increased their bid for Fabregas to 32 million pounds.
Arsenal boss Arsene Wenger is preparing for the loss of his skipper by signing two new players and is confident of capturing Lille's Gervinho and Velez Sarsfield's Ricky Alvarez -- each for 11 million pounds.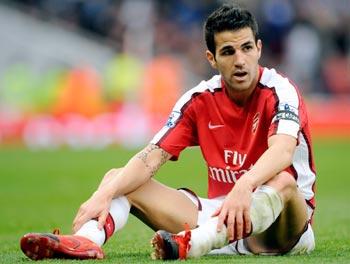 Fabregas said: "There is nothing to talk about. I'm calm. If something has to happen it will. I am always optimistic."
"If a player is on the market it's because a club doesn't want him. I have no problem," the Sun quoted him, as saying.
Wenger will use all the Fabregas cash to beef up the Arsenal squad and Ivory Coast striker Gervinho is almost certain to join.
Wenger is also poised for a renewed attempt to get 16 million pounds Bolton centre-half Gary Cahill in the next few days.